Everything You Need To Remember From The Boys Season 2
Both The Boys and The Seven had some major shake-ups, setting the stage for a pretty pivotal Season 3.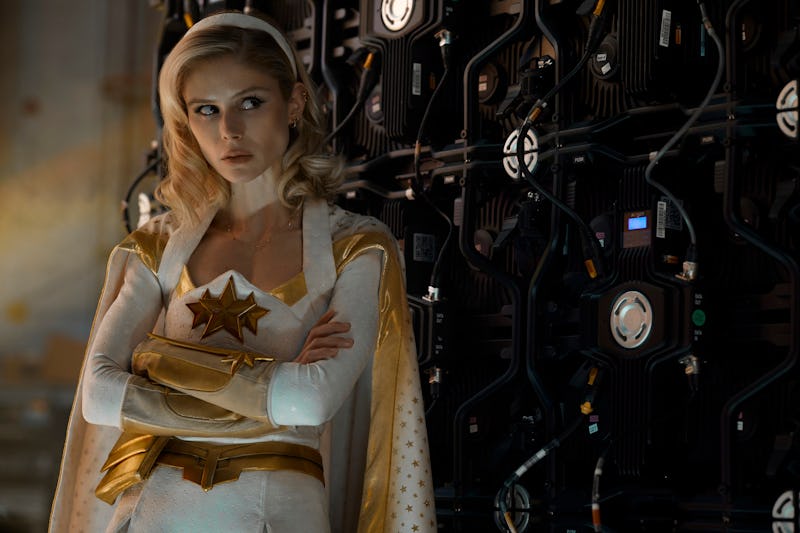 Courtesy of Prime Video
The Boys are back on June 3. Amazon's gritty, grisly and gratuitous superhero send-up is finally back for its third season. Season 2 was brimming with all sorts of violence and debauchery — you know, the exact kind of thing you'd expect from a show full of raucous, uber-famous superheroes with free rein on humanity and society. For all the action, laughs, and Nazi-punching the show delivered in its second season, it also set the stage for a pretty pivotal Season 3, and thus, if you need a refresher, here's everything to remember from Season 2 of The Boys.
So, Did The Boys Breakup?
The Boys were mostly fractured for Season 2; no one wanted much of anything to do with Butcher (Karl Urban), least of all Hughie (Jack Quaid), who remained idealistic that supes could be taken down in a non-excessive manner. They were also dealing with being framed for the murder of Madelyn Stillwell (Elisabeth Shue), hence their need to lay low at the beginning of the season. In order to go help clear their names, Hughie devises a plan to smuggle Compound V out of Vought with the help of Starlight (Erin Moriarty); however, this leads to CIA Director Raynor (Jennifer Esposito) getting her head exploded. Time for Plan B.
Butcher makes a deal with Col. Grace Mallory (Laila Robins) to clear everyone's name in exchange for a superhero. However, the supe they're bringing in is Kenji (Abraham Lim), Kimiko's (Karen Fukuhara) radicalized brother. Unsurprisingly, things get out of hand; there's a bloody helicopter crash and the death of a whale. Kenji is murdered by the newest member of The Seven, Stormfront (Aya Cash), which sends Kimiko on a revenge path. The Boys also learn about an old supe from the '70s who used the alias Liberty.
Hughie then attempts to operate on a more ethical route, teaming up with Congresswoman Victoria Neuman (Claudia Doumit), who was working as the head of the Federal Bureau of Superhuman Affairs. Unbeknownst to Hughie, however, is the fact that Neuman is a brain-exploding assassin who's already disposed of Vought science officer Jonah Vogelbaum (John Doman), as well as Church of the Collective leader Alastair Adana (Goran Visnjic), among others standing in the way of her pursuit of Vought.
As for the other Boys, Frechie's (Tomer Capon) disinterest in surveilling Lamplighter (Shawn Ashmore) ended up getting Mallory's grandchildren killed. Meanwhile, M.M. (Laz Alonso), despite reuniting with his wife and daughter, revealed that he, like his father, was hellbent on taking down Vought. He voiced apprehensions about said obsession, and how it may kill him, as it did is father.
What's Going On With Butcher & Homelander?
Much of Season 2 revolved around Becca (Shantel VanSanten), who is both the ex-wife of Butcher and the mother of Homelander's (Antony Starr) son Ryan (Cameron Crovetti). Both men are determined to find her. Butcher wants Becca to abandon Ryan, knowing the boy would attract Homelander's attention. Becca refuses, not wanting to leave her son at the mercy of Vought and a terroristic superhero.
Homelander wants to be a better father to Ryan than his father was to him. Despite Becca's attempts to keep Ryan normal, Homelander tries to convince Ryan that being a full-fledged supe is the best possible life. Matters get worse when Stormfront and Homelander start dating, and she tries to convince him to steal Ryan away so they can become a separate family.
After Homelander abducts Ryan, Becca seeks out Butcher. Butcher and the rest of the gang agree to help save Ryan. In a rescue attempt, the young boy's powers prove to be too undisciplined, and he accidentally kills his mother, Becca, while trying to attack Stormfront. Stormfront is incapacitated, and in that brief moment, Butcher is able to save Ryan and make a promise to Becca to keep her son safe. Butcher does so by keeping him in the custody of Mallory.
Who Is Left In The Seven?
Season 1 already dealt with the loss of two members of The Seven — Translucent (Alex Hassell) by death and Lamplighter (Shawn Ashmore) by retirement — but Season 2 really played with the roster of supes. A-Train (Jessie Usher) was sidelined early in the season, only to recuperate in time to be dropped from the group by Homelander for not being up to standard. His exile only lasted so long: After "divine" intervention from Alastair, A-Train was able to rejoin The Seven before the end of the season.
Then there was Queen Maeve (Dominique McElligott), who was intent on taking down Homelander. She enlisted the help of the defamed The Deep (Chace Crawford) and used the footage of Homelander and herself abandoning a plane full of passengers to die in a crash. Through her newfound blackmail, she was able to avoid the wrath of Homelander while also keeping Elena (Nicola Correia-Damude) and the rest of the Boys temporarily out of his crosshairs. Despite the fact that it seemed as though she was done for, she remains a member of The Seven. Elsewhere, Black Noir (Nathan Mitchell) spent the season headhunting Butcher and Starlight, only to be thwarted after Maeve's use of an Almond Joy triggered his horrific nut allergy.
As for Starlight, she spent a lot of Season 2 attempting to expose the truth about Vought. Additionally, she reignited her relationship with Hughie, despite finding some truth in Butcher's warning relationships with supes are simply bound to unravel. She also discovered that superheroes aren't really born, they're made. It shatters her worldview, but she continues to remain at the forefront of The Seven, marketed as a power trio with Maeve and Stormfront. Still put off, Starlight digs into Vought's past and discovers the truth about Compound V, the Third Reich serum used to create supes, as well as the fact that the old supe we mentioned earlier, Liberty, is actually Stormfront! She's an original Nazi, albeit ageless, and was originally married to Frederick Vought, the creator of Compound V, but she couldn't pass on her powers biologically, thus explaining her fixation on Homelander and Ryan. Starlight's discovery immediately positions her as an enemy to Stormfront and Homelander, causing Stormfront to paint her as a public pariah.
Stormfront outlines her real plans, detailing her desire to build a superhero army of white supremacists that answer to herself and Homelander. Thankfully, The Boys, and some of The Seven are able to intervene, thanks in large part to Maeve, Starlight, and Kimiko. They beat her to smithereens — but not to death.
The Truth About Lamplighter
Not only is Lamplighter no longer a member of The Seven, he's no longer a member of the show either. Lamplighter elected to immolate himself at Vought headquarters as a sort of protest, ultimately helping to free a kidnapped Starlight. However, we also learned The Boys blackmailed Lamplighter into inadvertently killing Mallory's children, along with several other instances in which he was forced to "disappear" psychiatric patients at Sage Grove who had poor reactions to Compound V. Vought had been attempting to specialize the serum by testing it on patients at Sage Grove.
What's Up With Vought?
In Season 2, Vought's crew of supes went military. In doing so, The Seven were able to negotiate their own terms regarding rank and consequences for "collateral damage." However, their union was short-lived once a damaging exposé on Compound V came to light. Which was then followed by the revelation that Stormfront was a full-fledged Nazi. The head of Vought, Stan Edgar (Giancarlo Esposito) attempted to spin the narrative into the sentiment that Compound V was more necessary than ever, which caused demand for the drug to rise. Edgar revealed to Homelander that Vought is more interested in becoming a pharmaceutical superpower than it is in manufacturing actual super powers. Obviously that plan ran into massive problems once Stormfront was outed as a Nazi; however, Edgar tried to downplay his company's ties to the defamed hero by referring to her as just a "bad apple" in the season's closing moments.