Everything To Know About The Circle Season 4
A potential Spice Girls cameo could be in the cards.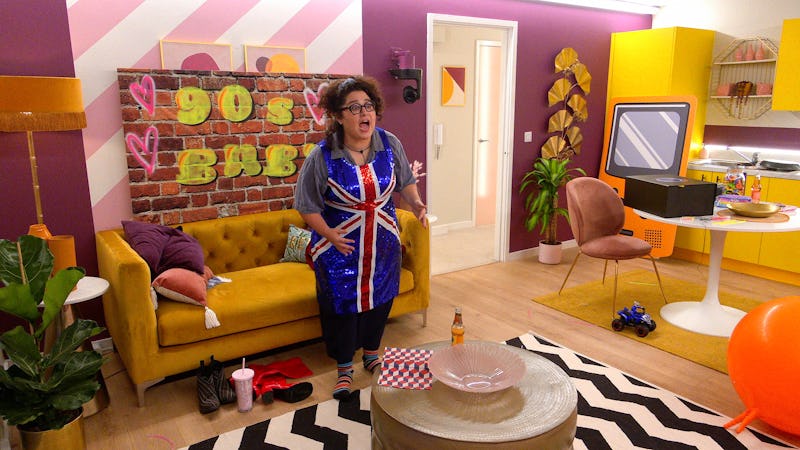 Netflix
It's been less than a year since Season 3 of The Circle, but there's plenty more scheming, catfishing, and hashtags in the pipeline. In August 2021, Netflix announced it greenlit The Circle for Season 4 and Season 5. The company cited impressive viewer numbers, with more than 14 million households reportedly tuning in for Season 2 within 28 days of its April premiere.
"It's been incredible to see Netflix members everywhere respond to the raw, authentic stories of real people and real stakes," Netflix executive Brandon Riegg said in a statement to TVLine in 2020. "We pride ourselves on creating a favorite show for any taste, and we're thrilled fans embraced all of these series with such enthusiasm and shared passion. We look forward to sparking more joy for our members."
Following the Season 1 in January 2020, the show soon became reality for viewers at home. It centers around a cast all living in individual isolation with social media as their only means of communication as they vie to become the most popular user and win a $100,000 prize. "The great thing about the show is that we can shoot it safely because we are in quarantine," returning host Michelle Buteau told NPR in January 2021. "But I also just thought it was so important because whether you like social media or not, you have to engage with it somehow. What does your profile picture say about you? Are you giving out too much information or not enough?"
As The Circle keeps rolling out new seasons, it's continued to contemplate those questions while keeping fans entertained. Here's everything we know about The Circle Season 4 so far.
The Circle Season 4 Premiere Date
Netflix dropped the trailer for The Circle Season 4 on April 27, along with an announcement that the first four episodes will drop on Wednesday, May 4. New episodes come out after that on Wednesday, May 11 and Wednesday, May 18; the finale premieres on Wednesday, May 25.
The Circle Season 4 Cast
While the cast of The Circle Season 4 appeared in the trailer, Netflix didn't release their names and bios until the following day. "Psst... The Circle has been hacked and the season four cast just leaked," read an April 28 caption from the show's official Instagram account. Meet the nine new contestants — and, in some cases, their alter egos — below.
Alyssa
Alyssa Ljubicich is 27-year-old from New York who works as sex & relationship coach in partnership with Sexual Health Alliance, according to her Instagram bio. "I love helping people have amazing sex, and I can very comfortably say the word vagina," she said in Netflix's April 28 cast reveal video.
Bru
A 25-year-old radio host living in West Hollywood, California, Josh "Bru" Brubaker, thinks that his 3.5 million followers are a good sign he'll be successful on the show. "If I can be popular on social media, I think I can be popular in The Circle," he said. Likening himself to a golden retriever — trustworthy, loyal, and kind — the self-proclaimed "CEO of Radio TikTok" has already caught the attention of Jason Derulo and Addison Rae.
Crissa
As the 13th woman to play for the Harlem Globetrotters, 31-year-old Crissa Jackson plans to tackle The Circle with the same "full-court vision." Now working as a basketball-influenced social media content creator, Crissa already boasts more than 13.8 million TikTok followers, and another million-plus on Instagram.
Frank
On Instagram, Maryland native Frank Grimsley, 28, describes himself as an influencing school social worker, licensed therapist, storyteller, content creator, and, of course, the next big thing. "I like to call myself the big boy with a big personality," he joked in his intro. "I'm fun as hell. People love me."
John, aka Carol
Between his St. Anthony chest tattoo and the fact The Sopranos was filmed in his New Jersey hometown, 24-year-old content creator John Franklin says he's as Italian as it gets. "I've literally grown up in a bowl of sauce," he joked. And because the matriarch is the "most popular person in every Italian family," he's going into The Circle as his mom, Carol.
Nathan
Scottsdale, Arizona-based commercial banker Alex Brizard, 28, said that he's kind of like a catfish in real life because his personal and professional lives are so different. On Instagram, Alex describes himself as a "professional nerd," and also co-hosts his own podcast called Two Dudes Watch Cartoons. That's why he's playing the game as Nathan, who he describes as a hot, young, fun, 22-year-old, fresh-out-of-college frat bro.
Parker, aka Paul
As a 21-year-old student from Miami, Florida, Parker Abbott describes herself as a "popping bottles kind of girl" whose "only two personality traits really are being in a sorority and going out and partying." Knowing The Circle is "all about trust," she decided to play as her 56-year-old dad, Paul. "If I saw a 21-year-old sorority girl, I definitely wouldn't put trust in them, especially with my pictures," she explained.
Rachel
Having paranormal experiences as a kid in Houston, Texas, allowed Rachel Evans, 29, to "open up that part" of her brain, which now "remains open" as she works as a paranormal researcher and has even appeared on the Travel Channel. Accordion-playing Rachel also has a self-deprecating take on her formative years, joking, "Growing up as a Jewish, chubby kid, nobody told me that I was a dweeb, so I have grown up my entire life thinking that I'm just the coolest."
Yu Ling
A self-described first-and-a-half generation Chinese American, Yu Ling Wu recalls her immigrant parents "working to make sure that there was food on the table" while she was growing up in San Francisco. "So I would say that I was raised culturally by MTV, VH1," the 25-year-old brand marketing consultant quipped.
The Circle Season 4 Trailer
The trailer for Season 4 shows that the prize fund has been upped from $100,000 to $150,000. And there appear to be plenty more twists in store, including one particularly "spicy" one. "Are these secret celebrities?" one contestant asks in the trailer, before the word "SPICE" with the pattern of the Union Jack flag appears on the screen, along with the silhouettes of women flashing peace signs. Are the Spice Girls catfishing on the show, or will they appear to host a challenge? We'll find out for certain when The Circle Season 4 premieres May 4.
This article was originally published on