Everything To Know About The Consultant Season 2
The workplace satire stars Christoph Waltz as a creepy boss.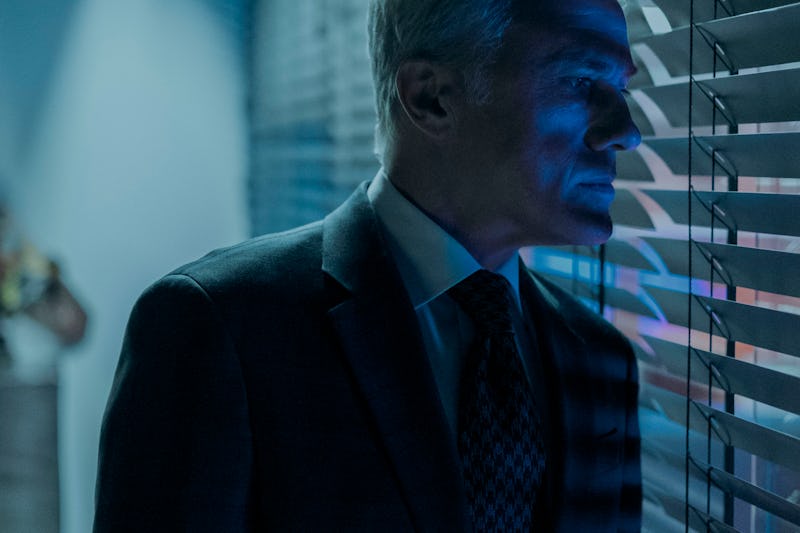 Andrew Casey/Prime Video
Horror meets workplace satire in Prime TV's The Consultant. The story follows consultant Regus Patoff (Christoph Waltz), a mysterious third-party consultant who takes control of video game company CompWare in the wake of the CEO's murder. Employees Craig (Nat Wolff), Elaine (Brittany O'Grady), and Craig's fiancée Patti (Aimee Carrero) all get pulled into Patoff's orbit, but they soon realize there's something way more sinister — and possibly even inhuman — about Patoff.
The show is based on Bentley Little's 2015 novel of the same name. "I think Regus Patoff was introduced beautifully in the book," showrunner Tony Basgallop explained to the Final Draft blog, adding that he was drawn to the idea of focusing on an "antagonist from hell" stalking around the office. "One of the things about Patoff as a character is that the less you know, the better. It's never about giving backstory. That ruins the illusion. He could be anything."
The end of Season 1 does definitely give you some hints about Patoff's origin, though, and it has implications for a possible The Consultant Season 2. Amazon has not confirmed yet if the series will be renewed, but the Season 1 finale does leave the door open for more workplace horror. Here's everything else to know about a second season.
The Consultant Season 2 Potential Premiere Date
It's unclear when a potential second season of The Consultant would debut. Streaming dramas often take about a year between seasons, but that has often varied with Amazon shows like The Boys, Hunters, and Hanna. Assuming there are no delays and The Consultant gets renewed soon, you are likely looking at a spring 2024 release date.
The Consultant Season 2 Cast
Spoilers ahead for The Consultant Season 1. A second season of The Consultant would most likely center around Christoph Waltz's Regus Patoff. But it's unknown if you'll see the staff from CompWare again — like Craig (Nat Wolff) and Elaine (Brittany O'Grady) — or if a new season will focus on an entirely new company. The end of the series gives us a glimpse at CEO Rebecca Hood (Catherine Christensen) and her robotics company, so a new season could delve more into what happened at her office.
The Consultant Season 2 Plot
There are some hints that the series could continue to follow Craig and Elaine. In the Season 1 finale, Craig and Elaine rescue Patti and confront Patoff. Craig starts smashing the glass around Patoff's feet, accusing him of ruining everyone's lives while not knowing what CompWare does. "It's of no consequence. My job is to observe, to streamline, to improve. My targets were met, costs justified," Patoff said. He adds that Craig is "not the hero" before the glass breaks, and he falls to the floor. He loses a toe in the fall, but a trail of blood shows that he's limped away.
Later, Elaine returns to work as CompWare's new boss. Meanwhile, Patti leaves Craig while he obsesses over finding Patoff's toe. When he boils and polishes it, he discovers Patoff's skeleton is made of gold.
The episode ends with a boy playing Mr. Sang's Jungle Odyssey. In the distance, a news story plays about Rebecca Hood's Pterodactyl Robotics, whose shares have plummeted since her death. From an earlier scene, viewers know Patoff had visited her, giving her the same line he approached Sang-woo with: "My name is Regus Patoff, and I have traveled a very long way to offer you a gift."
On the news, they announced that Hood strove to create the first humanoid workforce. Meanwhile, in the boy's game, he finally wins the level, discovering a giant gold skeleton.
A future season could explore Patoff's origins and how he will likely upend Pterodactyl Robotics. It's also possible the show will continue to follow Craig and his obsession with Patoff, as well as if he ends up going to jail after putting "stalkerware" into Mr. Sang's Jungle Odyssey, as he revealed to Elaine.
This article will be updated as new information about The Consultant Season 2 becomes available.