'The Crown' Actors & Creators Have Reacted To Prince Philip's Death
Matt Smith and Tobias Menzies have played the Duke of Edinburgh in the Netflix drama.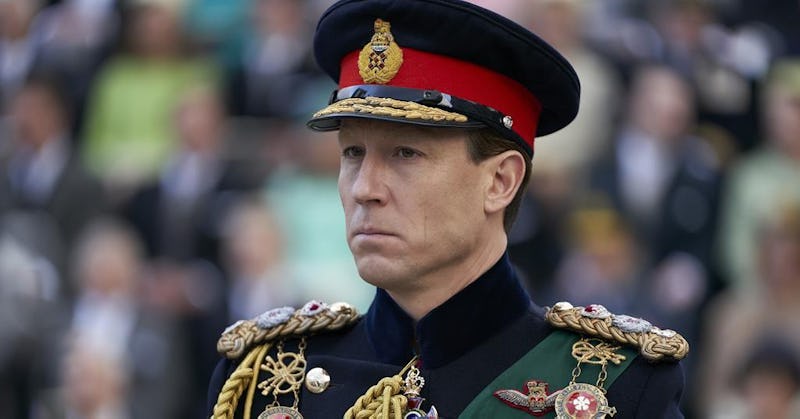 Netflix / The Crown
Creators of The Crown at Netflix have shared their condolences over Prince Philip's death, joining celebrities, politicians, and world leaders in their tributes.
Following the news that Prince Philip has died aged 99, just two months before his 100th birthday, the team behind the Netflix phenomenon released a statement in which they shared their well wishes.
It read: "Netflix, Left Bank Pictures, Sony Pictures Television and the production team on The Crown are deeply saddened to hear of the death of The Duke of Edinburgh. Our thoughts are with the Royal Family at this sad time."
Both actors who played the late royal also paid tribute to him on April 9, 2021. Prince Philip was first portrayed by Matt Smith in the first two seasons of The Crown, where his flaws were often the focus of the drama. However, after being replaced by Tobias Menzies to reflect the Prince's middle age as the years progressed, his softer side was shown, and he was given credit for supporting the Queen.
In a statement to Us Weekly, Smith said, "I'd like to offer my condolences to Her Majesty the Queen and the Royal Family, Prince Philip was the man. And he knew it. 99 and out, but what an innings. And what style. Thank you for your service old chap — it won't be the same without you." Menzies took to Twitter to express, in part, "If I know anything about the Duke of Edinburgh I'm fairly sure he wouldn't want an actor who portrayed him on TV giving their opinion on his life, so I'll leave it to Shakespeare."
It is thought that the late Duke's legacy will live in on as the series continues for its five and sixth run, where Jonathan Pryce will take over as an older Philip. He will be joined by Imelda Staunton, who inherits the role of Queen Elizabeth from Claire Foy and Olivia Coleman.