Harry & Meghan Had The Queen's Support For Name Choice, Spokesperson Says
Despite claims from a Palace source, the choice of Lilibet was agreed with the Queen beforehand, according to the Sussexes.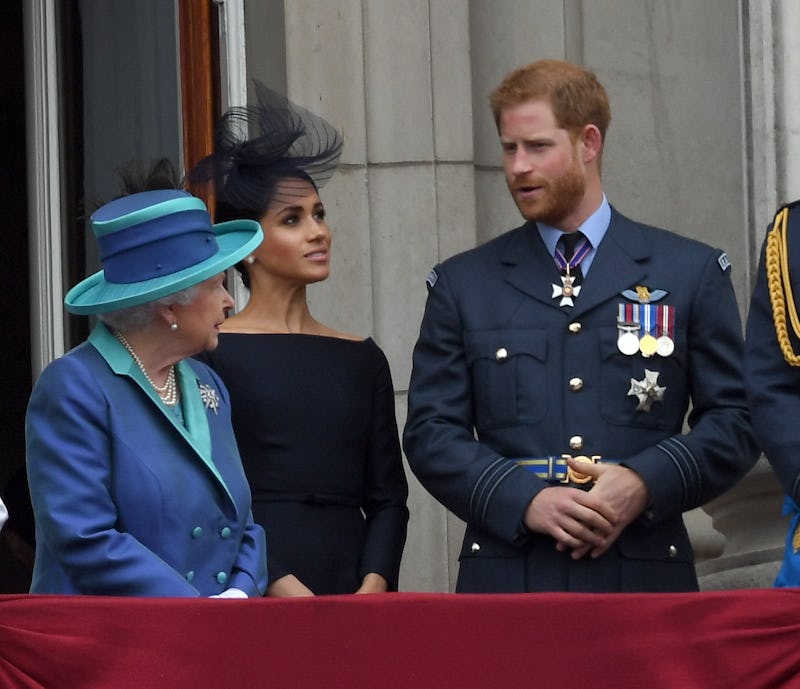 Anwar Hussein/Getty Images Entertainment/Getty Images
In response to claims that emerged on June 9, a spokesperson for the Duke and Duchess of Sussex has confirmed that the couple were indeed given the Queen's blessing to name their daughter Lilibet "Lili" Diana Mountbatten-Windsor.
A few days after the announcement that Prince Harry and Meghan Markle would be honouring the Duke's late mother and Queen Elizabeth with their choice of name, a Palace spoke to BBC, claiming that the Queen had not been consulted on this decision.
The Sussexes were quick the respond, however, with a spokesperson making clear that "[t]he Duke spoke with his family in advance of the announcement."
They continued: "[I]n fact, his grandmother was the first family member he called. During that conversation, he shared their hope of naming their daughter Lilibet in her honour. Had she not been supportive, they would not have used the name."
The sweet moniker has been the Queen's nickname since her childhood, first used by her grandfather, King George V who affectionally called her Lilibet. Unable to pronounce her own name as a child, the King imitated the Queen's own attempts at saying her name. It stuck and was used by close relatives, including her father, George VI, the Queen mother, Princess Margaret and Prince Phillip used it.
This new claim from a Palace source comes after months of fraught communication between the royal family and the Sussexes following their groundbreaking interview with Oprah Winfrey. For some royal analysts, the choice of Lilibet is believed to be an olive branch of sorts on behalf of Harry and Meghan.