Who Is In Netflix's Moxie? Amy Poehler Directs A Cast Full Of Fresh, New Talent
The cast features a mix of up-and-comers and seasoned stars.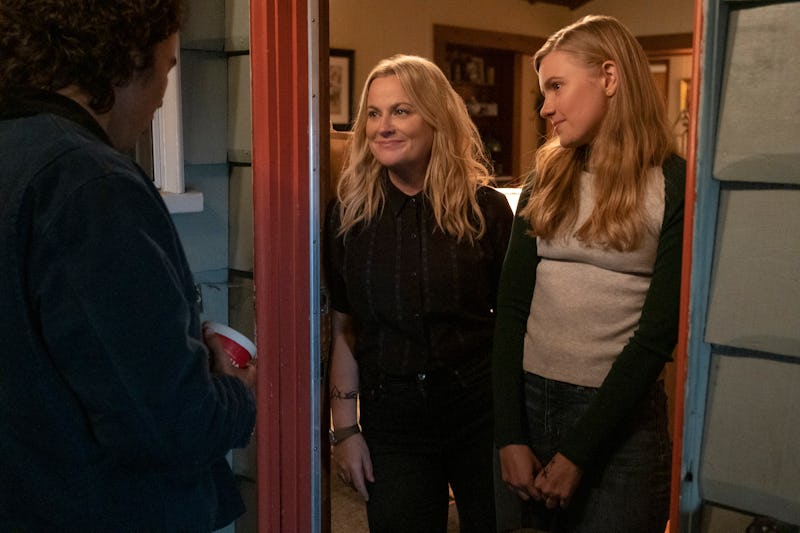 Colleen Hayes/Netflix
Zinesters and riot grrrls, take note: Netflix's Moxie, which premieres March 3, seems dead set on weaving a story about heady, meaningful teenage rebellion through protest and one of the most indie of art forms, zines. Naturally, who better to write and direct (and co-star in) such a film than Amy Poehler, whose past roles include many notable feminists and fighters of the status quo. But what about the rest of the Moxie cast? Who is in the comedy-drama and how do they stack up?
Moxie tells the story of Vivian (Hadley Robinson), a young woman in a small-ish town who attends a high school running rampant with misogynist students. Every year, a "ranking" goes out, placing the girls in the school based on aesthetics and looks, and it happens right under the faculty's noses. Sick of dealing with the creepy toxicity, Vivian turns to her mother, Lisa (Amy Poehler), whose riot grrrl, zinester past inspires the teen to start a zine of her own: Moxie.
Through the zine, Vivian fights back against the misogynistic principles propped up by nearly every student and faculty, and she finds allies to her cause in the unlikeliest of places. There's one catch, though: She's doing it all anonymously. Like a superhero with a secret identity, she watches it all play out and fights alongside her newfound allies against the toxicity ruling her school.
As with many films set in high school these days, the cast is loaded with a bunch of fresh, new faces, plus a few recognizable ones, including a popular reality show alum and the son of a legendary action star.
If you think Moxie's got moxie and want to learn more about it, you need not wait much longer. Moxie premieres on Netflix on March 3.