18 Celebrity Cameos On The Nanny You Totally Forgot About
From Ray Romano to Whoopi Goldberg.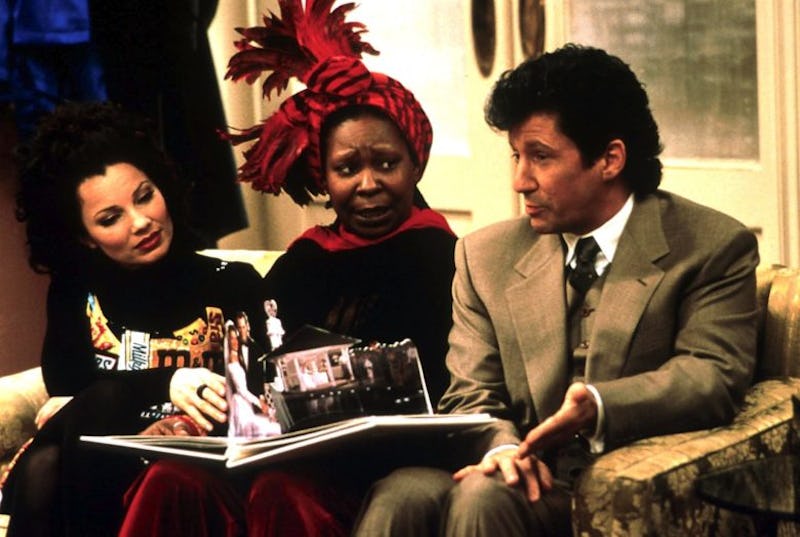 CBS
Across six hysterical seasons, The Nanny made room for an enormous number of celebrity guests — some with a personal connection to star Fran Drescher but even more who were just willing to become a part of the warm, funny world Nanny Fine created when she took up a room at the Sheffields'. The roster included some of the most famous actors at the time, but also singers like Patti LaBelle, Eartha Kitt and Eydie Gormé. They were often the butt of the joke, like when Marvin Hamlisch played Fran's old teacher who looked a lot like Marvin Hamlisch. Ray Romano, who went to high school with Drescher in Queens, also showed up at Fran Fine's high school reunion as Ray Barone from Everybody Loves Raymond.
Here are the other celebrity guests you should be on the lookout for during your next The Nanny marathon when the hit sitcom comes to HBO Max on April 1.
Rosie O'Donnell
Before she became an American talk show staple and enemies with Donald Trump, O'Donnell played a cabby with a bad attitude in Season 3, Episode 21 of The Nanny. But that wasn't her only guest turn. A full season later, after The Rosie Show hit the air, O'Donnell returned to play herself in Season 4, Episode 4. Nanny Fran Fine appeared as a guest on a (fake) episode of her eponymous daytime show.
Whoopi Goldberg
Whoopi, like Rosie, shows up twice in The Nanny. In Season 5, Episode 20 she plays Fran and Mr. Sheffield's wedding photographer and in Season 6, Episode 8 she portrays herself.
Donald Trump
When Donald Trump appeared on The Nanny as himself in Season 4, Episode 4, he asked for a re-write. According to Drescher, his assistant asked that a line referring to Trump as a millionaire be changed to "billionaire." Drescher, who didn't think Fran would say "billionaire," settled on a more vague figure and called him a "zillionaire."
Elton John
Elton John and his now-husband David Furnish show up as dinner party hosts in Season 5, Episode 2 of The Nanny, compliments of Mr. Sheffield's Broadway Roladex.
Bette Midler
In one of her few TV turns at that point, Midler appears in The Nanny Season 4, Episode 23 to co-host a charity event with Maxwell. To this day, she stays in touch with Drescher, even appearing virtually at the star's 2020 charity event for Cancer Schmancer.
Elizabeth Taylor
Taylor shows up as she simply must in Fran Fine's universe: as herself in Season 3, Episode 21. And she gamely offers up her long marriage history as a punchline. When Fran tells her that she's never been married, Taylor is bewildered. "Even once?" she asks the future Mrs. Sheffield.
Rita Moreno
Moreno played a gym teacher in The Nanny Season 1, Episode 19, but her relationship with Drescher didn't end there. She also played Drescher's mother in the 2011 sitcom Happily Divorced, and when the legendary actor and singer was honored in 2016 at the LA Music Center, Drescher presented her with the award.
Chevy Chase
Chase sparks jealousy in Mr. Sheffield when he goes on a Vegas winning streak with Fran sitting beside him in Season 5, Episode 6.
Coolio
In a commendable devotion to wordplay, Coolio appears as a gift wrapper who Fran transforms into an actual rapper for Mr. Sheffield's new musical in Season 5, Episode 17.
Celine Dion
Another musical guest! Sheffield takes Fran to see Dion in London in Season 4, Episode 26, remarking that "she'd be a sensation on Broadway." We're still waiting for this.
Roseanne Barr
It's hard to imagine Drescher, an active Democrat, inviting Barr on her show now, but in the '90s she played Fran's cousin in Season 5, Episode 1.
Ray Charles
Ray Charles signed up for a four-episode arc as Grandma Yetta's fiancé in Seasons 5 and 6. He was also Coolio's uncle.
Jason Alexander
George is here! In Season 4, Episode 1, the Seinfeld star shows up as a suitor who, across his dates with Fran, begins to suspect she's interested in Mr. Sheffield.
Joan Collins
Collins plays the secretary who Maxwell's father (Robert Vaughn) left his mother for in Season 4, Episode 6. Like Moreno, this was the beginning of a working relationship with Drescher; Collins would eventually appear in Happily Divorced as well.
Pam Anderson
In the pilot of The Nanny, Fran Fine shows up at the Sheffield residence, recently dumped by her boyfriend Danny and desperate to get out of her parents house. But it would be years before fans learned the full story of that breakup. In the final season, we meet Anderson's Heather Biblow, who stole Fran's man and made The Nanny possible.
Jane Seymour and Joe Lando
Fran runs into Dr. Quinn Medicine Woman and Byron Sully, in full costume, on a Hollywood backlot during a Sheffield family trip in Season 3, Episode 11 that actually didn't require its actors to go anywhere. Though The Nanny was set in New York City, it mostly filmed in LA.
Billy Ray Cyrus
Like many of The Nanny's musical guests, Cyrus played himself on a single episode in Season 2, Episode 23. Still, Drescher clearly left an impression. "The Nanny !!!! Ha ha ! I remember now ! F D was one of the nicest people I ever worked with. Truly a BIG BIG STAR !" Cyrus tweeted in 2015.
Dan Aykroyd
Aykroyd and Drescher had known each other for years when he showed up at the Sheffield residence as a refrigerator repairman in Season 1, Episode 18.