The Kardashians Have A COVID-19 Scare In The New KUWTK Trailer
Plus, Tristan and Khloe are getting closer.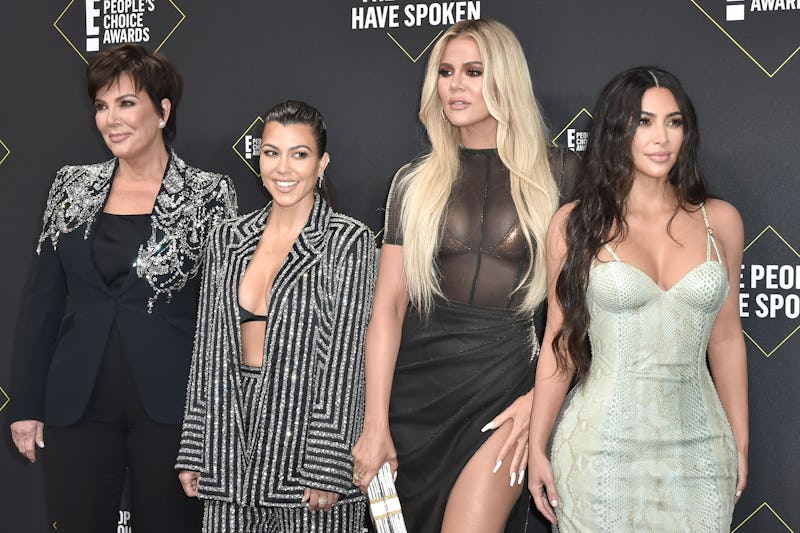 David Crotty/Patrick McMullan/Getty Images
Fans of Keeping Up With The Kardashians have had to wait a while to get their Kardashian fix, but now thanks to the new KUWTK trailer, that wait has finally come to an end. The widely popular E! series unveiled its first look at the upcoming season, which is slated to debut on Thursday, Sept. 17. And the juicy clip teases the show's traditional family drama, and how they deal with the ongoing pandemic when one of their own may be showing symptoms of the virus.
"Everybody in the world is talking about coronavirus," Scott Disick is shown saying casually in the clip. Later on, Kim also expresses her concern over her sibling, stating that she's "super worried that Khloe is so sick" and fearing the worst. However, that isn't the only instance where the youngest Kardashian sister (not including the Jenners) is front and center of all the juicy drama.
In addition to tackling COVID-19, the promo features Khloe and her ex Tristan Thompson having a serious discussion about their relationship. "Why couldn't you be that when we were together?," Khloe asks the NBA star at one point. The two have reportedly been quarantining together with their daughter, True, and have been hounded by rumors that they're back together. Could this be the conversation that changes it all?
Meanwhile, various members of the Kardashian and Jenner clan are shown catching up with each other on Zoom, no doubt for social distancing purposes, which is probably the most relatable thing this family has ever done.
Kim is also featured galavanting around Paris just before her husband Kanye West's fashion show; however, that trip quickly takes a stressful turn as the country goes into lockdown as a result of the pandemic. "We're gonna have to leave Kourtney," Kim states in the video. "We have to get out."
Last, but certainly not least, the trailer touches upon Scott's decision to check himself into a rehab facility in Colorado earlier this year, which originally he had hoped would be kept out of the public eye. But that plan was apparently thwarted by someone close to him. "There couldn't have been a bigger betrayal," he reveals in the promo. "She leaked me being there to the press." Though, unfortunately, he doesn't go on to specify who this mystery person is.
Fans will simply just have to wait to find out more when Keeping Up With the Kardashians returns this fall on Thursday, Sept. 17 at 8 p.m. ET on E!