This Detail From The 'Gilmore Girls' Finale Changes Everything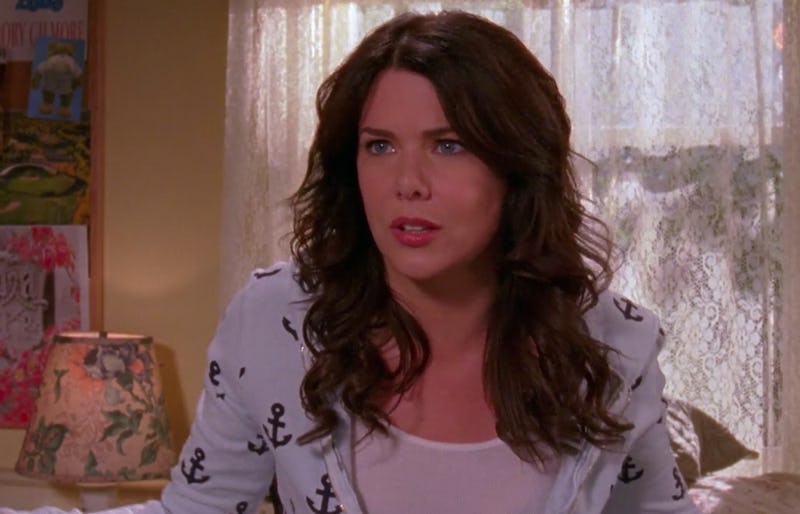 Warner Bros. Television
Since Netflix resurrected Gilmore Girls last fall fans can't stop obsessing over whether or not there will be even more new episodes of the show. As Gilmore Girls: A Year In The Life ended on a cliffhanger, it feels as though there's so much more story to explore. But while we all wait on tenterhooks to find out whether Netflix will revisit Lorelai and Rory once again, there's plenty of time to revisit the original series, especially as the Gilmore Girls finale aired ten years ago, on May 15, 2007. It seems completely impossible that a whole decade has passed since Rory and Lorelai left our screens the first time around.
Starting out on The WB, the show wrapped on The CW, and without creator Amy Sherman-Palladino at the helm, some fans felt shortchanged. But, in many ways, the Season 7 finale of Gilmore Girls gave the characters as good a send-off as it could, and tried to remain true to the spirit of the show. With Rory getting a job as an online reporter on Barack Obama's campaign bus, it felt as though the series was truly looking ahead to the future. But this one detail about the Gilmore Girls finale changes everything.
In the finale, the residents of Stars Hollow are preparing to say goodbye to their favorite daughter, not realizing that in ten short years they'll all be reunited once more, on Netflix. In Luke's Diner, the residents of the town find out that Rory will be leaving to start her new job imminently, and will not have time to celebrate with a reenactment of her graduation.
To placate residents including Babette and Kirk, Rory and Lorelai act out the graduation with a copy of the menu from Luke's. Rory even utters the words, "I am so happy to have graduated, Summa cum Luke," which is perfection. However, this reenactment doesn't satisfy anyone, and leads to the following, somewhat prophetic, exchange.
Even way back in 2007, the cast and crew of Gilmore Girls weren't ready to say goodbye, and slipped this dialogue into their final episode. They may have been talking about Rory's new job, but the Gilmore Girls finale basically announces to viewers everywhere that this isn't goodbye at all. In fact, "this is more like a see you later."
While no-one knew in 2007 that Gilmore Girls: A Year In The Life would happen, it's impossible to see this piece of dialogue as an accident. Instead, it feels as though everyone involved in the show wasn't ready to say goodbye, and that's beautiful.