Everything To Know About Them Season 2
The widely criticized new horror series has already been renewed.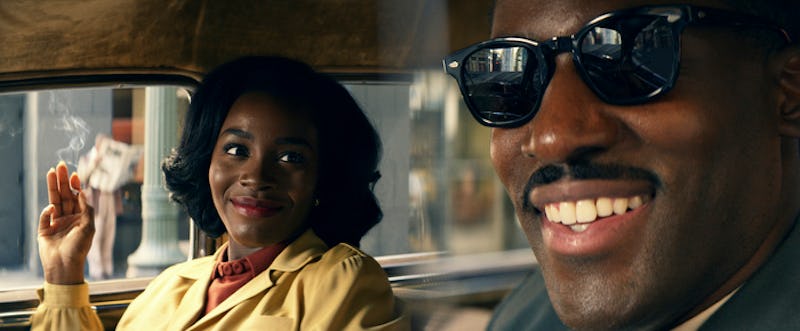 via the Amazon Studios press site
Season 1 of Amazon's new horror series Them has already drawn criticism for its harsh, uncompromising depiction of Black trauma. But that won't be stopping the show from coming back: it received a two-season order when it was picked up by Amazon in 2018.
This will, however, likely be the last we see of the Emory family, whose story of suffering at the hands of racist 1950s America was wrapped up in Season 1. From the beginning, creator Little Marvin envisioned Them as an anthology. "What I can say is that it's a different time and a different place every season," he told Deadline after the show's SXSW premiere in March. "What will stay absolutely the same is that we will take folks who have largely historically been marginalized, who have never populated the center of the frame and put those folks front and center and their own stories of American terror. So new story, new people every year, but that similar theme throughout."
It's difficult to say exactly when Them Season 2 might premiere. It took a year after Amazon announced the show for production to begin, and the finished series wasn't released until April 2021. While some of that timeline was undoubtedly impacted by the coronavirus pandemic — and Them's early Season 2 order means scripts could already be developed in some form — it seems safe to say that Them won't be returning until 2022 at least.
With a return date so uncertain (and certainly far away), there have been few details about what Season 2 will look like. At this point, it's unclear if Them will bring back any members of its Season 1 cast, which included Deborah Ayorinde (Luke Cage, True Detective), Ashley Thomas (Top Boy), and Alison Pill (The Newsroom, Star Trek: Picard). Marvin could follow in the footsteps of American Horror Story and recast the show's lead actors in new roles each season, with the same malevolent entities making their returns as well. Alternately, he could opt to explore not only a new time period but also new faces and outlooks on American terror.
While Season 1 drew on post-World War II racism, what Season 2 will focus on is so far unknown. Marvin and executive producer Lena Waithe have remained tight-lipped about what's in store for Them's second season, promising only that it will continue to be terrifying. "I've always felt that dark, surreal times deserve dark, surreal mirrors to show us ourselves," Marvin told The Hollywood Reporter in 2018. "And at this point in time, one of the best ways to examine fractures in our world is through the visceral and raw lens of horror."
There are certainly no shortage of horrors in American history for Marvin to filter through his dark and surreal lens. The only question now is when, where, and how Them's second season will unnerve and horrify its audience next.