5 Things To Know About Bristol Mayor Marvin Rees Ahead Of Statue Wars
Bristol's mayor is the focus of an upcoming documentary for BBC Two.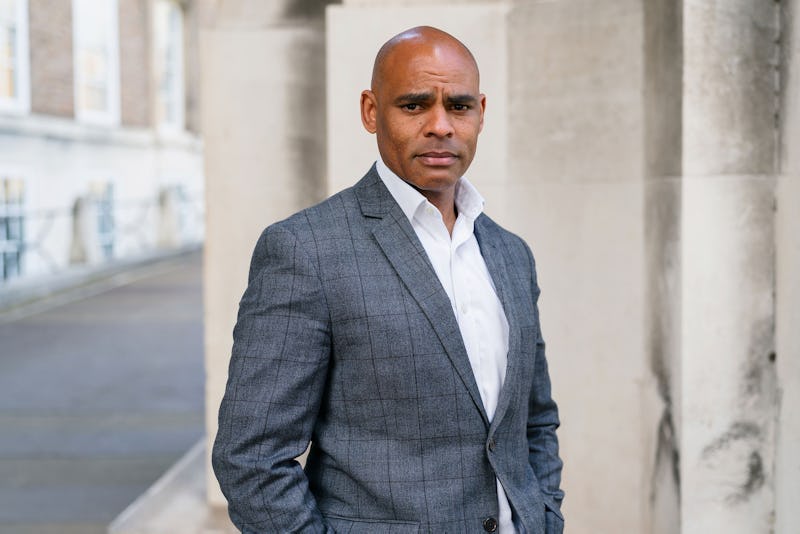 BBC/Uplands TV/Sam Gibson
During the 2020 Black Lives Matter demonstrations, a statue of 17th-century slave trader Edward Colston was torn down by protestors in Bristol and thrown into the river. Now a new BBC Two documentary titled Statue Wars: One Summer In Bristol will follow the immediate aftermath of the event, and how the city's mayor Marvin Rees dealt with the situation in real time.
Produced by David Olusoga's production company Uplands Television, BBC film crews were allowed access to Bristol's City Hall days after the toppling of the statue to film came next. Viewers will see Rees deal with the international press attention that came after Colston was toppled as well as the mayor's reaction when a statue of activist Jen Reid was put in its place by demonstrators. (Reid herself does not feature in the film – a decision that has been criticised).
Rees is very much at the centre of this documentary, which follows him as he tries to hold the city together following the events that transpired over the course of a few days. With this in mind, I've gathered together five key facts you need to know about the Bristol before watching Statue Wars.
1. Marvin Rees Was Europe's First Directly Elected City Mayor Of Black African-Caribbean Descent
When Rees was elected mayor of Bristol in 2016, not only did he make history in the UK as the country's first Black mayor but he also became Europe's first directly-elected City Mayor of Black African-Caribbean descent. His historic elections was made even more significant by the fact that Bristol was once Britain's main slave port between 1730 and 1745.
"I don't want to be tagged as the Black mayor. I'm a mayor for all of the city," he told the Guardian following his win. "But my story of growing up here as a mixed-raced kid does matter. There is something special about that."
2. He Was Raised In Easton & Experienced Racial Tensions First Hand
Rees was raised in the inner city area of Easton, by a British mother and Jamaican father. "I didn't really enjoy growing up there," he said in a biography published by Operation Black Vote. "There was racial tension, being mixed race and from a poor family it was really quite tough."
But it was these experiences that made him want to become an MP for Bristol. "It gave me a real desire to overcome poverty and racism," his biography reads. "It's given me something to work to."
3. He Initially Wanted To Join The Royal Marines
Before he attended Swansea University to study for a masters in political theory, Rees was inspired to join the Royal Marines after watching about the infantry on Newsnight. "They kept on telling me: 'You'll be the first British-born Black Royal Marine officer,'" he told the Guardian. He later discovered that he had an eye condition that prevented him from joining, and instead began his path in politics.
4. He Once Worked With President Bill Clinton's Advisor
After starting his working life with Tearfund, a Christian relief agency supporting those in poverty, Rees moved to the United States in 1998. From there, he worked for Washington D.C. based social justice organisation Sojourner Magazine focusing on welfare reform. He also worked for President Clinton's advisor Rev Dr Tony Campolo, helping him work in social justice.
Rees also lived in Philadelphia for a time, where he earned a Masters in Global Economic Development in 2000.
5. He Was Re-Elected Bristol Mayor In May 2021
As part of the local elections in May 2021, Rees was re-elected as Bristol's mayor and will serve the city's council for another three years. "Getting elected one time is hard but getting re-elected is a whole different thing," he said in a speech, adding that without his family, team, and supporters his re-election "wouldn't have been possible."