Celebrities & Fans React To Tina Turner's Death At 83
"She was our River Deep and our Mountain High, the Private Dancer in our hearts."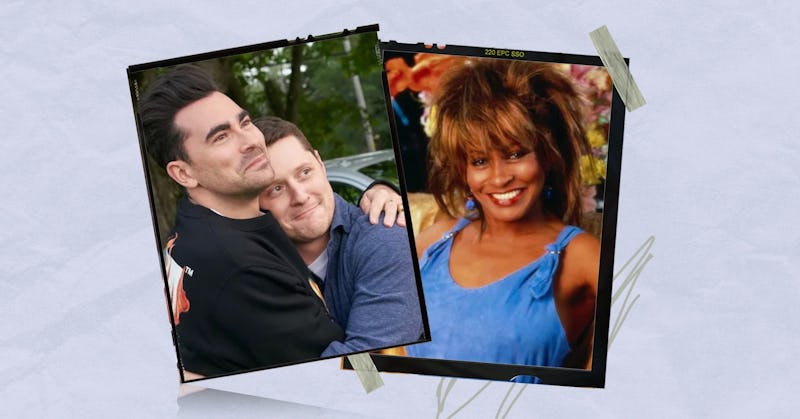 Schitt's Creek/Getty Images
The world is mourning the Queen of Rock 'n' Roll. Tina Turner died on May 24 at the age of 83, as her representative first confirmed to Sky News, stating she died "after a long illness" at her home near Zurich, Switzerland. "With her, the world loses a music legend and a role model," a spokesperson said in a statement.
Turner's death was then announced on her Instagram page, with a statement paying tribute to her musical legacy. "With her music and her boundless passion for life, she enchanted millions of fans around the world and inspired the stars of tomorrow," the post reads. "Today we say goodbye to a dear friend who leaves us all her greatest work: her music. All our heartfelt compassion goes out to her family. Tina, we will miss you dearly."
Turner's career is one of rock music's most memorable stories. After two decades of working with her ex-husband, which spawned iconic '70s hits like "Proud Mary" and "River Deep, Mountain High," she chartered her own path on her 1984 album Private Dancer and remained a defining artist of the '80s and beyond, with Billboard calling it "one of the greatest comebacks in music history." Turner won 12 Grammys across her career, was inducted in the Rock and Rall Hall of Fame twice, and was the first female artist to grace the cover of Rolling Stone. Her life was chronicled with three memoirs, an acclaimed Broadway jukebox musical, and the 2021 documentary Tina.
Celebrities are quickly taking to social media to pay tribute to the legendary singer. Schitt's Creek creator and star Dan Levy shared the popular clip of his onscreen love interest, played by Noah Reid, performing Turner's 1989 classic "The Best" as an ode to his lover. "The ultimate inspiration," he wrote. "The Best. #RIPTinaTurner."
Angela Bassett, who received her first Oscar nomination for playing Turner in the 1993 biopic What's Love Got To Do With It, wrote an emotional note on Instagram, where she revealed the last words the singer had said to her. "Her final words to me - for me - were, 'You never mimicked me. Instead, you reached deep into your soul, found your inner Tina, and showed her to the world.' I shall hold these words close to my heart for the rest of my days," she said. "I am honored to have known Tina Turner. I am humbled to have helped show her to the world."
To honor Turner, Lizzo performed a special rendition of "Proud Mary" at her Special Tour stop in Phoenix, Ariz., and shared some words about the icon. "As a Black girl in a rock band, I would not exist if it was not for the Queen of Rock 'n' Roll," she said, before chanting, "There would be no rock 'n' roll without Tina Turner!"
In an interview with MSNBC, Cher recalled visiting her close friend, who she performed with several times in the '70s, in Switzerland in her final months, stating Turner was "really happy" despite being "really sick." "I started going to visit her because I thought, 'I need to put this time into our friendship, so she knows we haven't forgotten her,'" she remembered. "She said, 'I can't spend too much time,' then five hours later we were laughing like crazy… She was having a good time in spite of the fact that she was really sick and not wanting people to know about it."
Beyoncé posted an emotional note honoring Turner on her official website, sharing a photo from when they performed together at the 2008 Grammys. "My beloved queen. I love you endlessly," she wrote, in part. "I'm so grateful for your inspiration, and all the ways you have paved the way." Former President Barack Obama paid tribute on his Twitter, calling her "a star whose light will never fade," while actor George Takei wrote, "She was our River Deep and our Mountain High, the Private Dancer in our hearts." Fellow rock icon Mick Jagger also remembered his "wonderful friend" on Twitter. "She helped me so much when I was young and I will never forget her," he wrote.
Fans are also mourning the rock icon on Twitter, noting her immeasurable accomplishments and impact across the music industry and remembering their favorite performances.
Turner had experienced health struggles in recent years, being diagnosed with intestinal cancer in 2016 and suffering kidney failure that led to a transplant the following year. She is survived by husband Erwin Bach and two children, Ike Turner Jr. and Michael Turner, who she adopted after marrying ex-husband Ike Turner. Her eldest son Craig died at 59 years old in 2018, while another son Ronnie died at 62 in December 2022.