Travis Barker's New Tattoo Might Be A Tribute To Kourtney Kardashian
The fan theory is backed by some solid clues.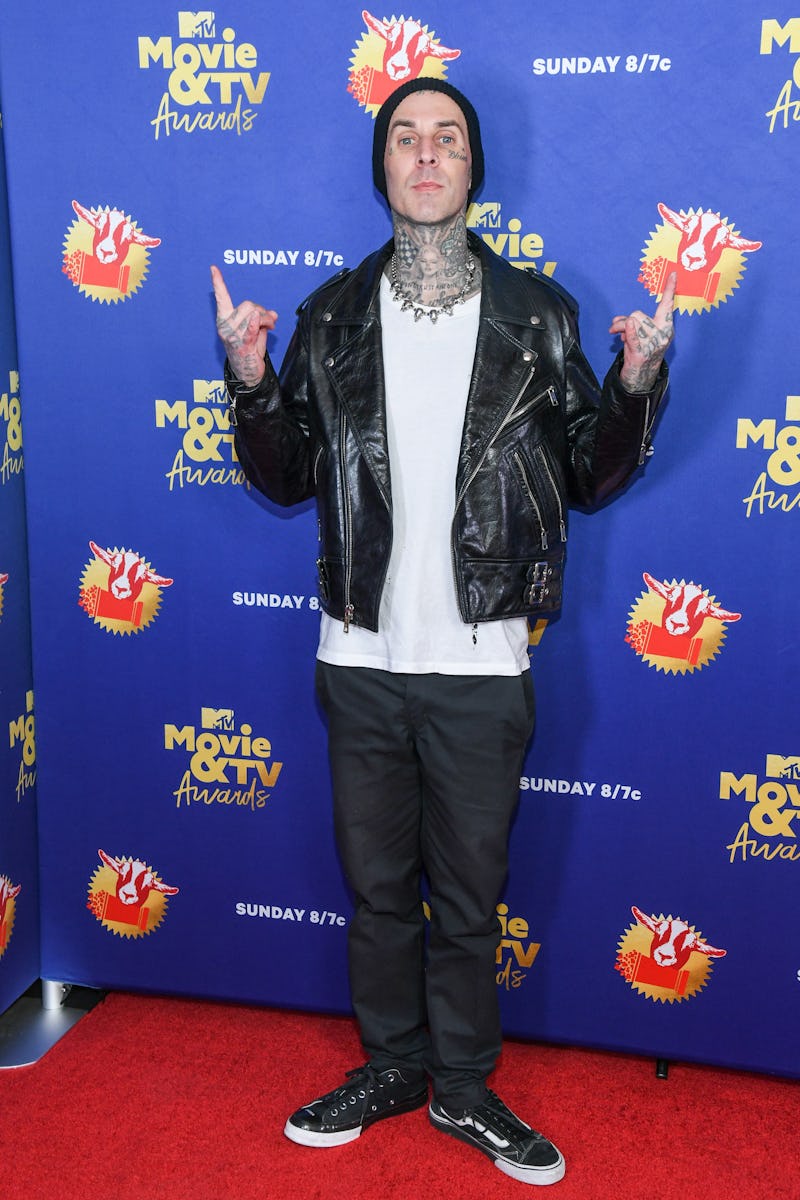 Kevin Mazur/2020 MTV Movie & TV Awards/Getty Images Entertainment/Getty Images
Blink 182's drummer appears to have taken his relationship to another level. Fans are convinced Travis Barker's new tattoo is a tribute to Kourtney Kardashian after the musician posted a photo of the new ink on his Instagram. The tattoo, which is on his upper thigh, reads, "You're so cool," is a reference to Quentin Tarantino's movie True Romance — a film that seems to be special to both Barker and his famous girlfriend.
In January, Kardashian posted a still from True Romance on her own Instagram page, captioning it with a heart emoji. After she posted the photo, Barker commented, "You're so cool." While that in itself makes a strong case for the fan theory, the couple's shared love for the movie isn't the only reason followers were convinced the tattoo is a tribute to the reality star. The rocker also posted a photo of a napkin with the quote on it, and many fans noted the similarities in the handwriting to a prior love note he received from Kardashian.
Last week Kardashian wrote a little love letter to Barker, which read, "I love you," and had a drawn heart. The Blink 182 member posted a photo of the note on his Instagram story, hinting that it was from the Keeping Up With the Kardashians star. While the note does look suspiciously similar to his new ink, the photo Barker posted is actually a screenshot from a scene in True Romance, in which Patricia Arquette's character, Alabama, writes the note, suggesting that aspect of the ink is a coincidence.
Even so, things do seem to be getting more serious between the Poosh founder and Blink 182 drummer. Kardashian and Barker made their relationship Instagram official in February, with the reality star posting a photo of the two holding hands. Barker then commented on the post with a heart emoji. The couple had previously hinted at a romance on Valentine's Day in February, when both stars posted a photo of the same romantic fireplace on their respective Instagram stories, according to People.
On Friday, Kardashian and Barker were also spotted getting lunch together in Los Angeles, suggesting the two are still spending plenty of time together. Kardashian, who shares three kids with ex-Scott Disick, has reportedly been spending time with Barker's family, as the rocker has three children of his own with ex-wife Shanna Moakler, according to People. The couple reportedly has the approval of the Kardashian-Jenner family as well. "He's a good guy and a really great dad," an unnamed source told the publication. "Her family and friends all really like him. Their kids all get along too, which is sweet."