Tulsa King Season 2 Could Kick Off A Larger Universe Like Yellowstone
The show was renewed after scoring record viewing numbers.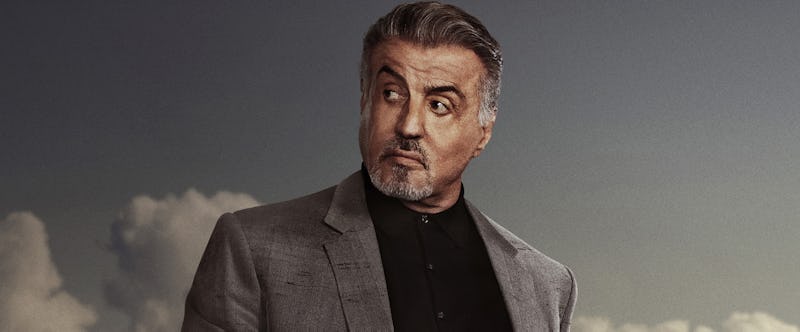 Paramount+
If you (or your family) have been obsessed with Tulsa King on Paramount+, you're not alone. Between its familiar lead in Sylvester Stallone and its ties to the ever-expanding Yellowstone franchise — Taylor Sheridan created both series — the crime drama about a fresh-from-prison mobster starting a criminal enterprise in Tulsa, Oklahoma had the ingredients for success.
Now that the Season 1 finale has come and gone, leaving Dwight in another precarious situation with the law (minor spoilers ahead), when will Tulsa King return?
It may not come as a huge surprise that there will, indeed, be a Tulsa King Season 2. According to Variety, the series was actually renewed back in November, after a special airing of its premiere episode on Paramount Network — becoming the year's best new linear cable premiere, per the magazine. President and CEO of Paramount Media Networks, Chris McCarthy, told Variety that the show also prompted Paramount+'s "biggest new sign-up day in history."
Here's everything to know about the next installment so far.
Tulsa King Season 2 Cast
In addition to the return of Stallone in the titular role, you can likely expect the core Tulsa King stars to reprise their roles, too — including Andrea Savage as Stacy Beale, the ATF agent who forms a close bond with Dwight. Of course, she turned him into the authorities at the end of Season 1, so things will likely be particularly strained between the pair. "I'm very curious as to where we go from here," Savage told TVLine. "I'm sure fans will not be happy with Stacy."
Tulsa King Season 2 Plot
While Tulsa King Season 2 will have to address how Dwight deals with his new legal troubles, it may also help kick off a larger Tulsa King universe. When IndieWire asked about the prospect, Tanya Giles, Paramount Global's chief programming officer of streaming said the platform is "absolutely ... open to the possibilities" of expanding.
"The huge success we've had with Tulsa King and Sylvester Stallone opens up possibilities with Taylor Sheridan ... his mind works in terms of universes and backstories, so I think there's always a possibility that there's more to that universe and more to that story," she said. "More to come there."
Tulsa King Season 2 Potential Premiere Date
Paramount+ hasn't announced when Tulsa King will return, but the production timeline of Season 1 may give viewers a hint about what to expect. The series was first announced in December 2021 (then named an earlier iteration, Kansas City).
According to Tulsa World, filming in the Oklahoma city began in March 2022 — and the show was ready to debut in November, just eight months later. Given this timeline, it seems extremely plausible that the Tulsa King Season 2 premiere date could fall by the end of 2023.
This post will be updated with the trailer, release date, and additional plot details as more information on Tulsa King Season 2 becomes available.