Twitter Lost It Over Ariana Grande's First Positions Performance & Her Long Gloves
"Every performance Ariana has given us in gloves has been a serve."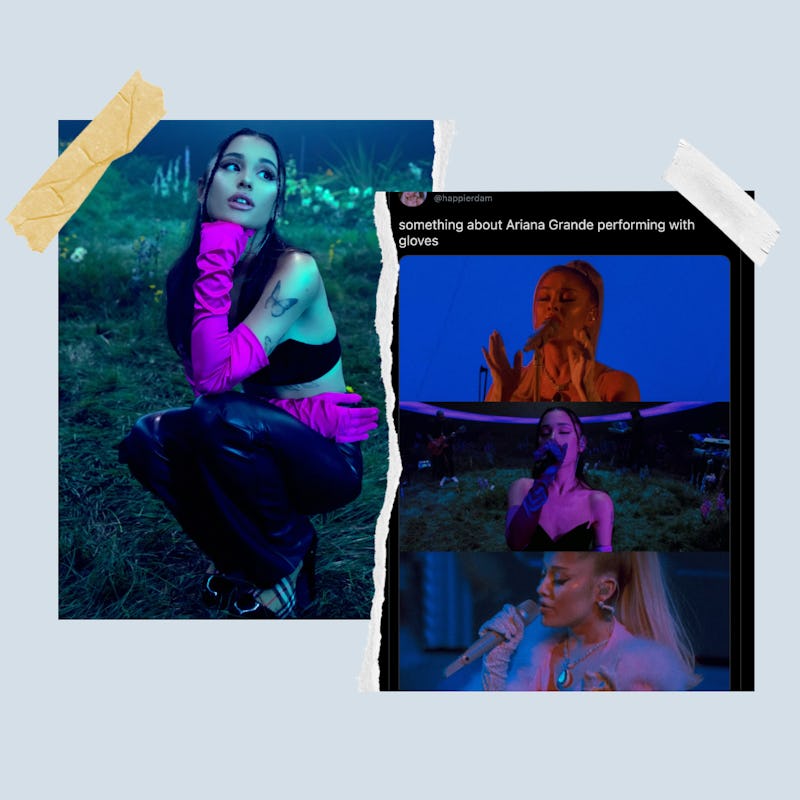 VEVO/@happierdam/Twitter
After initially saying that she didn't want to release new music during the COVID-19 pandemic, Ariana Grande reversed course and gave fans her sixth studio album Positions in October 2020. However, thanks to said pandemic, she hasn't been able to give hit singles like "Positions" and "34 + 35" the live treatment they deserve — until now. Grande finally performed her latest single "pov" from Positions for VEVO, and fans can't get enough.
The Victorious star played a stripped-down rendition of "pov" in a field of lush grass and colorful wildflowers. Beginning with her silhouette illuminated by a single spotlight, Grande sang the first verse a cappella before her band and signature finger-snaps kicked in for the chorus, where her vocals truly soared. Bathed in a lavender light, Grande walked closer to the camera and sang directly to the fans, singing, "I wanna love you the way that you love me." Even without a live audience, the singer still connected.
The "pov" performance marked the first in an exclusive video series with VEVO, where Grande will perform more tracks from Positions for the first time. "We are so excited to release these exclusive video performances to Ariana's fans," the music platform said in a statement. "An immensely creative and collaborative artist is key to these visually stunning performances and Ariana embodies that. Her efforts translated beautifully onscreen."
After the performance, fans took to Twitter to marvel at Grande's vocal prowess, with some calling it was a more effective form of therapy.
Other fans simply marveled at Grande's beauty and drew comparisons to past performances, noting that she was wearing long gloves in her most recent one. Those gloves hold some secret powers, don't they?
Some fans also think The Weeknd is joining in on the fun after the singer commented on Grande's post, tagging VEVO's Instagram account and using the hourglass emoji. The stars recently teamed up for a remix of The Weeknd's hit "Save Your Tears" and debuted it live at the 2021 iHeartRadio Music Awards on June 1. Now, a live performance of their Positions collaboration "Off the Table" may be in the cards.
First, virtual performances. Next, the Positions World Tour? Only time will tell.