Everything We Know About Ariana Grande's New Album
Positions has officially arrived.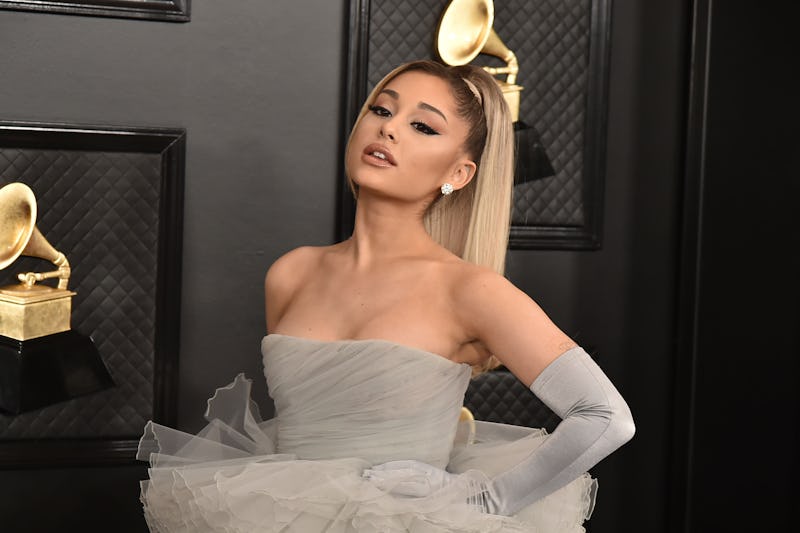 David Crotty/Patrick McMullan/Getty Images
The holidays are still a few months away, but Ariana Grande fans have already been given the gift of a new album. Thanks to the pop star's commitment to releasing music whenever she feels like it, her sixth studio album, Positions, was released on Oct. 30. Though the singer kept many of the details about the project under wraps ahead of its release, we've done the heavy lifting and rounded up everything we know about Positions to celebrate.
In March 2019, Grande told fans on Twitter that "it feels sm healthier & sm more authentic & rewarding" to simply release new music at her own pace, rather than keeping to a traditional "album cycle" schedule. "Regardless of the outcome, i prefer this bc it's real & feels happy," she wrote in that March 2019 tweet. "I love music. i love the ppl i make it w. these past few months made me fall in love w this job all over again. so thank u sm for being down." It seems like the singer is truly taking that to heart with her new music; on Oct. 14, she announced plans to release a new album later this month. And now that it's here, we have a lot to talk about.
Has Positions (The Album) Been Released Yet?
Yuh, yuh — Grande released Positions on Oct. 30 with three "slightly different" album covers available for purchase on her website. So far, fans have been flooding social media with praise for the songs and the album's very NSFW lyrics. "Can you stay up all night? F*ck me 'til the daylight," she sings in the chorus of "34+35." "Please pay attention [in math class] so u don't end up like me," the singer told a fan on Twitter, referencing the part in the song where she jokes that she "never was good" at math.
Grande first confirmed she was working on a new album on Oct. 7 when she told fans on Twitter that she was "turning in these mixes." A week later, on Oct. 14, she promised that the record would be out at the end of the month. As fans now know, the pop star has kept true to her word.
What Inspired The Lyrics On Positions?
While the sexier tracks have gotten the most attention since Positions was released, Grande also noted on Twitter that a lot of the songs were inspired by her journey of "healing and growing and feeling," as a fan described it. "Good karma, my aesthetic / Keep my conscience clear, that's why I'm so magnetic / Manifest it," Grande sings on "Just Like Magic," which is an optimistic track about attracting happiness and health into her life.
A lot of the songs also seem to be inspired by her relationship with Dalton Gomez and the process of allowing herself to fall in love again after some very public heartbreaks. "Why would I double back or do the same thing twice?" she sings on "Love Language," which is likely a nod at her current relationship following her 2018 split from Pete Davidson. The lyrics in "Safety Net" follow a similar theme: "You know you're really something, yeah / How we get here so damn fast?" she sings on the first verse. "You're making me forget my past / Never thought I'd feel like that again / I came to peace with my path/ Now you got me off track."
"Ari does a lot well but her music about reconciling with past traumas and her mental health hits me best," a fan who runs the official Bagel Bites Twitter account wrote in response to the album. "When I think about how many lives this young woman has lived, I'm in awe. she describes love as experienced by a flawed, imperfect person in such a special way. amazing."
Has She Chosen A Second Single Yet?
Less than 24 hours after Positions was released, multiple outlets reported that Grande was planning to release "34 + 35" as the album's second single. While the singer herself has neither confirmed nor denied these reports, she has already shared a lyric video from the song on YouTube. Plus, she told a fan on Twitter that she's been thinking about her next music video.
When Will "Positions" (The Single) Be Released?
As promised, Grande came through with her new single "Positions" on the morning of Oct. 23 — and it's a bop. Immediately following the track's release, longtime fans of the singer celebrated on Twitter, and many have speculated that some of the song's lyrics could be shade toward one of her famous exes.
Grande first confirmed that a single was on the way just a week after announcing plans to drop her sixth studio album in October (yes, she works quickly). In addition to sharing a countdown clock to the release on her official website, she also took to social media on Oct. 21 to reveal the cover art for "Positions," as well as a short clip of the single on Twitter. Both the art and the audio teased a sexy new era for the singer, who channels the early 2000s in a crop top and matching mini skirt. Most importantly, Grande has ditched her signature ponytail, instead choosing to rock glossy, flipped-out curls for the black-and-white photo.
Is There A "Positions" Music Video?
Along with the release of her new single on Oct. 23, Grande unleashed her very presidential "Positions" music video, which shows her signing bills in the Oval Office before strutting through the long hallways of the White House. But as the lyrics suggest, this video is all about switching positions, so while she might be a powerful girl boss running the country in one scene, she's out here making pizza dough in the kitchen in the next. "A cook, a boss btch, a leader, and a president all in one," one fan tweeted in reaction to the video. "The versatility ariana grande has to offer is mindblowing!"
Has The Singer Shared The Tracklist?
On Saturday, Oct. 24, Grande surprised fans with the album's complete tracklist, which includes a grand total of 14 songs. "i don't have a top three or anything," she tweeted alongside the list of the upcoming tracks. "everything goes hand in hand. this project is my favorite for many reasons and i really can't wait for it to be yours. thank u for your love and excitement, it means the world to me."
To review, here are all the songs on the album:
"Shut Up"
"34+35"
"Motive" feat. Doja Cat
"Just Like Magic"
"Off the Table" feat. The Weeknd
"Six Thirty"
"Safety Net" feat. Ty Dolla $ign
"My Hair"
"Nasty"
"West Side"
"Love Language"
"Positions"
"Obvious"
"POV"
Are There Any Collaborations On The Album?
In an interview with Apple Music that Grande did last May, she revealed that she and Doja Cat "did a song together toward the end of last year." And now that Grande has dropped the album, fans can officially listen to their song, titled "Motive."
The "Say So" singer wasn't the only music superstar rumored to be on the LP, though. On Oct. 14, The Weeknd retweeted Grande when she first announced plans to drop an album by the end of the month, prompting a ton of chatter online. As it turns out, the retweet wasn't for nothing; The Weeknd is on the album in a highly anticipated song called "Off the Table."
If you're wondering who else made it onto the album, Ty Dolla $ign teamed up with Grande for "Safety Net," which the rapper called an "amazing tune." "It was an honor to work with her," he told Los Angeles hip-hop station Real 92.3. "She wanted me to come through to the studio… We just wrote the song together right there on the spot."
Of course, not all of Positions' most memorable collaborators were big-name celebrities — some of the album's best contributions came from friends like Scott Nicholson, one of Grande's backup dancers. "[It was] the best night of my life," Grande told fans on Twitter about his lyrical contributions to "34 +35," adding that "he brought us all the gift that is the 'gimme them babies' line."
When it comes to the album's production, Grande's friend and frequent collaborator Tayla Parx told Insider that Grande had reunited with the "Thank U, Next" team to work on her new album. "The 'Thank U, Next' crew did get back together over quarantine," she told the outlet back in September. "I think she has to tell you more about [the album] herself, but I can tell you she's made, yet again, another evolution."
This article was originally published on