Does Umbrella Academy Season 3 Have A Post-Credits Scene? The Answer Will Surprise Fans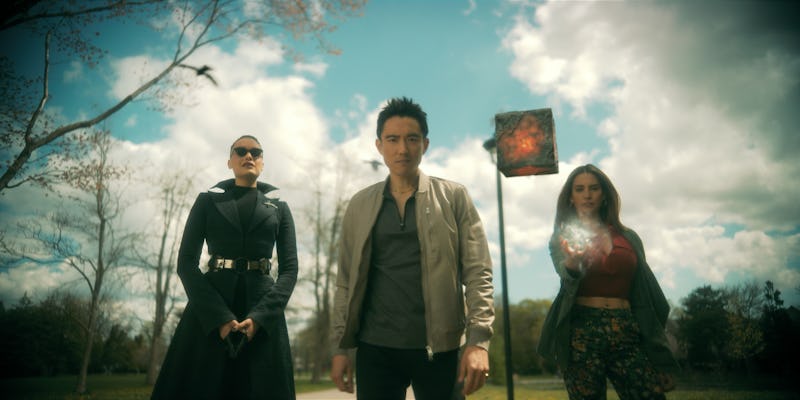 Courtesy of Netflix
Nearly two years after viewers last saw the Hargreeves siblings, The Umbrella Academy Season 3 finally reveals what happens when they confront their Sparrow Academy counterparts. Ahead of the June 22 premiere, Netflix teased that a "violent face-off" between the Umbrellas and Sparrows would turn out to be "the least of everyone's concerns" as an "unidentified destructive entity" wreaks havoc in their universe. Without revealing any spoilers, fans will definitely want to stay tuned past the conclusion because Umbrella Academy 3 has a post-credits scene that introduces a new time-jumping mystery.
This is the first time the Netflix series has included a post-credits scene, and the brief glimpse gives insight into where the story might venture next. (Netflix has yet to announce a reported Season 4 renewal.) Based on the comic books and graphic novels by My Chemical Romance's Gerard Way and artist Gabriel Bá, the screen version is already venturing into territory not yet fleshed out on the page.
Either way, the dynamic between the disparate Umbrellas and Sparrows is at the center of the latest installment. "The way I thought about Season 3 is, the Umbrellas are a family that didn't know how to be superheroes. The Sparrows are superheroes who never knew how to be a family," series creator and showrunner Steve Blackman told Entertainment Weekly in May. "That is the fundamental difference in how they go about being superheroes."
As the Season 3 trailer revealed, one major twist the Hargreeves weren't expecting is that brother Ben (Justin H. Min) — in the flesh, no less — would be a member of the Sparrows in this alternate reality. This "dickhead" version (as Emmy Raver-Lampman's Allison refers to him in one scene) isn't like the same Ben from previous seasons, though. "I wanted the opportunity to bring a whole new life to this character and throw our family off," Blackman added. "They remember Ben as being a kind and thoughtful person, but that is not who this Ben is. I wanted to see how they reacted to this totally different characterization of Ben."
To transform himself into the Season 3 version, Min worked with a voice coach to lower his register and project more, in addition to hitting the gym "for the first time in years" to get more toned. "I think the previous version of Ben was fearful of his powers," the actor explained in the same joint EW interview. "Since the Sparrows have been trained since such a young age to utilize their powers during combat, it's something the new Ben feels much more control over. It's a casual way for him to assert his superiority."
As Diego (David Castañeda) remarks in Netflix's teaser, the Hargreeves just want their Ben back. Stay tuned to find out if they can make that happen and save the world again, of course.