Everything We Know About Umbrella Academy Season 3
Netflix has finally announced the Season 3 premiere date.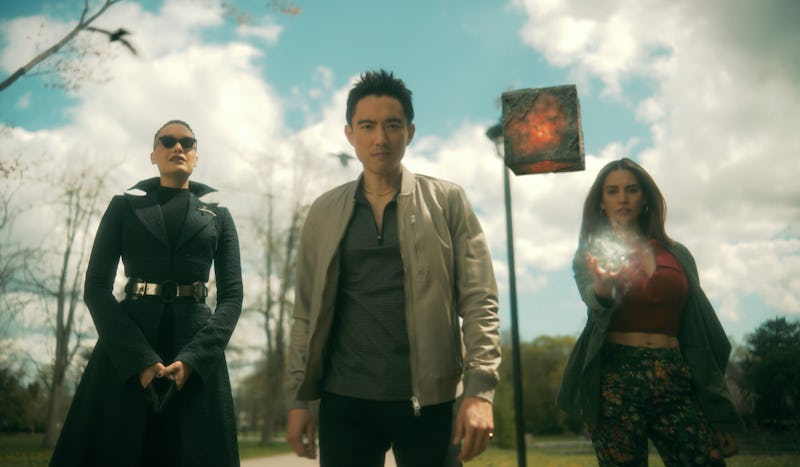 Netflix
Nearly four months after its Season 2 premiere, The Umbrella Academy was officially renewed for Season 3. Netflix announced the news on Nov. 10, 2020, confirming in a press release that the third season will once again include 10 one-hour episodes. Since then, details have been trickling out, but now that the show's return has gotten much closer, they're ramping up. Here's what we know so far about the third season of Umbrella Academy.
The Umbrella Academy Season 3 Premiere Date
Netflix confirmed that Umbrella Academy Season 3 will premiere on June 22, 2022, ending a nearly two year long wait. The lengthy gap between seasons was at least in part due to the pandemic. In an interview with Collider in February, star Emmy Raver-Lampman explained the relatively long turnaround time. "I think the 12 to 16 months is normal, especially for a show as big as ours that have so much VFX, but I also think you throw COVID into the mix and I think it's adding a little bit more time than everybody would want," the actor said.
After Season 1 debuted in February 2019 and Netflix renewed it that April, it took less than a year and a half before Season 2 arrived in July 2020. The next renewal was announced about four months later, on Nov. 10. Luckily, Raver-Lampman also told Collider that the wait "will be worth it."
The Umbrella Academy Season 3 Cast
All of the Umbrella Academy siblings will be back — including Justin H. Min's Ben, who's now fully alive. Colm Feore's Sir Hargreeves will also play a major role as the siblings continue to grapple with their childhood trauma, now face to face with the man who inflicted it. What we don't know is if the changes the Umbrella Academy made in 1963 mean that the robot Grace and Pogo exist again in 2019, too — and if, like Emo Ben, they'll be very different from how we remember them.
Ritu Arya is confirmed to return as Lila, and will likely be featured heavily in Season 3. Showrunner Steve Blackman previously told Bustle that we can "expect to see [Lila and Diego] trying to find each other" because "she really does love Diego and he really loves her."
Other characters introduced in Season 2, like Allison's husband Ray and Vanya's love interest Sissy, won't be returning, while Blackman confirmed Kate Walsh's Handler is really dead (though that doesn't rule out potential flashbacks or more time traveling). "If we did the math, Ray would be a very old man in 2019," Blackman said. "Same with Sissy. I think these are characters we met this year, and next season, we'll meet new people."
More changes abound: On March 29, Elliott Page confirmed that his character would come out as a trans man in Season 3, and that his name will now be Viktor Hargreeves. There's also a new cast member in the form of Euphoria's Javon Walton, though Netflix provided no further details about the actor's role.
The Sparrow Academy Members
The Sparrow Academy members will play a major role in Season 3. Per a press release, Jingle Jangle actor Justin Cornwell will play Marcus, aka Sparrow #1. He's described as a "charming, chiseled, colossus" who "oozes confidence and leadership without ever having to raise his voice."
Min's Ben is Sparrow #2. Unlike the Ben we know, this Ben is a Machiavellian tactician who is vicious, pragmatic, and determined to become the team leader at any cost.
Britne Oldford, who was on Skins and American Horror Story: Asylum, will play Fei, aka Sparrow #3. While it seems that she hates being around other people, she's actually seeking human connection. She's the Sparrow member most open to diplomacy, but once she gets mad there's no turning back.
Sparrow #4, Alphonso, is described as a battle-scarred survivor with a biting sense of humor and a fondness for arguing. He's played by Suits' Jake Epstein.
Genesis Rodriguez, who voiced Honey Lemon in Big Hero 6, will portray Sparrow #5, Sloane, a romantic dreamer who "feels a higher cosmic calling" to explore the world outside of the Academy but fears what could happen if she drops her family obligations.
86ed web creator and author Cazzie David will play Sparrow #6, Jayme, "a loner hidden under a hoodie" who has a "fear-inducing snarl" and considers Alphonso her only friend.
Finally, Sparrow #7 is known as Christopher, a telekinetic cube of unknown origin. He acts as the family mediator, and his powers include inducing paralyzing fear and freezing a room.
The Umbrella Academy Season 3 Plot
Season 3 will explore what it means for the Umbrella Academy now that their father is alive and has seemingly abandoned them for his new children. Per a Netflix synopsis, after putting a stop to 1963's doomsday, the Umbrella Academy return home to the present, convinced they finally fixed the timeline. But after a brief moment of celebration, they realize things aren't how they left them. They immediately clash with the Sparrows. It's only when they discover there's an unidentified destructive entity wreaking havoc in the Universe (which may have been caused by their time traveling) that they realize they have to team up with the Sparrows to fix it.
This is hewing close to the source material: the Sparrow Academy members appear as allies in the comics, but Ben's bad attitude definitely suggests the relationship will start out antagonistic. Beyond that, we don't yet know where Blackman will take the series. Season 2 was very, very loosely based on the second volume of the Umbrella Academy comics, Dallas, and it already pulled in the big Sparrow Academy reveal from the third volume, Hotel Oblivion. Hotel Oblivion involves the siblings traveling to a prison in a pocket dimension in deep space, and in Season 2 there was a brief hint that Hargreeves is interested in something on the dark side of the moon. Does this mean we'll see the team in astronaut gear in Season 3? Possibly. At the very least, maybe we'll finally learn if Luther's seemingly pointless time on the moon was actually building toward something after all.
This post will be updated with additional plot and cast details as more information on Umbrella Academy Season 3 becomes available.
This article was originally published on