Everything To Know About The Umbrella Academy Season 4
The Hargreeves' final adventure will include a "trifecta of actor greatness."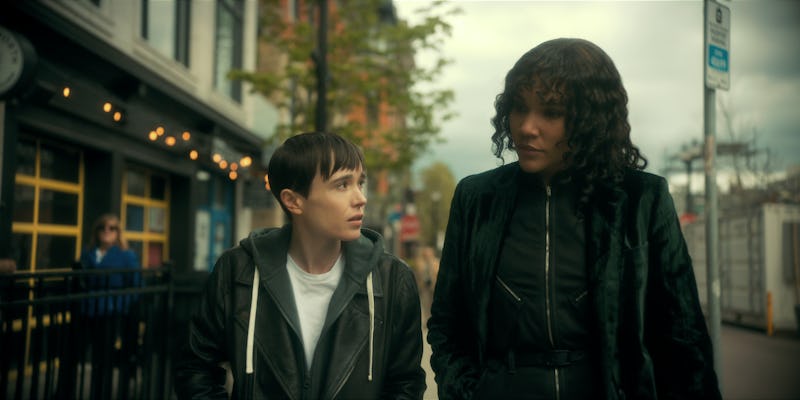 Netflix
When The Umbrella Academy Season 3 arrived on Netflix, it marked the return of the dysfunctional and superpowered Hargreeves family. The time-traveling crew continued its run of battling catastrophic threats, only to find themselves dealing with yet another new reality. Season 4 is set to present the Hargreeves with perhaps their biggest challenge yet before bringing the series to its conclusion.
On Aug. 25, Netflix officially confirmed The Umbrella Academy will return for a fourth and final season. Series creator Steve Blackman said he's "excited" for fans to see the end of the Hargreeves' journey, per The Hollywood Reporter. He added, "But before we get to that conclusion, we've got an amazing story ahead for season four, one that will have fans on the edge of their seats until the final minutes." Here's everything to know about The Umbrella Academy Season 4 so far.
When Does The Umbrella Academy Season 4 Premiere?
So, when will fans get to experience those final minutes Blackman teased? Seasons 1 and 2 premiered in February 2019 and July 2020, respectively, with June 2022 marking the return for Season 3. Netflix announced Season 4 production had begun on Feb. 6, so we expect it to premiere sometime in the first half of 2024.
What Is The Umbrella Academy Season 4 Plot?
The events of Season 3 and its finale set up a new conflict for the final season. After saving the world yet again, the Hargreeves find themselves in another alternate reality — one where they have no superpowers. They are also in a world where their father, Reginald Hargreeves, and his wife, Abigail, have built a huge corporate presence. Season 4 will dive into the siblings' life without the powers that have come to define them and perhaps set them on a journey to become superheroes again.
In past installments, The Umbrella Academy based its story on the comic book series of the same name. However, Season 3 deviated from the comic storyline in several ways. For instance, the inclusion of the Sparrow Academy will be slightly uncharted territory. The new characters were introduced in Volume 3 of Gerard Way's comic series and were announced to be the focus of Volume 4 in 2020, but that particular comic run has yet to be released. It leaves room for Season 4 to diverge even further from comic lore. Regardless, it is sure to be an exciting (and unpredictable) final chapter for The Umbrella Academy, just as Blackman promised.
How Many Episodes Will Be In The Umbrella Academy Season 4?
Fans have gotten used to 10-episode seasons of The Umbrella Academy, but that changes in Season 4. Creator Steve Blackman confirmed in a Dec. 13 tweet that there will only be "six amazing episodes" in the final installment. Knowing it wasn't the most welcome news to fans, he wrote in another tweet, "It's true. But you're going to love them."
Who Will Be In The Umbrella Academy Season 4 Cast?
The show's beloved main characters somehow made it through Season 3, and they'll be back for Season 4. The main cast received substantial pay raises after Season 2 and now make upward of $200,000 per episode. That means Luther (Tom Hopper), Diego (David Castañeda), Allison (Emmy Raver-Lampman), Klaus (Robert Sheehan), Number Five (Aidan Gallagher), Ben (Justin H. Min), and, of course, Viktor (Elliot Page) are returning next season. Sir Reginald Hargreeves (Colm Feore) and Lila Pitts (Ritu Arya) will also be back.
There will be new (but very familiar) faces in Season 4, too. Well-known actors Megan Mullally, Nick Offerman, and David Cross have signed on for the final chapter, as Deadline reported on Feb. 24. Blackman celebrated their addition in a Feb. 24 tweet, calling them a "trifecta of actor greatness."
Mullally and Offerman, who are married in real life, will play Drs. Jean and Gene Thibedeau, a couple from New Mexico who are both community college professors. They reportedly "wear sensible footwear and suffer from the most extreme case of deja vu this timeline has ever seen." As for Cross, his character is Sy Grossman, a business owner and family man who is "desperate to reconnect with his estranged daughter" and "will stop at nothing to get her back."
We'll see it all when new episodes of The Umbrella Academy finally arrive.
This post will be updated with additional plot and cast details as more information on The Umbrella Academy Season 4 becomes available.
This article was originally published on