Vanessa Bryant Posted A Poignant Birthday Tribute To Late Daughter Gianna
She also launched the Mambacita clothing collection to honor Gigi.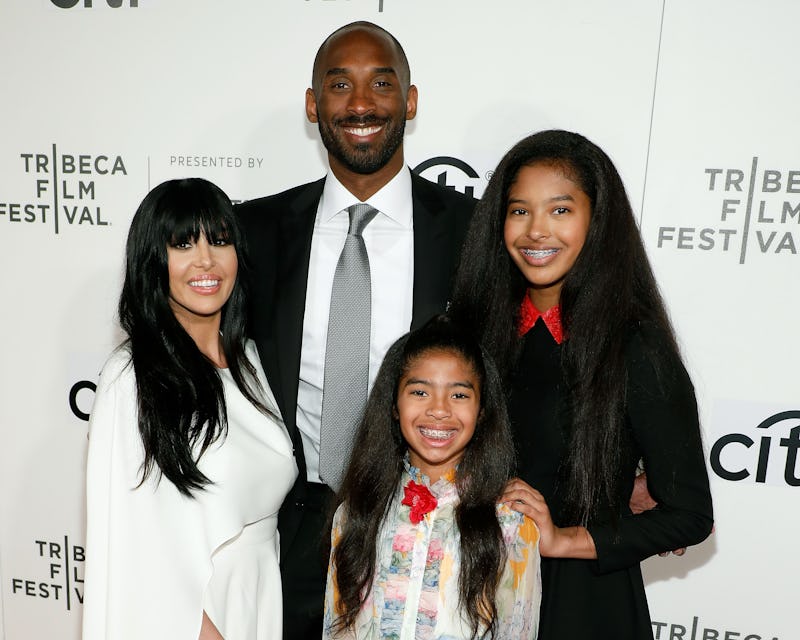 Taylor Hill/Getty Images Entertainment/Getty Images
On what would have been her late daughter's 15th birthday, Vanessa Bryant paid tribute to Gianna in a poignant May 1 Instagram post. "Dear Gianna, Happy 15th Birthday!" she captioned a throwback photo of her hugging her second-born daughter with late husband Kobe Bryant. "I love you! I miss you everyday! I wish you were here with us. There are no words to express how much I miss you. I love you Mamacita!"
Bryant, who's also mom to Natalia, 18, Bianka, 4, and 22-month-old Capri, shared the same photo to her Instagram stories, adding, "Mommy, Daddy, Nani, B.B. and Koko love and miss you so much!" Also in her stories, she showed off a fresh manicure with a "G" painted on the nail of each ring finger, in honor of Gianna's nickname, Gigi.
Among the celebrities who joined Bryant in wishing Gianna a happy birthday in the comments section were Naomi Campbell, Storm Reid, Lily Aldridge, Jessie James Decker, Stephen "tWitch" Boss, and Viola Davis, who wrote in part, "You will be forever remembered. Forever loved."
Kobe's sister Sharia Washington also shared Instagram photos of her niece, who died in a helicopter crash, along with her father and seven others, in Calabasas, California, on January 26, 2020 while en route to a basketball tournament. The NBA legend was 41 and Gianna was 13 at the time of their deaths. "Happy 15th birthday Gigi ...️ You inspire us to do better and be better everyday. We love you and we miss you!" Washington wrote.
The day before Gianna's birthday, Bryant announced the Mambacita clothing collection, a collaboration with the brand Dannijo. She shared photos of her and her daughters modeling some of the pieces and further noted that 100% of the proceeds will go to the Mamba and Mambacita Sports Foundation. The nonprofit organization is dedicated to creating a positive impact for underserved athletes and young women in sports.
"When I thought about how best to celebrate Gianna's birthday with so many who loved her, I knew it had to be a combination of sharing her bright and fun personality with her sense of purpose and passion that would help make a difference in this world," Bryant wrote on Instagram. "Gianna was kind, energetic, a leader, and had so much MAMBACITA swag. ... Gigi was especially motivated to change the way everyone viewed women in sports, and it's fitting that this capsule represents her values."
In March, Bryant opened up to People about the grief of losing her husband and daughter. "I can't say that I'm strong every day," she told the magazine. "I can't say that there aren't days when I feel like I can't survive to the next.
"This pain is unimaginable [but] you just have to get up and push forward. Lying in bed crying isn't going to change the fact that my family will never be the same again. But getting out of bed and pushing forward is going to make the day better for my girls and for me. So that's what I do."
Despite her unimaginable pain, Bryant is committed to keeping Kobe and Gianna's memory alive, both on their birthdays and all year round.