Everything To Know About Virgin River Season 4
The return of the popular Netflix drama is right around the corner.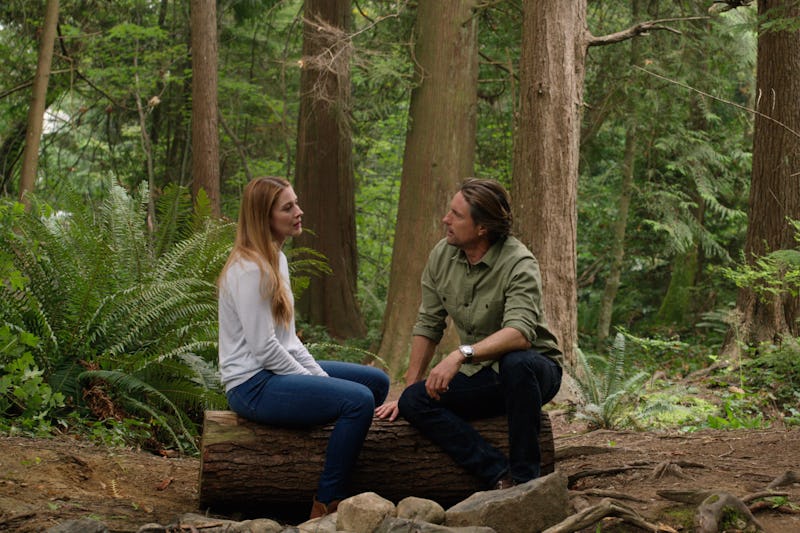 Courtesy of Netflix
Virgin River Season 3 had fans wanting more of the hit Netflix romance drama. Between all the twists of the latest installment (including that bittersweet cliffhanger), the series simply wouldn't be complete without a follow-up season. Lucky for the show's fans, Netflix announced last fall that Virgin River has been renewed for Season 4 and Season 5.
Season 4 of the series had been long expected, as Production Weekly reported back in June 2021 that Virgin River was set to film a new set of episodes starting July of the same year. Not only is Virgin River among Netflix's most popular shows, it also has plenty of source material to draw from, as it's based on Robyn Carr's book series that contains a staggering 21 novels. "The way I look at the show is that we're going to get as many seasons as we get," showrunner Sue Tenney said in a December interview. "And when we get to that last season, we want [the characters] to be where [Carr] has them."
Here's what we know about Season 4, so far.
The Virgin River Season 4 Release Date
Production on Season 4 wrapped in December — and Netflix has announced when, exactly, to tune in for more of the woodsy drama. The Virgin River Season 4 release date is July 20.
The Virgin River Season 4 Trailer
On May 11, Netflix dropped a batch of first-look photos from the season and on July 8, finally released the official trailer.
The Virgin River Season 4 Plot
That cliffhanger from the end of Season 3 — that Mel is pregnant but isn't sure who the father is — won't be the only drama to work through in Season 4. Per the official synopsis from Netflix:
Despite not knowing whether her baby belongs to her deceased husband, Mark or Jack, Mel begins Season 4 with a sense of optimism. For years she yearned to be a mother and her dream is one step closer to reality. While Jack is supportive and excited, the question of paternity continues to gnaw at him. Complicating matters is the arrival of a handsome new doctor, who's in the market to start a family of his own.
Based on the minute-and-a-half-long trailer, the question of paternity certainly looms heavy over Jack and Mel. Though their doctor says a non-invasive procedure is readily available, Jack is hesitant to go through with it because he doesn't want his feelings to change about "their baby." Jack's dad also makes an appearance — further complicating Jack's feelings about becoming a father. Whatever hodgepodge of issues he's dealing with, the trailer suggests that Jack may experience harmful alcohol use in the coming season — one that could get between him and Mel.
Wondering about the rest of the River? Netflix also confirmed that Hope is alive after her car accident, "the lingering psychological effects of her brain injury will have profound consequences for both her and Doc." The synopsis also teased Brie and Mike's relationship, and potentially one for Preacher, too — though "he can't help but hold out hope for being reunited with Christopher and Paige."
An exciting update is that fans will finally find out who Jack's shooter is — or rather, who it's not. Brady (Benjamin Hollingsworth) is proven to be innocent, as per the trailer, so hopefully, Season 4 unveils who actually pulled the trigger and planted the weapon to set Brady up.
The Virgin River Season 4 Cast
You can expect to see your Virgin River faves returning — including Annette O'Toole (Hope), who was missing from Season 3 due to lockdown travel difficulties, per Entertainment Weekly. But as you can see from the new photos, Hope will very much be a part of Season 4. Sarah Dugdale and Zibby Allen, who play Lizzie and Brie, are also returning. Fans are speculating that one character is unlikely to come back though. The actor who plays troublemaker Charmaine, Lauren Hammersley, raised eyebrows after posting on Instagram all the way from Nova Scotia while the rest of the cast had been cooped up filming the series.
As for that new doctor? According to Deadline, Dr. Cameron Hayek is described to have "eye-catching good looks, a razor-sharp intellect, and a smile that could light up the world," and will be played by Mark Ghanimé.
This post will be updated with the trailer and additional plot details as more information on Virgin River Season 4 becomes available.
This article was originally published on