The Cutout Dress Kendall Jenner Wore To Her BFF's Wedding Proves How Strong Their Bond Is
The model's attention-grabbing outfit rubbed the internet the wrong way.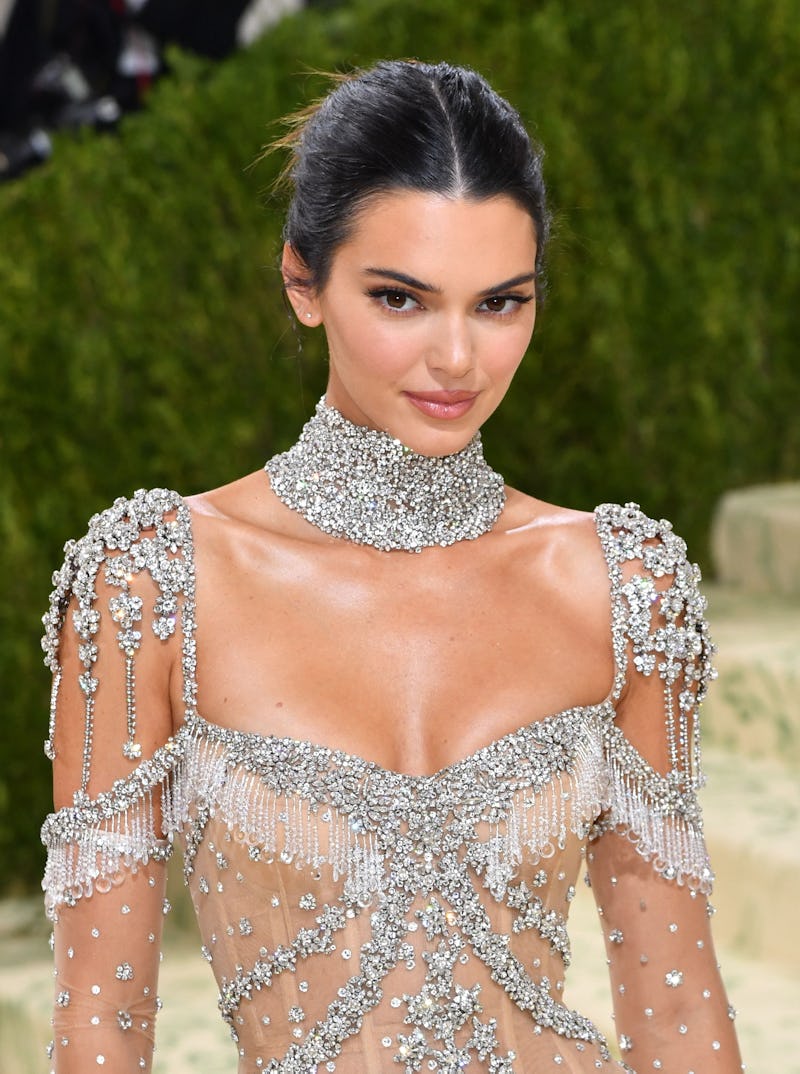 ANGELA WEISS/AFP/Getty Images
Friends support friends who make bold fashion statements — just ask Kendall Jenner's BFF, Lauren Perez. Last fall, Jenner captured the internet's attention when she wore a black cutout gown to Perez's wedding. The outfit didn't go over well on social media, with fans of the 26-year-old model calling the barely-there dress "blatantly disrespectful" and "inappropriate" for a formal affair. Fortunately, the Keeping Up With the Kardashians star had the bride's support.
After sharing photos from her big day on Instagram in December, Perez responded to someone on Instagram who was critical of Jenner's dress. "[KENDALL] LOOKED STUNNING AND I LOVED IT!" Perez wrote, according to Buzzfeed. Jenner also confirmed that she asked for permission to wear the attention-grabbing gown beforehand. "@laurenperez obvi asked for your approval in advance too," she reportedly wrote. "We love a beach wedding."
Clearly, the dress debacle of 2021 wasn't enough to tear their friendship apart, and that's probably because Perez has been a close personal friend of Jenner's for years. The 30-year-old has a long history of partying with the Jenners, snapping photos with a supermodel crew that includes Hailey Baldwin and the Hadid sisters, and is frequently paired with Kendall in fan ships. But what does Lauren Perez actually do?
According to Vogue, Perez is a "creative consultant, strategist, and entrepreneur," but her Instagram is proof that she, too, could be a model. It's probably more accurate to refer to Perez — who currently has 425K followers on Instagram — as a social media influencer. Her feed is full of her famous friends and artsy photos around Los Angeles. Occasionally, she'll post a thirst trap of her looking off into the distance and pretending not to care. Clearly, she's perfected her aesthetic:
While Perez may not have a standard 9-to-5, keeping her followers up-to-date on Instagram is a full-time commitment. Recently, Perez has mainly been posting about her wedding, which was postponed several times because of the COVID-19 pandemic. And in her interview with Vogue, she spoke about what it meant to have her close friends stand alongside her as she finally exchanged her vows with her now-husband, David Waltzer.
"It felt like love was radiating around us," Perez told the magazine shortly after her Nov. 11 nuptials. "And yet, I remember standing under the Chuppah (a traditional canopy under which Jewish couples get married) with my soon-to-be husband feeling like it was just us two. I think that's how you know it's right. I could hear my friends crying out of happiness, I could feel their joy, and still, I wasn't nervous; I wasn't scared."
Perez also wasn't focused on what her bridesmaids were wearing. "I was looking into David's eyes," she said. "I was ready to marry him. It was so right."