Marie-Andrée Leclerc Wrote A Book About Her Life With "The Serpent" Charles Sobhraj
It was one of her final acts before she died.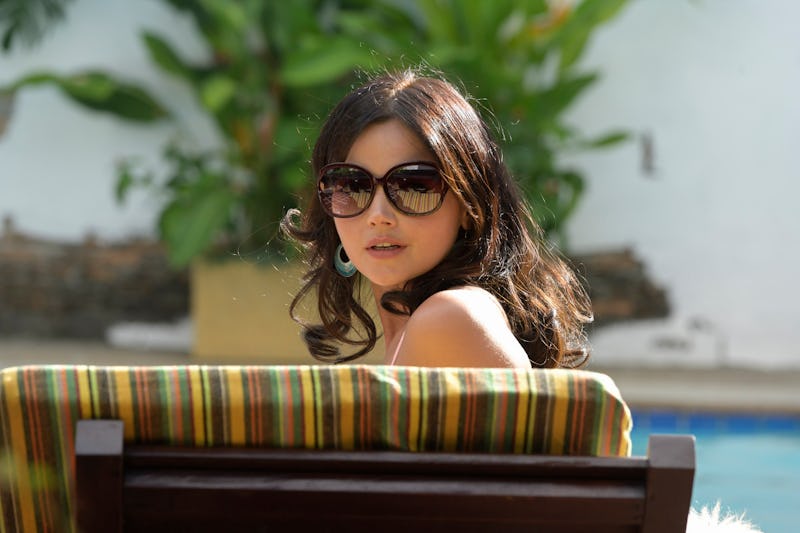 Netflix
In the BBC/Netflix true crime drama The Serpent, Canadian Marie-Andree Leclerc quickly adopts the persona of "Monique," wife to gem dealer Alain Gautier. The latter was also a pseudonym for con artist and eventual convicted murderer Charles Sobhraj. "Alain" and "Monique" lead a glamorous life sponsored by illegal and sometimes deadly dealings on the side. But Leclerc's real neighbor Nadine Gires told the Mirror that Leclerc's actual life wasn't like in the show.
"I felt sorry for Marie-Andrée because she was a sad and simple person, not the movie star we see in the series," Gires said. "And she was Charles' prisoner. She told me, 'I have no passport, no money, and if I try to leave, he will kill me.'"
Jenna Coleman, who plays Leclerc in the The Serpent, also questioned how much her character may have known about Sobhraj's life of crime. In an interview with Radio Times, Coleman said, "I think the [question of] 'is she a victim or is she not,' how much of her was brainwashed, how much of it was a choice to be there and a choice to live in the delusion; I think that's what's really interesting, to make the choices that she made in keeping this reality in a way that she could ... [keep] being with Charles."
According to The Sun, a 30-year-old Leclerc met Sobhraj in 1975 while traveling in India. The two then kept in touch via letters until she eventually met up with him again in Thailand. Per The Sun, Leclerc claimed to never have known that Sobhraj was killing people, although she traveled and lived with him while he was carrying out his crimes — including the time in 1975 when he killed two tourists in Nepal. (Sobhraj is serving life sentences for those murders in Kathmandu.)
Both Sobhraj and Leclerc were arrested in India in mid-1976 following an attempted drugging and robbery of a group of students, according to the Radio Times. Esquire reported that Leclerc was imprisoned in Delhi, India, and accused of two murders that stemmed from druggings in the area. She was convicted on one count of murder in 1980. But the outlet reported that she appealed her conviction was released under the condition that she not leave India.
However, she was granted permission to return home to Canada following an ovarian cancer diagnosis in 1983. According to Esquire, as part of her release, she had to check in with Ottawa's Indian High Commission and promise to return to India if her health improved. It didn't and she died a year later in 1984 when she was 38.
Before her death, and after returning to Canada, Leclerc decided to record her life in a book titled Je Reviens, which means "I will be back." The memoir chronicled her time with Sobhraj as well as her years in prison in India. She included letters, pictures, and more to tell her story. Esquire reported that she wrote in the book that she never really liked Sobhraj.