Urban Farmer Michael Richard Is Thriving After Filming Queer Eye
The Season 7 hero also confirmed suspicions about Karamo's hugs.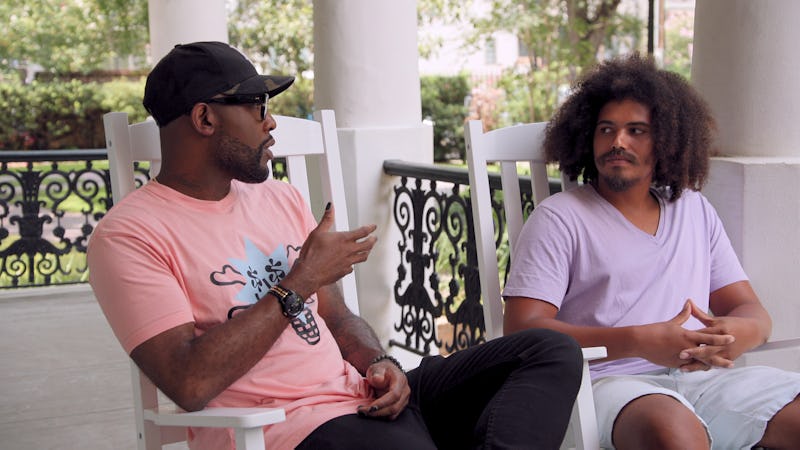 Courtesy Of Netflix
Having grown up with food insecurity, Queer Eye Season 7 hero Michael Richard II has devoted his life to helping prevent others from going through the same experience. As the manager of Recirculating Farms, an urban farm and food justice nonprofit based in New Orleans, the 31 year old was helping youth and families by providing fresh vegetables, education programs, and activities when the Fab 5 arrived in the Big Easy. "It sounds corny, but I wanted to be the change I wanted to see, and I would accept nothing less," Michael explained in Episode 7 of the Netflix reality series.
Despite all his good work, Michael came onto the show struggling to feel worthy of people's time, often feeling judged when he speaks about farming and horticulture. He described overhearing comments, such as "Why does Michael show up so dirty?" but explained that it's because that's how hard he's grinding and how much he's working. Born to Creole parents who were both half Black and half Native American, Michael also struggled with his identity and finding a community where he felt like he belonged.
As his boss, mentor, and Queer Eye nominator, Marianne Cufone put it, Michael "really is his own biggest challenge," though. Though everyone else — including his fiancée, Kaila Vignes — believed in Michael, he was having trouble believing in himself, partly due to a fear of failure. The New Orleans native was forced to grow up quickly, dropping out of high school and getting his GED to work and support his family. Despite all his potential, Marianne shared that Michael had been wanting to apply to an environmental law program, but it took him months just to open the application.
In the short term, Marianne wanted to see Michael "step up and be the face of the farm" by hosting their annual fundraiser — something the Fab 5 helped him execute seamlessly. His long-term goal, though, was to find the confidence to eventually take the next step toward becoming the executive director of Recirculating Farms. The end of Michael's Queer Eye episode made clear he was well on his way, revealing that he had been accepted into the environmental law program with a scholarship, no less. "To be where I am today is just incredible, and I'm proud of myself," he said on the show.
Michael didn't stop there, though. After previously earning a Sociology degree from Southeastern University, he is currently pursuing a Master's in Environmental Law and Policy at Loyola University New Orleans College of Law, according to his Recirculating Farms bio, which also seems to indicate he was promoted to farms director and also now oversees multiple partner farms.
Michael, who has been on the leadership team of the Greater New Orleans Growers Alliance and a Food Policy Action Council member, also leads programs for children, young adults, and Veterans, focused on inspiring connections to fresh food and healthy lifestyles. He was a recipient of the National Young Farmers Coalition's 2023 Young Farmer Grant, a partnership with Chipotle that awards each winner $5,000 to support their career in agriculture.
When Michael is not working in urban agriculture, social justice, or cheering for his beloved Miami Dolphins, he says you can find him out modeling, acting, or promoting for one of the many events or artists he works for. Ahead of his episode premiering on Netflix, Michael also reflected on Queer Eye filming experience. "I am beyond excited (and nervous) for the premiere of [Queer Eye Season 7 on Netflix]," he captioned an April 28 Instagram post. "Filming this is one of the wildest things that has ever happened to me. I am a huge fan of the show, so this was a very surreal experience. I hope everyone enjoys watching my transformation."
On his Instagram Stories, Michael also shared a behind-the-scenes secret about Karamo Brown, writing, "I can confirm [Karamo] is one of the best huggers on the planet."