What To Know About The California Region Notorious For Weed & Murder
The Emerald Triangle has become a hotbed for marijuana and crime.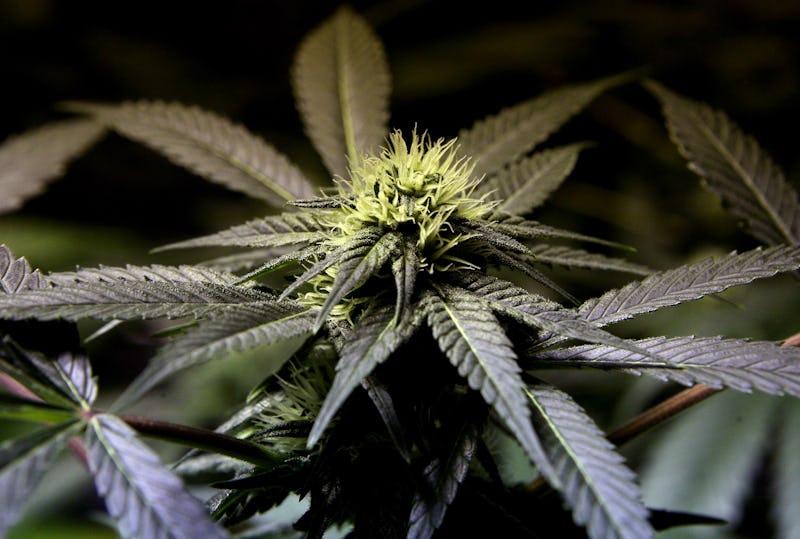 Justin Sullivan/Getty Images News/Getty Images
Located about 85 miles north of San Francisco, the Emerald Triangle has grown a reputation akin to the Napa Valley's reputation for fine wine. It's the largest marijuana-producing region in California, consisting primarily of the mountainous regions of Humboldt County, Trinity County, and some of Mendocino County. The thick cover of trees and remote rural terrain have made it an ideal place to covertly grow marijuana since the '60s and '70s, when followers of the Back to Land movement began flocking there in search of an off-the-grid lifestyle — and a crop they could grow to support themselves financially. But those same attributes also make the Emerald Triangle a good place to disappear, and over time, the region has become a hotbed for criminal activity.
According to CNBC, the marijuana market in the area is estimated to be worth tens of billions of dollars. That potential profit has attracted an influx of out-of-state growers, hustlers looking to make cash quickly, and criminal cartels, changing the overall character of the region. Though it's legal to grow marijuana in the Emerald Triangle, Grist reports that for some it's simply more profitable to remain illegal and avoid having to file paperwork, pay permit fees, perform quality control testing, or deal with any of the other hurdles that come with growing a safe product to sell to the state's many medicinal marijuana dispensaries. That naturally creates added risk, and some farmers have taken to protecting their plants with everything from guard dogs to rigged booby traps.
Humboldt, in particular, is home to a lot of murders; as of 2018, it had California's second highest homicide rate. An area in southern Humboldt — Alderpoint — has even earned the dubious nickname of Murder Mountain, as explored in Netflix's 2018 true crime series of the same name.
Stories shared by locals are the stuff of lore. In one grisly tale from the '70s reported by the Huffington Post, a dog dragged a severed body part up to a campfire where revelers were drinking. Humboldt has also been stalked by serial killers: in the early '80s, James and Suzan Carson carried out a string of gruesome murders, later claiming to be "warriors" in a "holy war against witches." (The couple was convicted in 1984 and sentenced to 50 years to life for three murders, though they were suspects in as many as nine more killings.)
Murder Mountain's notoriety has only intensified over the years. In 2013, an Alderpoint resident named Anthony Lane beat an older man to death with a baseball bat and robbed his house for reasons unknown. (Lane was later sentenced to 15 years to life in prison).
The area is also home to an astounding number of missing persons cases: according to California County News, 717 people per 100,000 go missing in Humboldt County every year, compared to a state annual of 384 missing people. It's worth noting that most cases are ultimately closed, and that Humboldt is a place people tend to go to get lost. "Many people from throughout the state, nation and world come to Humboldt County to work in the cannabis industry," Lt. Dennis Young of the Humboldt County Sheriff's Office told the North Coast Journal in 2018. "They oftentimes will not communicate with friends and family regarding their location ... Many of those individuals will return home and no one notifies law enforcement that they are no longer missing. Consequently, they remain in the database."
Nonetheless, the Emerald Triangle's nefarious reputation has stuck.
This article was originally published on