How The Old Guard Reinvented The Classic Action Movie
Spoiler alert: it's by putting women first.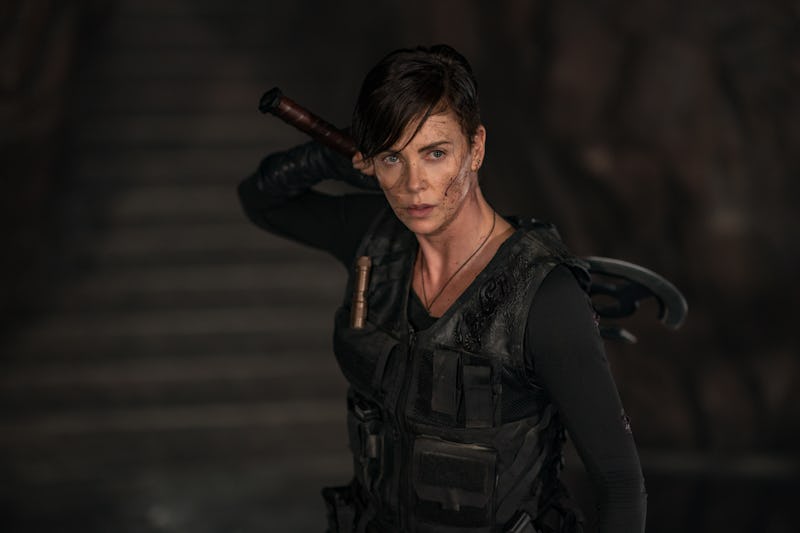 Netflix
Filmmakers have mined comic books for stories to adapt for years now, but it's not too often that those stories have been led by two women, one of whom is Black, and helmed by a Black female director. Netflix's The Old Guard, directed by Gina Prince-Bythewood (Love & Basketball, Beyond the Lights) hits the streaming service on July 10. It stars Charlize Theron as Andy, the mysterious leader of a mercenary group recruiting Nile (Kiki Layne) into their organization. They're not superheroes exactly, but there are some supernatural elements at play. So what is The Old Guard based on?
The Old Guard is a five-part graphic novel by writer Greg Rucka and artist Leandro Fernandez. The story centers on a covert group of mercenaries with a mysterious inability to die. They've spent centuries fighting to protect the world then disappearing into the shadows before anyone can learn their secret. But in 2020 — the era of cell phones and facial recognition — the group is exposed to those who wish to replicate and monetize their power. The film also stars Matthias Schoenaerts, Marwan Kenzari, Luca Marinelli, and Chiwetel Ejiofor.
Theron's character is named Andy in the film, but her full name is Andromache of Scythia, a warrior thousands of years old. "She is six to seven times as old as the next oldest member of the Old Guard when we meet them in the movie. And that's an astonishing age," Rucka told Looper. "I sometimes describe Andy as the world's crankiest grandma. She wants the whole world to get off her lawn."
The other members of The Old Guard include Booker (Matthias Schoenaerts), a French soldier from the Napoleonic era, and Joe (Marwan Kenzar) and Nicky (Luca Marinelli), two immortal lovers who fought on opposing sides of the First Crusade, over 1,000 years ago.
The baby of the family is new recruit Nile, an American marine who just recently discovered her immortality. "I love that we have these two women leading this group and that we got to play with the trope of a veteran/rookie, but do it in an interesting and cool way," Prince-Bythewood says in the movie's press notes. "I know there's a huge audience that's craving women of color to be able to be up on screen as heroes and not sidekicks. KiKi was an amazing find. So beautiful, and talented and bad*ss."
After watching Theron in iconic action roles like Furiosa in Mad Max: Fury Road and Lorraine Broughton in Atomic Blonde, it's exciting to see her brand of elegant power leading another cool-looking film. It's also thrilling to see Layne, who broke out a beautifully dramatic performance in 2018's If Beale Street Could Talk, venture into this territory.
"The fact that I got to put two bad*ss women on screen was everything," adds Prince-Bythewood. "The script came to me at a time when I had been looking to move into a bigger sandbox and it ended up presenting me with the opportunity to do exactly what I wanted: To put female heroes into the world, one of whom is a young Black woman."