Ed From The Circle Has Some Advice For His Brother In Season 2
His younger brother Mitchell is one of the newest contestants.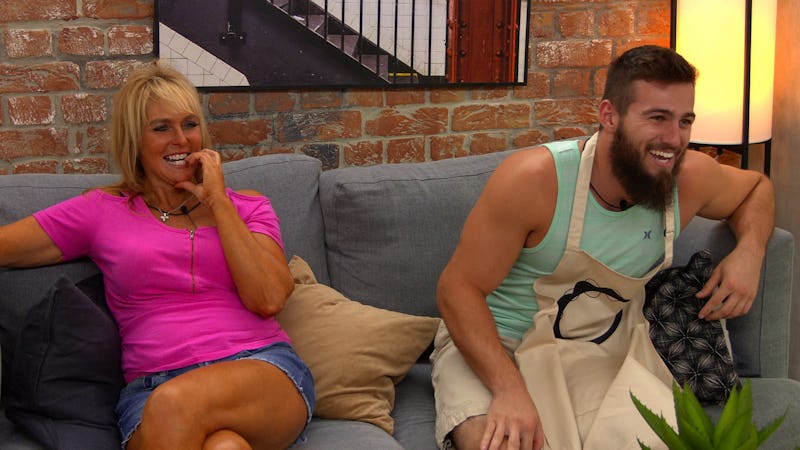 Courtesy of Netflix
Season 1 of Netflix's reality competition series The Circle included an interesting pairing: contestant Ed Eason and his mom Tammy. The two played with Ed's photos and personality, but with input and guidance from Tammy about how he should engage with the other players. It was an unconventional approach, and one that didn't ultimately earn the two the show's $100,000 grand prize. But it still got them far in the game and certainly made a lasting impression on viewers.
In Season 2 of The Circle, another member of the Eason family is throwing their hat into the ring: Ed's 22-year-old brother Mitchell, who's determined to succeed where his mom and brother failed. "The Circle, to me, is a family issue now," Mitchell says during his introduction in Episode 5. "My mom Tammy and my brother Eddie were on Season 1, and they just f*cked up our name here. They were embarrassing."
Mitchell's assessment of his family's performance on the show might seem harsh, but he's got more specific feedback. "I love my mom and brother to death, but they just were missing the people skills, man," he explains. "That's the whole premise of the game!"
Ed may not have won The Circle, but that hasn't stopped him from living it up in his hometown of Conshohocken, Pennsylvania since Season 1 finished airing last year. According to his Instagram, Ed has been spending time with friends and family, competing in junk car races, and working out. He also recently bought a new motorcycle. "Been busy doing hot guy sh*t. Crop topping around, eating microwave chicken, dropping wisdom and shiiiii," he summarized in a Jan. 29 Instagram post. "I don't know what the heck I do but I be doing things!
In a February 2020 interview, Ed was asked what advice he would give to future players on The Circle, assumedly before he knew his younger brother would be competing on the series, too. "I would say that no matter what your strategy, go all in, whether you are yourself or someone else," he said. "Leave nothing left unsaid and let your personality shine. Don't hold back. Tell people your opinions, let your voice be heard."
Luckily, Ed's brother Mitchell plans to "be authentically [himself]" while on the show, and that seems to be his mentality in all aspects of his life. "Couldn't say enough about this kid. We used to beat the sh*t out of each other when we were little but now I'm happy to say he's one of my best friends. Real stand up guy lemme tell ya," Ed wrote in birthday message for Mitchell on Instagram in September. "Wherever you go and whatever you do, you're the hardest damn working one there and that's why you stand out no matter what you do. You're one smart dude (maybe not in class in high school but you graduated so frick it) and you never stop learning. Never change."
We'll have to wait and see if following his big brother's advice will win Mitchell the $100,000 grand prize, or if the younger Eason brother has a few tricks of his own up his sleeve.