The Winner Of BBC's Glow Up Walks Away With A Life-Changing Prize
The search for Britain's next make-up star is back for its third season.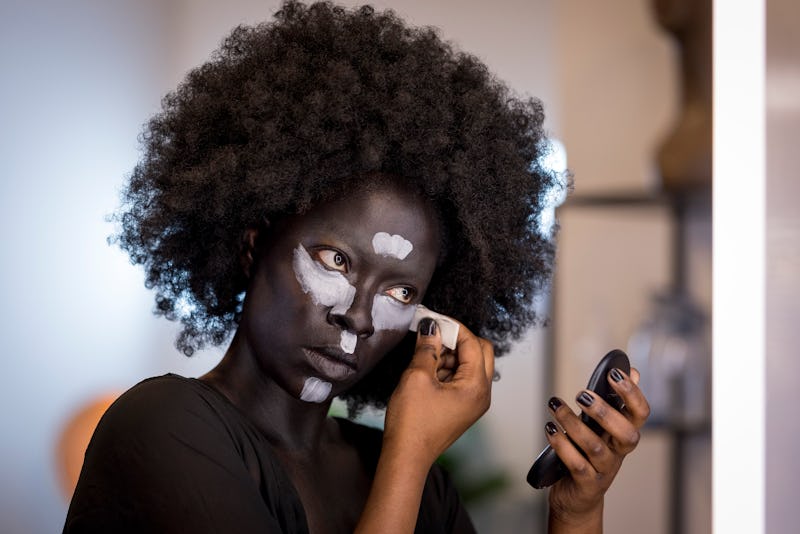 BBC
The search for Britain's next make-up star is back for a brand new series. Yes, BBC Three's Glow Up has returned for a third outing, and, complete with a new host, the competition show will again welcome a lineup of aspiring make-up artists as they take on a string of intense weekly challenges and rub shoulders with some of the biggest names in the world of make-up and beauty. But, what's the prize on Glow Up: Britain's Next Make-Up Star?
Throughout each episode, the contestants will be required to successfully complete two challenges: one real-world professional assignment and one themed creative brief. At the end of the week, the two weakest performing Glow Up contestants will go head to head in a face off round, the loser of which is sent home. After eight weeks of fierce competition, the last person standing will officially be crowned Britain's next make-up star and walk away with a contract assisting some of the world's leading MUAs.
Per Radio Times, Maya Jama will present the new series, replacing former host Stacey Dooley. Speaking at a recent press event, Jama revealed Dooley had given her her blessing ahead of Glow Up's third run. "She said, 'Good luck, honey — you're going to smash it!'," Jama revealed. "She's been amazing and she's doing incredible, incredible bits as usual anyway, so I think it was a nice crossover."
Elsewhere, Glow Up's resident judges Val Garland and Dominic Skinner are back once again to oversee proceedings, and viewers can also look forward to an impressive string of guest judges and experts hailing from the worlds of beauty, television, music and fashion — including the likes of Emmy Award-winning make-up department head on Pose, Sherri Laurence, lead hair and make-up designer on The Crown, Cate Hall, TikTok make-up star, Abby Roberts, and singer Awa, among others.
"Series three will build on the massive success of series two with an incredible cast and exciting challenges, with access to the world's biggest film sets and brands," teased Glow Up Executive Producer, Melissa Brown, while the Controller of BBC Three, Fiona Campbell, described Jama as the show's "ideal" presenter.
"It's brilliant to welcome Maya to the BBC Three family for Glow Up - a show we really love which continues to grow in popularity. She is an ideal choice as the new host with a longstanding interest and passion for the industry and we can't wait to see what she brings to the new series," Campbell said in a statement.
Glow Up: Britain's Next Make-Up Star series 3 arrives on Tuesday, April 20, at 7 p.m. on BBC iPlayer.