Obi-Wan Kenobi Takes Place After This Key Star Wars Movie
The new Disney+ series follows the events of Episode III: Revenge of the Sith.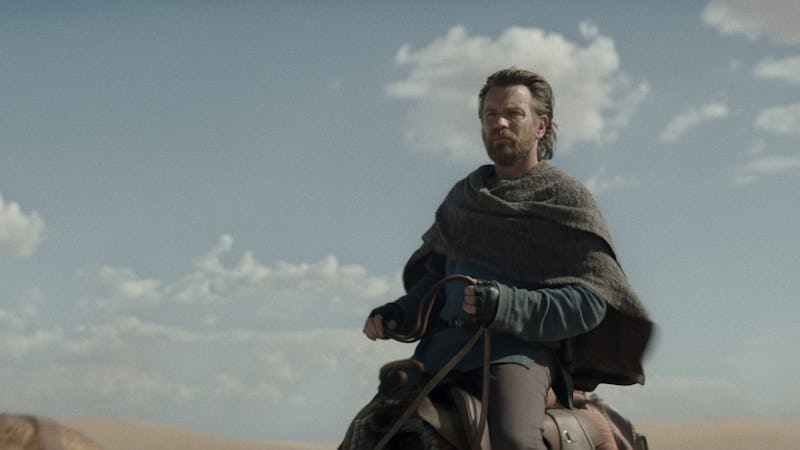 DISNEY+
Star Wars fans rejoice: Obi-Wan Kenobi is almost here, and it's bringing back some of the franchise's most iconic characters (and the actors who played them).
The six-episode limited series, set to premiere on May 27 on Disney+, sees Ewan McGregor reprise his role as the eponymous Jedi Master. He first portrayed Obi-Wan in the franchise's prequel trilogy, beginning with The Phantom Menace in 1999, and — although he would appear in cameos in The Force Awakens (2015) and The Rise of Skywalker (2019) — this series marks his first real return to the Star Wars universe. It also offers him the challenge of playing his character at an older age, nearer to the Obi-Wan seen in the original Star Wars film (retroactively titled Episode IV: A New Hope), played by the late actor Alec Guinness.
"I'm very excited to do it again – I'm probably more excited about it this time round … I'm older, slightly wiser, maybe," McGregor told Radio Times in 2020. "The great fun part of it the first time was to try and be Alec Guinness, but younger. That was the acting challenge, as well as learning all the tricky fights … Now I'm much closer in age to him – I guess he was in his 60s when he made the first Star Wars film, and I'm about to be in my 50s. Don't tell anybody! So now I'll be able to bridge that gap a bit more, and it'll be fun to find him in that place."
But where does the new series fit within the complex Star Wars timeline? Below, everything to know about when Obi-Wan Kenobi takes place.
When Is Obi-Wan Kenobi Set?
According to the official Star Wars website, Obi-Wan Kenobi picks up 10 years after the events of 2005's Episode III: Revenge of the Sith. Plot details for the Disney+ series have been mostly kept under wraps, but it's presumed that it takes place while Obi-Wan is hiding out on the desert planet Tatooine, before the young Luke Skywalker's adventure begins.
Alongside McGregor, Hayden Christensen returns to the Star Wars universe to reprise his role as Darth Vader (née Anakin Skywalker). Christensen has stated that "it feels good to be back," adding: "It was such an incredible journey playing Anakin Skywalker. Of course, Anakin and Obi-Wan weren't on the greatest of terms when we last saw them… It will be interesting to see what an amazing director like Deborah Chow has in store for us all." Lucasfilm president Kathleen Kennedy calls the pending showdown between Obi-Wan and Darth Vader "the rematch of the century."
What Happened At The End Of Episode III: Revenge Of The Sith?
For those who need a brief refresher, Revenge of the Sith (2005) is the last film in Star Wars' prequel trilogy, after The Phantom Menace (1999) and Attack of the Clones (2002). The first three films mostly follow Anakin and Obi-Wan's comradeship as Jedis, and the former's turn toward evil.
Revenge of the Sith takes place three years after the events of Attack of the Clones, which ends as the Clone Wars begin. Anakin's and Padmé Amidala's forbidden marriage becomes known to Obi-Wan when he learns of her pregnancy, and Anakin solidifies his turn to the Dark Side in an attempt to save Padmé's life, who he prophesied will die during childbirth (intercepting death is one of the powers utilized through darker forces).
Following his formal transition to the Dark Side, Anakin, having now taken the name Darth Vader, conspires against the Jedis. In a final showdown between former friends, Obi-Wan and his apprentice engage in an epic lightsaber battle, which ends in Vader's assumed demise — but a barely-alive Vader is saved by his fellow Siths and armored in his now-iconic black suit and mask. With help from Yoda, Obi-Wan retrieves Padmé's newborn twins (Luke and Leia) and separates them for safety. He goes into exile and plans to watch over Luke until the time comes to once again confront the now-ruling Empire.