Sophie's Dad Will Finally Be Revealed After HIMYF Season 2 Returns From Hiatus
The Hulu series resumes with new episodes later this year.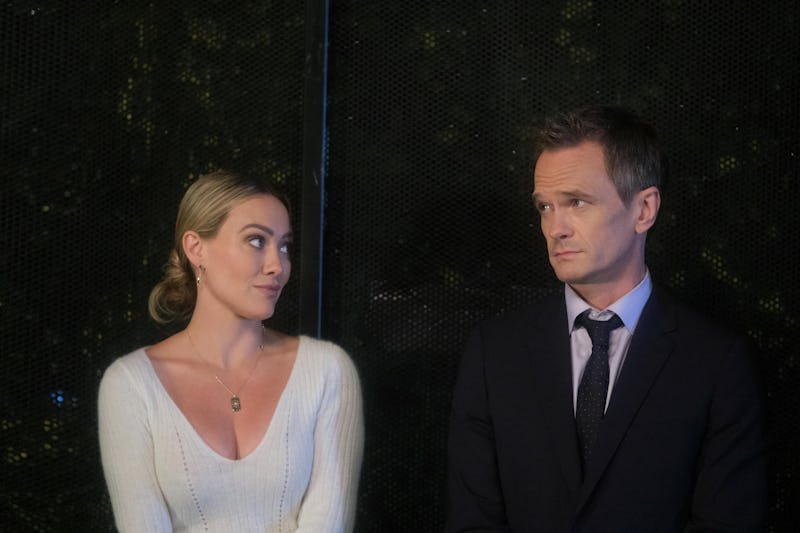 Patrick Wymore/Hulu
By the end of How I Met Your Father's mid-season finale, newly single Sophie (Hilary Duff) decided she was finally ready to find her dad. Credit, in part, a run-in with the legendary Barney Stinson (Neil Patrick Harris, reprising his original How I Met Your Mother role). Following a minor fender bender, the two had a conversation during which Barney shared his own experience searching for his father. Though he cautioned Sophie that a possible meeting might not repair abandonment or commitment issues, her search will be a central storyline when HIMYF Season 2 returns on May 23.
"She's going to go into [her search] totally unsure what to expect, and not thinking it will solve all her problems in life," HIMYF co-creator Elizabeth Berger explained to TVLine. "But I think what's so lovely about running into Barney is that it crystalizes some feeling she had deep within her — 'this is a thing I want and now it's time to go for it' — so, in that way, he serves this really lovely purpose for her that we're really excited about."
With new episodes dropping weekly up until the two-part finale on July 11, co-showrunner Isaac Aptaker teased that the second half of Season 2 jumps right back in and picks up with that thread. "It's a really lovely story because it lets the group come together, and they all rally behind our girl and decide that they're going to help her with this pretty daunting task of trying to reconnect with your dad in your thirties," he added to TVLine. "It's a big ensemble story about tracking down Sophie's dad and, hopefully, forming a relationship."
Aptaker also revealed that viewers will meet Sophie's dad before the end of Season 2. "I don't think we're allowed to say who it is yet, but we're super, super excited about it and we really love the storyline," he said.
Duff, for her part, echoed the creators' comments about Sophie's "confusing" self-discovery journey. "She's having to face a lot of things that she's avoided for most of her life. But I do think she's finally getting to the root of why she runs from that stuff," the actor told Screen Rant in February. "And lovely Neil Patrick Harris, who so graciously came back on our show, is one of the forces that pushes her towards fixing some of her issues, so she can have a little bit of growth. I don't think anyone wants her to have too much growth, so we can have a show, but she's making moves at thirty. We're proud of her."