Generation Hustle Introduces A Man Who Claimed To Be Royalty
Anthony Gignac masqueraded as a prince for 30 years.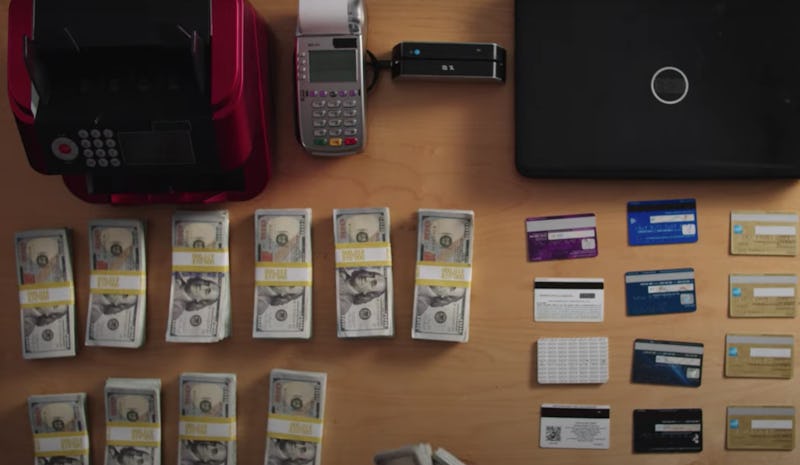 HBO
For 30-plus years, Colombia-born and Michigan-raised con man Anthony Gignac masqueraded as a Saudi royal by the name of Prince Khalid. The subject of Episode 8 of HBO Max's new true crime docuseries Generation Hustle, Anthony Gignac used his fradulent persona to live a lavish lifestyle with Ferraris, Cartier bracelets, and a penthouse up until his 2017 arrest at J.F.K. airport.
Today, Anthony Gignac is continuing to serve his sentence at the Federal Detention Center in Miami, Florida, where he will remain until his release date. On May 31, 2019, the now 50-year-old Gignac was sentenced to more than 18 years in prison for posing as a member of the Saudi royal family and for pulling off numerous scams. Right before his arrest, Gignac had just defrauded 26 investors out of $8 million, and was attempting to con billionaire Jeffrey Soffer into letting him buy a stake in the famous Fontainebleau hotel. Prior to his sentencing, he had been already been arrested 11 other times for his schemes.
"Over the course of the last three decades, Anthony Gignac has portrayed himself as a Saudi Prince in order to manipulate, victimize, and scam countless investors from around the world," attorney Ariana Fajardo Orshan, said in a statement, per The New York Times. He even bragged about the wealth he accumulated from his schemes on Instagram. "As the leader of a sophisticated, multi-person, international fraud scheme, Gignac used his fake persona — Prince Khalid Bin al-Saud — to sell false hope."
It will be a long time before Gignac is released, but he managed to keep his scam going for quite a while before he was caught. Per a Vanity Fair profile, he was born in 1970 and adopted from Colombia by a middle class American couple in 1977. An orphan due to Colombia's brutal drug war, Gignac's early struggles left a mark on him, especially as he saw the rich in Colombia thrive while he scrounged on the street. "He yearned for the good life and the limelight," a source who knew him claimed to Vanity Fair. "He wanted to be someone important."
Gignac's desire for status manifested early on as lies told to classmates. He would claim his mother was rich, and that his father was a famous actor. His lies soon escalated into telling car dealerships that he was a Saudi prince whose father would buy him a Mercedes. Clinical therapist Lisa Whitehead said this naturally concerned his parents, and he started therapy at 12. But when they would send him to camp, he would still tell everyone "he had great wealth and importance."
After Gignac's adoptive parents divorced, he testified in court that he suffered a mental breakdown, and ran away at age 17. Determined to not end up on the street again, he convinced a Michigan family that he was "Prince Adnan Khashoggi," the notorious Saudi arms dealer, and they had to take him in. His scams increased from there, and he moved to Los Angeles under the name "Omar Khashoggi." In LA, Gignac claimed that he slept with a Saudi royal, and it was then that he realized he could masquerade as one of them, as they're "powerful" yet very "secretive" people with "no information about them on the internet." (The Saudi royal families deny having any connection to him.)
He began with grifts like running away from paying massive hotel bills in places like LA, San Francisco, and Miami, and escalated to tricking sympathetic people into paying off his resort tabs. When he would get arrested, he'd trick attorneys into paying off his bail, claiming they'd be employed by the whole Saudi royal family. To keep up with this act, per the Justice Department, he purchased fake diplomatic license plates, a fake Diplomatic Security Service badge for his bodyguards, traditional Saudi garb, luxury goods, and business cards referring to himself as "Prince," "His Royal Highness," and/or "Sultan." He always demanded that certain royal protocol (i.e., gift giving) be followed when investors met with him.
This all culminated in Gignac forming a fake lucrative business, Marden Williams International LLC ("MWI"), to con investors with. He claimed MWI owned numerous pharmaceutical companies, jet-fuel trading companies, and luxury hotels all around the world, and told dozens of investors they could buy into his very fake oil company, Saudi Aramco. He actually succeeded in tricking investors into putting in $8 million. But the high profile deal raised a lot of suspicion, and when Soffer's team did due diligence for the Fontainbleau deal, they realized Gignac was likely a con man. They reported their suspicions to the FBI, who arrested Gignac for massive financial fraud.
Per CNBC, DSS agents seized jewelry from Gignac worth an estimated $450,000, along with $80,000 dollars in cash and various pieces of expensive artwork.
After lying for years, Gignac fully acknowledged his schemes at his 2019 sentencing. "The entire blame of this entire operation is on me, and I accept that," Gignac told Judge Cecilia Altonaga, per The Miami Herald.