Buster Murdaugh Testified For The Defense At His Father's Double Murder Trial
Alex Murdaugh is accused of killing his wife and son.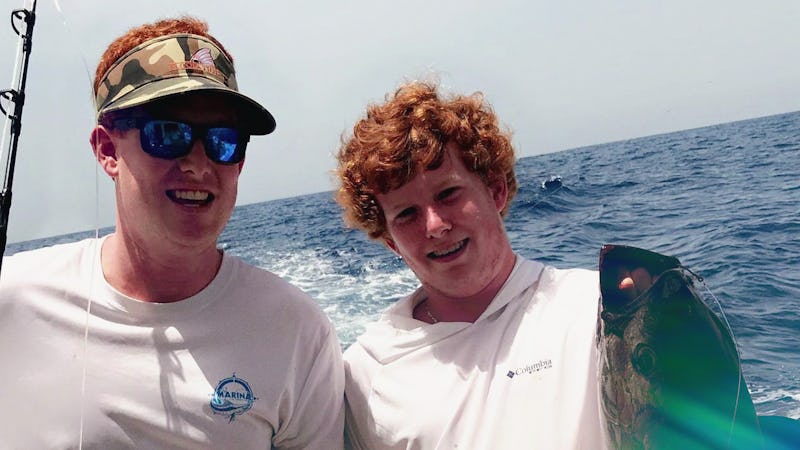 Buster Murdaugh and Paul Murdaugh in 'Murdaugh Murders: A Southern Scandal'
Three months after the wife and son of one-time prominent South Carolina attorney Alex Murdaugh were killed in June 2021, the case took a bizarre turn. The father of two reported that he had been shot in the head by a stranger while changing a tire on a rural roadside over Labor Day weekend. However, Murdaugh later confessed to police that he'd hired a distant cousin, Curtis "Eddie" Smith, to make his planned suicide look like a murder so that his surviving son, Richard "Buster" Murdaugh Jr., 26, could collect on his $10 million insurance policy.
Though Murdaugh was arrested and charged with his wife Maggie and son Paul's murders, Buster stood by his father's side. (Murdaugh pleaded not guilty in July 2022 and maintains his innocence in Maggie and Paul's killings.) HBO's docuseries Low Country: the Murdaugh Dynasty, which premiered in November 2022, included a series of jail phone calls between the father and son, which were recorded at South Carolina's Alvin S. Glenn Detention Center. In one recording, Murdaugh asked Buster to return to the family estate to go deer hunting, to which his only surviving child replied, "I'm not going hunting out there."
Since Murdaugh's double murder trial began in January 2023, Buster has been a fixture in the Walterboro, South Carolina, courtroom. On Feb. 9, a judge ordered him to move to the back row after he reportedly made an obscene gesture toward a prosecution witness and kicked over a water bottle, according to the Daily Mail.
Buster testified in his father's defense on Feb. 21, describing the accused murderer's state of mind after finding Maggie and Paul dead. "He was destroyed — he was heartbroken," Buster said on the witness stand, per the New York Post. "I walked in the door and saw him and gave him a hug and — [he was] just broken down." He further explained that he'd spent "every day" with his dad "for a good while" after the murders and never saw anything of concern. Buster also said that he, Paul, and his mother Maggie were all aware of Murdaugh's admitted drug use that had been highlighted at trial.
As revisited in Netflix's Murdaugh Murders: A Southern Scandal, the family's legacy began unraveling when Paul was involved in a February 2019 drunken boating accident that resulted in the death of teenager Mallory Beach. The Beach family filed a civil lawsuit against Maggie Murdaugh's estate, naming Buster as a defendant for allegedly letting younger brother Paul, who was underage, use his ID to buy alcohol for the fatal boating trip. On Jan. 24, a judge approved a settlement, which awarded Buster a half-million dollar share of his late mother's estate, with the remainder to be divided among the three surviving passengers of the boating accident, according to a local ABC affiliate. Mrs. Murdaugh's estate is reportedly worth several million dollars.
Friends say the tragedy has continued to take a toll on Buster. "He's not doing well at all," a former college classmate told People in July 2022. "He really withdrew after everything happened. Before, he'd text immediately. His phone was surgically implanted in his hand or something, like you'd send a text 24/7 and he'd respond, and he loved to chat. Now he doesn't respond to most texts, or if he does, it's one or two words. He has really closed off and built walls around himself."
At the time, he still hadn't told his friends whether he believed in his dad's guilt or innocence, per the magazine. "He doesn't really talk about it," an unnamed childhood pal added. "I don't think he knows what to believe."
As of November 2022, Buster was living with his longtime girlfriend, attorney Brooklynn White, and their golden retriever, Miller, in a one-bedroom Hilton Head Island, South Carolina, condominium, according to Fox News.