Everything To Know About Where NXIVM Co-Founder Nancy Salzman Is Now
She's currently in prison after pleading guilty to federal racketeering charges.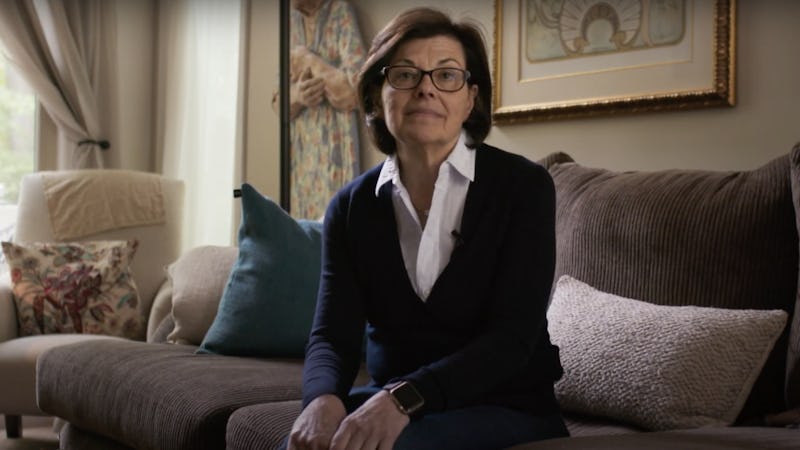 HBO
When the first season of HBO's docuseries The Vow premiered in August 2020, former NXIVM leader Nancy Salzman could have tuned in from home. Despite entering a guilty plea more than a year earlier in the criminal case against her, the co-founder of the NXIVM cult was released on a $5 million bail bond following her July 2018 arrest.
Salzman, a psychiatric nurse and practitioner of hypnotic therapies, aka "Prefect," helped leader Keith Raniere to establish the group that would become NXIVM all the way back in 1998 when the stated mission was self-improvement. By the time of Salzman's arrest, though, NXIVM stood accused of sex trafficking, sexual slavery, and forced branding of its female members. In Spring 2019, Salzman pleaded guilty to racketeering, identity theft, and "altering records to influence the outcome of a lawsuit against the organization," according to the New York Times.
Her sentencing was immediately scheduled for July 10, but over a year later, it still hadn't happened. Days before the proceedings, a federal judge adjourned the hearing sine die, which means without any specified date for resumption. In the meantime, Salzman mostly kept quiet, filing a few motions that would see the conditions of her bail modified. To the request to have her ankle bracelet homing device removed, for example, the court said no. To a request to be allowed to have contact with her daughter, the court was lenient.
Because no date for sentencing had been set after more than a year passed, some began speculating that Salzman was cooperating with prosecutors in cases against Raniere, the cult kingpin who was convicted of sex trafficking and conspiracy last summer, and perhaps against other high-ranking members of NXIVM.
However, on Sept. 8, 2021, Salzman was sentenced to 42 months imprisonment and ordered to pay a $150,000 fine for racketeering conspiracy, including predicate acts of conspiracy to commit identity theft and conspiracy to obstruct justice, according to the Department of Justice. She also agreed to forfeit several real properties, more than $500,000 in cash, along with a Steinway grand piano.
"In her misguided loyalty and blind allegiance to Keith Raniere, the defendant engaged in a racketeering conspiracy designed to intimidate Nxivm's detractors and that inflicted harm on Nxivm's members," acting U.S. Attorney Kasulis said in a statement. "Today's sentence holds the defendant accountable for her crimes and we hope that it brings some measure of closure to the vulnerable women who were victimized and abused."
Salzman began serving her three-and-a-half-year sentence at the Federal Correctional Institution, Hazelton in West Virginia in February 2022 and is currently expected to be released in December 2024. Meanwhile, her daughter, Lauren Salzman, who testified for four days at Raniere's trial, was sentenced to five years of probation and 300 hours of community service for her participation in the abusive cult.
On October 17, 2022, HBO premiered The Vow Part II, which examines the story from her point of view. 'Imagine you spent 22 years trying to build something that you fully believed in and thought was good, and everybody thinks it's the devil's work," Salzman said during the premiere episode, noting that she lost her company and her life "fell apart" when the scheme unraveled. "Going into this, I thought Keith was innocent. I was wrong," Salzman says, revealing that "my whole company was destroyed and my whole life fell apart."
This article was originally published on