Ori From Jewish Matchmaking Predicted A Summer 2023 Wedding
Aleeza may have finally found the woman he's looking for.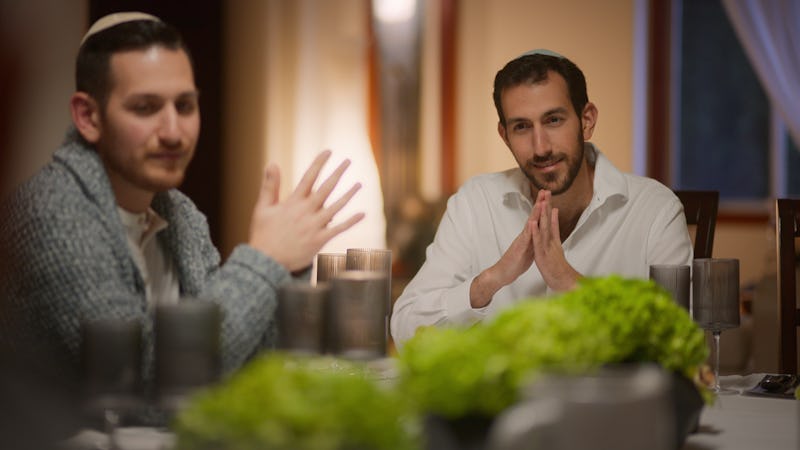 Courtesy of Netflix
After exhausting his options on Tinder, Bumble, Hinge, and JSwipe, Jewish Matchmaking Season 1 single Ori Basly became convinced that dating app algorithms just "don't like" him. It also doesn't help that he's admittedly "too picky" when it comes to a woman's physical appearance — and doesn't want to compromise on the matter. Plus, the 30-year-old graphic designer lives and works in Los Angeles with his mother, Tal Orion, an event planner who specializes in weddings and who he calls the "No. 1 woman" in his life.
So the Netflix series' resident matchmaker and dating coach Aleeza Ben Shalom had her work cut out for her in finding Ori a potential wife. He explained that he's looking for a family-oriented (preferably Israeli) woman with blonde hair, blue eyes, and who speaks Hebrew. The self-described pork-lover would also prefer his future wife to at least be OK with him eating bacon. As he reiterated, though, "I only date beautiful women."
The first woman Aleeza matched him with was Adi, an actor recently relocated to L.A. from Israel. Despite her dark features, Ori told producers that he was "not ashamed to say" that he wanted to sleep with her. Though they both seemed unsure of their connection, they agreed to see each other again for a horseback riding date. Their second outing helped them realize they weren't meshing romantically, though. After discovering they weren't on the same page about having children, Ori also awkwardly referred to Adi as "simple." Needless to say, that's where their brief courtship ended.
Aleeza went back to the drawing board when Ori decided that blue eyes were a non-negotiable requirement for his next date. Enter Karin, a 25-year-old, blonde-haired, blue-eyed attorney and Hebrew speaker, who described herself as a "very sexual person." Ori and Karin hit it off and mutually felt instant chemistry. "I feel very good about this date. I hope she does, too," Ori said, calling his date "so f*cking beautiful." This was Ari's last appearance of the season, and though it was just their first date, he said he was hopeful for the future.
Though he predicted to his family that they'd all be invited to his wedding in summer 2023 — one year after he filmed Jewish Matchmaking — it's unclear if Ori and Karin are still together, much less if he walked down the aisle. His Instagram is set to private, and he hasn't posted on Facebook since filming wrapped. While it also remains to be seen if he's still living with his mom and stepdad, he is still working as the creative director for Tal Orion Conceptual Events. (His company bio quote: "I'm only here for the food.") Ori also has a side gig as a freelance full-stack designer who specializes in graphic design, print, website design, video editing, and motion graphics.