Romane Clarified Her & Théo's Breakup Timeline After The Ultimatum: France
She made it "very clear" exactly when she joined Tinder.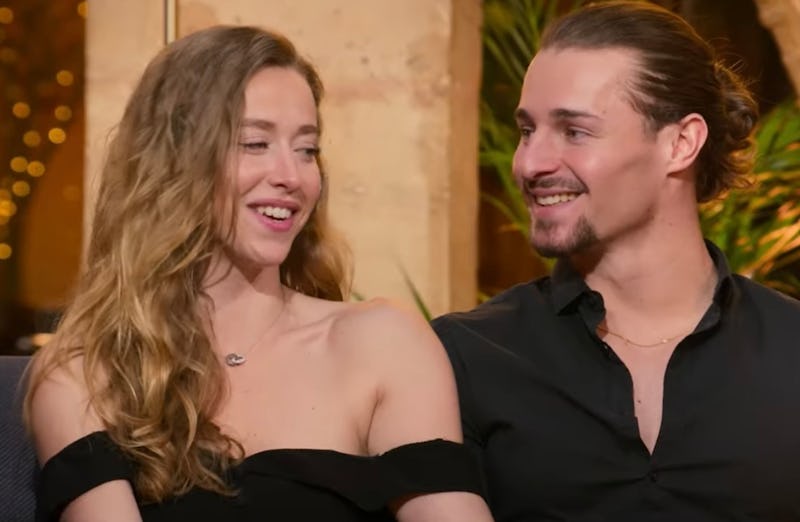 Netflix France/screenshot
One of the biggest issues that Romane had with Théo before joining The Ultimatum: France was that he was "neglecting" her. "I'm not a priority at all in our relationship," the 25-year-old student explained on the Netflix reality dating series, adding that she was looking for "proof of commitment" from her boyfriend of more than two years. "I'm scared of losing him, and honestly, it'd annoy me to have done this to get engaged and then leave single."
However, Théo, a 23-year-old dietician and personal trainer, was not thinking about engagement at all, conceding that his reluctance to propose to Romane was "a bit selfish." By the end of the experiment, he also admitted to acting like an "asshole" in their relationship but claimed the filming experience had changed him. It didn't change his mind about marriage, though: Théo was not ready to accept Romane's ultimatum, though he wanted to continue working to rebuild their relationship.
Two months after Ultimatum Day, the cast reunited for a backyard cookout — but Théo was a no-show. Arriving solo, Romane revealed that she gave Théo another shot after filming wrapped, but neither of them was happy, and "unfortunately it didn't work." According to Romane, who was disappointed that her ex didn't show up for the reunion, they hadn't seen each other or talked since they split about a month and a half earlier. As she later revealed to Sarah, they had a fight three weeks into their breakup when one of Théo's friends found her on Tinder.
"I talked to this guy real quick, but we didn't go on a date," she said. "Then [Théo] saw that and sent me a message right away saying, 'Forget what's happened. Remove me from your life.' ... He doesn't give a sh*t. It's fine."
After the season finale dropped, Romane addressed the Tinder incident, clarifying their breakup timeline in an Instagram Stories fan Q&A. "I hadn't been with Théo for 3 weeks when I registered on the application," she wrote on Jan. 9. "I can understand that the formation of my sentence is confusing but I want to make it very clear: I was SINGLE at that time. I was just trying to make up for the lack of his absence by talking with other people, but I wasn't dating anyone."
In another post about the show, Romane looked back at the early drama that ensued when the palpable chemistry between her and Lina's boyfriend Sophianne led to and explosive fight between the women — and to Romane choosing Scott as an experience partner instead, to avoid further conflict. On Instagram, Romane reiterated that she has no regrets about choosing Scott as an experience partner over Sophianne. "You have to know that I'm someone who firmly believes in fate," Romane wrote in a reply to a fan. "If I didn't choose Sophianne it's for a good reason and I'm convinced that I wouldn't have learned so much if I had chosen him."
As of publication, Romane's Instagram includes only three posts — one being The Ultimatum: France's Season 1 trailer — so it's unclear if she's found love with someone else after breaking it off with Théo. When the series' final two episodes aired, she thanked fans for their "messages of support" while also reflecting on the experience.
"I've made some mistakes and I don't blame those who could have a pejorative opinion of me but don't forget that we remain imperfect humans and that's what makes the beauty and the uniqueness of each person," Romane captioned a Jan. 6 Instagram photo. "No matter what, be yourself."
For his part, Théo returned to Instagram after filming in July 2022 with a trademark shirtless mirror selfie, which he captioned, "Life is better when you're simply shredded!" He has also posted infrequently lately, but when he does, it's usually related to his workouts or fitness business. That being said, there have yet to be any clues about whether or not he's still single. As Romane noted on the show, Théo's top priority was his work — and that appears to be the case still.