HBO Max's Generation Hustle Introduces The World Of "Scam Rap"
Detroit artist Teejayx6's songs teach people how to scam.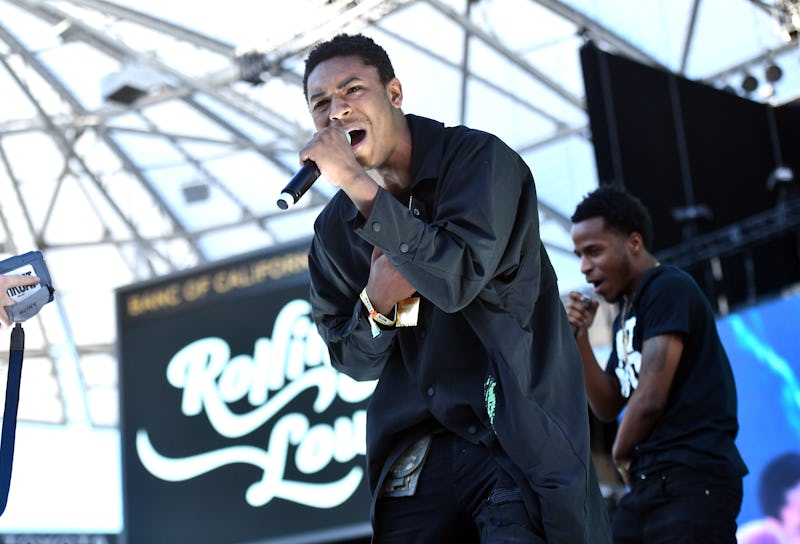 Scott Dudelson/Getty Images Entertainment/Getty Images
How far would you go to be rich and famous? HBO Max's white collar crime docuseries Generation Hustle follows the exploits of ten different entrepreneurial con artists who would do anything to achieve fame — even if it means scamming their way to the top, like self-proclaimed "scam rapper" Teejayx6. The 19-year-old Detroit artist is known for his songs, which sound like step-by-step tutorials on how to rip people off using methods like VPNs, bitcoin, and knockoff SIM cards. His stage name is a reference to the MSR X6, a small device that's used to clone credit cards.
"I scammed myself to a record deal for 10 million," Teejay brags in the Generation Hustle trailer, before going on to describe how to trick people on Instagram. Here's everything to know about the young rapper who's amassed a cult-like following for his less-than-legal advice.
Ok, what is scam rap?
Essentially, scam rap is a rap subgenre that's specifically about the action of scamming individual people, businesses, or credit card companies, often via the internet. It's like the more technologically savvy version of Biggie's "Ten Crack Commandments," which taught listeners how to sell drugs, or Jay-Z's "The Story Of O.J." which references flipping properties.
Though there are West Coast scam rappers like Oakland's GuapDad 4000, VICE cites Detroit as the nexus for scam rap, with Bossman Rich's 2017 song "Juggin Ain't Dead" being one of the first songs to mention an in-store bitcoin machine. And it was Teejay who popularized the genre of scamming tutorials among young listeners. "People in Detroit were doing it, but they weren't going into detail," Teejay explained to Pitchfork. "There was so many people that were faking it. You can tell when people don't go into detail that they don't really live it. With me, you can tell that I actually live this," he added.
How Teejayx6 started scamming
Born Teejay Witherspoon, the rapper started scamming as a way to survive. He claimed in a No Jumper interview that he was scamming people by the time he was in first grade by selling clumps of parsley as baggies of marijuana. He also added that two of his brothers have been involved in illegal activity, with one serving time for bank fraud and the other acting "like a mentor" in scamming.
"Everybody scams in Detroit, to be honest. It's a trend," he told Flaunt. "I never really sold any weed, my whole thing was scamming. My come up was different than people who sold weed. It's rough, but you get used to it. As long as you tend to yourself, you'll be good."
He eventually found out about fraud through the internet. "I saw it as just little money at first, but once I started seeing people making money with it, I started investing time into it," he told No Jumper. That's when he first looked in to the dark web and learned how to make a fake profile using stolen social security numbers.
He began to scam adults at age 12 through Twitter, per VICE. "I used to make a fake warehouse page, saying I was a store," he said in the No Jumper interview. "I'd put a fake location in the bio area thing, then I'd post Xboxes, TVs, everything on there – sell them for like $500."
After Twitter, Teejay moved on to Instagram, then credit card scams. Through it all, Teejay wanted to be a rapper. When he was about 15 or 16, he started rapping about scamming, and eventually released his June 2019 song "Swipe Lesson."
Teejayx6's music
"Swipe Lesson" is about credit card scams, and it's not his only song that goes into painstaking detail about how to pull off a crime. "Dark Web" is about downloading a Tor browser, while in "Violin" he raps about buying social security numbers.
As Wired points out, a lot of his songs sound darkly comedic even as they literally lay out illegal activity. In "Blackmail" he jokes about scamming his own grandmother, and on "Violin" he brags he knows the terrorists behind 9/11. "You know how lifer comedy writers end up so inured to standard misfortune that they can only laugh at the saddest, darkest sh*t? I would have to admit there's an element of that operating here, with love for Teejayx6," writes Amos Barshad. "The dude is just so, so weird."
Pitchfork noted that some teens view Teejay as a hero for teaching them how to game the system, even going to see him at a "scammers convention" in a streetwear store. "People want to label me a scammer," he told Pitchfork. "But I'm really helping fans out, giving them advice."
Teejayx6's arrest
Many have wondered why Teejay hasn't been caught. He apparently has, but there are doubts that his 2019 arrest was anything other than another stunt. In July 2019, after releasing the music video for "Dark Web," Teejay was arrested onstage at his first live performance in LA by two men wearing U.S. Marshals jackets. While some fans cried "Free Teejay," others wrote it off as yet another scam, noting that the mens' jackets appeared to be store bought. "I guess they do got a point," Teejay admitted to Pitchfork, while trying to hold in his laughter.
It's unclear if Teejay has ever been actually arrested. (Another Detroit scam rapper he collaborated with on "Dynamic Duo," Selfmade Kash, was arrested and charged with wire fraud, aggravated identity theft, and possession in March 2019.) As Teejayx6 claimed in his No Jumper interview, it would be difficult to prove whether he actually ever did anything illegal, or if he only claimed that he did. "Even if I was under investigation, there is no proof, there's no video proof," he said. "I could be saying all this. It could be a lie. It could be entertainment."
Does Teejayx6 still scam?
It appears that Teejay no longer scams. Though he told Wired in November 2019 that he was "picking up new scams every day," by the September 2020 Flaunt interview he said that he was able to stop [scamming] when [his] music took off. "It's old, been did that," he said.
Today, Teejay wants to be taken seriously as a rapper, not just a scam rapper. He now has a son, and has "over $125K in designer clothes," per Flaunt, and lives in the Michigan suburbs. "I haven't lived in Detroit for about two years now," he said. "Detroit isn't where you want to be."