Frank of Ireland Was Filmed In The Gleesons' Hometown
Domhnall Gleeson said shooting at home "was a treat" for him and his brother.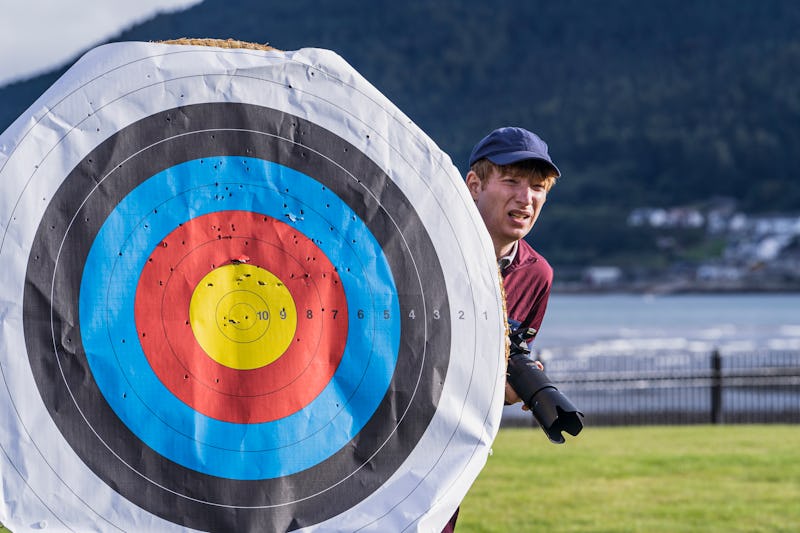 Channel 4
Starring brothers Domhnall and Brian Gleeson, Frank of Ireland follows a 34-year-old musician (played by Brian) living at home and dealing with the onset of a mid-life crisis. After an intervention staged by his mum, his ex-girlfriend, and his best friend Doofus (Domhnall), Frank tries to get his life together – with mixed results. As you can probably guess from the show's title, this story (written by the two Gleeson brothers) takes place on the emerald isle. But where was Frank of Ireland filmed exactly?
The majority of Frank of Ireland filming took place in the Gleesons' hometown of Dublin (where the story is set) as well as in Belfast.
During an interview with Channel 4, Domhnall revealed that there was a point when the brothers were asked to focus filming exclusively in Belfast but Brian "had been amazing about sticking to [their] guns saying, 'no, we want it to really feel like Dublin.'" For that reason, most of the exteriors were filmed in Ireland's capital city and in Malahide, north of Dublin, where the Gleesons grew up. However, a few scenes – including one involving a taxi, which can be seen in the trailer – were shot in Belfast.
Speaking to Channel 4, the Star Wars actor said: "We got to shoot with an Irish and Northern Irish crew and nearly all Irish actors around us. We got to really feel like we were filming at home. And even for us with the family element of it, it was also nice having Brian in Dublin. Shooting at home, it was a treat."
Especially since their dad Brendan Gleeson (who fans may know from Harry Potter and In Bruges) also appears in the series. He stars as an old lover of Frank's mum Mary who suspiciously looks like Frank. "He arrived out of the trailer and he had his hair parted like Frank and his beard done a little like Frank," Brian recalled in an interview with Entertainment Weekly. "It was utterly bizarre and we laughed a huge amount."
While the series is most definitely a family affair, the situations that Frank and Doofus get themselves into aren't taken directly from Domhnall and Brian's real life. However, the brothers admit that there were some parallels.
"Happily, I think everything's basically made-up," Domhnall told Entertainment Weekly. "But I think there's a level of looking at yourself. I mean, everyone thinks that their life is a struggle. And then obviously the world that Frank comes from, this middle-class suburb of Dublin, we're familiar with. So, there are elements of the world that are familiar but not the characters hopefully."
His brother added: "The one thing that definitely isn't from our childhoods is the bag of poo at the door, I can say that. One that definitely isn't true is pooping into a bag and presenting it to a man. That didn't happen."
What a relief.
Frank of Ireland begins on Chanel 4 on April 15 at 10 p.m., with all episodes being made available on All4 immediately afterwards. All six episodes will be available on Friday April 16 on Amazon Prime Video.