My Name Is Leon's Cole Martin Is A Hugo Boss Model
And a highly decorated athlete, too.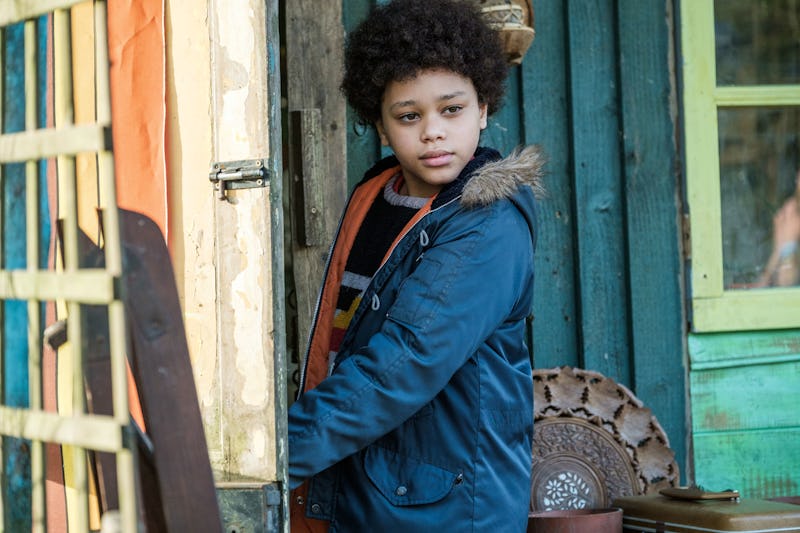 BBC/Douglas Road Productions/Ben Gregory-Ring
Adapted from Kit de Waal's best-selling novel of the same name, BBC2's My Name Is Leon features a cast of familiar faces, including Sir Lenny Henry MBE, Malachi Kirby, Monica Dolan, and Christopher Eccleston. Written by Shola Amoo and directed by Lynette Linton, there's one face in particular that you won't recognise. So who plays young Leon in My Name Is Leon?
That would be Cole Martin. Born and raised in Birmingham, Martin is a multi-trained athlete in various disciplines like acrobatics, boxing, gymnastics, kickboxing, martial arts, parkour, and tennis. He's a member of the UTX Academy – a "free-running, martial arts and acrobatics team" based in Solihull, West Midlands. Martin has competed in a variety of competitions, stating in his Instagram bio that he's a four-time British winner and global champion in his sports.
When Martin isn't busy winning medals and trophies, he's modelling for brands like Sainsbury's F&F clothing range, Marks and Spencer, and even Hugo Boss. Before his breakthrough role in My Name Is Leon, Martin briefly appeared as a school pupil in Steve McQueen's Small Axe anthology in Education, as well as two episodes of Channel 5's Witness No. 3.
Having worked closely with Martin on My Name Is Leon, Lenny Henry is incredibly proud of what the young actor has accomplished on the project. "Cole Martin is a proper talent," Henry said on Twitter following a press event for the short film. "So lovely to spend time with him yesterday."
Martin's family is understandably just as proud of his achievements. "Well done Cole, Nan & grandad are very proud of you. You are a very hardworking boy as we know it, and whatever you do, you love it," Martin's nan wrote on Instagram in response to his coaching work with DMA London in preparation for My Name Is Leon.
"So continue being the awesome boy that you are. We are just waiting for whats to come!! Keep on trying at what you love best, also thanks to all who believe in you and made it possible in every thing you do," she continued. "Nan & grandad are behind you all the way."