Daniel Radcliffe Just Made A Rare Public Appearance With His Long-Time Girlfriend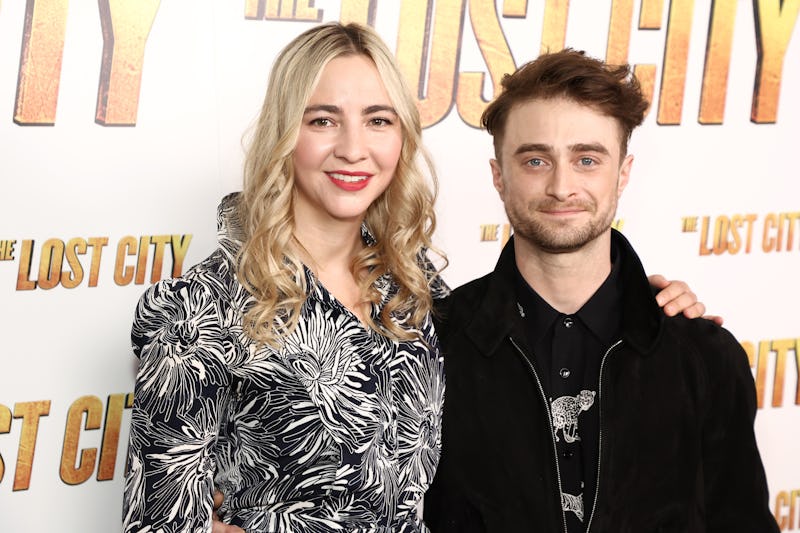 Getty Images
Daniel Radcliffe was undeniably one of the world's most beloved child stars, but since starring as the boy wizard Harry Potter, he's gone on to pave quite a successful career outside of Hogwarts. His latest film The Lost City features a star-studded cast including Sandra Bullock, Brad Pitt, and Channing Tatum. Radcliffe celebrated its upcoming release with his co-stars at the film's New York premiere. And as you will have noticed, the actor looked especially pleased to be with his girlfriend, Erin Darke. Despite being together for quite some time now, it's rare to see them on the red carpet as a duo.
First meeting in 2012, Radcliffe and partner Erin Darke started working together on the 2013 film Kill Your Darlings, in which they both featured. Darke is an actor, too, and has appeared in hits including Still Alice and The Marvelous Mrs. Maisel. Both Radcliffe and Darke have previously spoken about their first meeting and how they connected, with Darke telling People magazine: "One of the first things we bonded over was how much we really love what we do and there's something that's really beautiful and really lovely about being with someone who just innately understands that about you."
Radcliffe echoed Darke's sentiments on People TV's Couch Surfing series, explaining that the two actually had to do a sex scene together: "It'll be a hell of a story to tell our kids one day because of what our characters do with each other. Our characters are meeting and flirting with each other, so there is this kind of sweet record of us just meeting for the first time and flirting…"
Radcliffe doesn't often talk about his relationship in public, but he did reveal to Us Weekly in 2014 that the two really are best friends. "I think that's the kind of relationship I always aspire to have with someone I'm in a relationship with. You want that person to be your best friend," he said. "In the case of Erin, we definitely are." During a 2015 interview with Playboy, Radcliffe admitted that he fell for Darke during their first scene together. "There's no acting going on — not from my end, anyway," he said. "There's a moment when she makes me laugh, and I'm laughing as me and not as my character. She was incredibly funny and smart. I knew I was in trouble."
There have been engagement rumours for a while now, way back in 2014 and as recently as this year. Nothing has been confirmed, but one thing's for sure: when this couple is spotted out together, they look super happy.
This article was originally published on