Milo Ventimiglia Puts His Acting Career Before His Dating Life
The Company You Keep star was previously linked to Kelly Egarian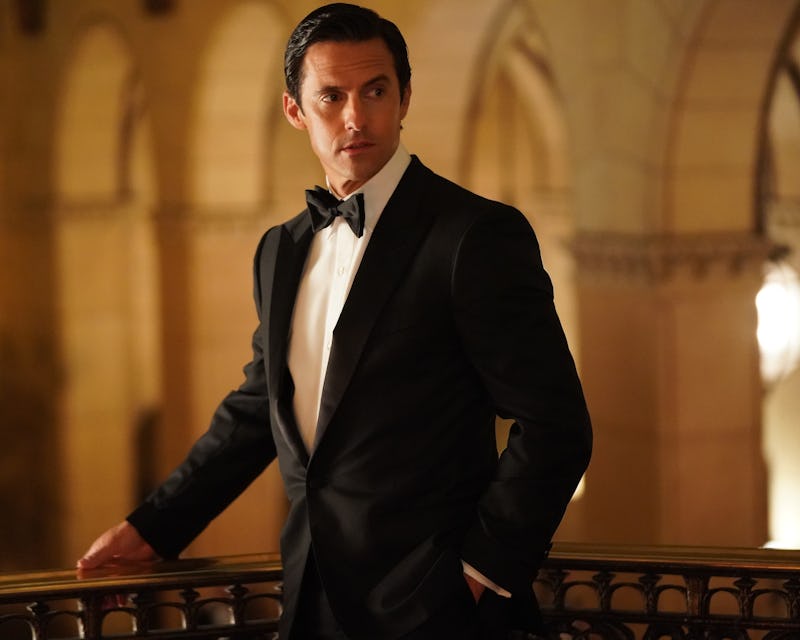 Eric McCandless/Disney General Entertainment Content/Getty Images
Gilmore Girls fans may forever ship Rory and Jess both onscreen and in real life, but Milo Ventimiglia has long moved on. The Company You Keep star is so good at keeping his love life private that his dating status is currently unknown. Ventimiglia reportedly started dating Kelly Egarian in late 2016, but the two have not been seen together since the 2017 Emmy Awards. The This Is Us actor was nominated for his performance in the drama show that year for Lead Actor - Drama Series.
The 45-year-old actor previously alluded to being single in a May 2021 interview with Haute Living, in which he explained why his personal life took a backseat to acting. "Everything is second position to work — everything," he said. "I've had friendships and relationships that definitely had a hard time with that. I'd get home from work and a girlfriend would want to spend time together, and I'd have to make sure I did spend time with her, sit down and eat, maybe turn on a movie for 20 minutes. But when my bowl is empty, I've got to go into my office and close the door and work for another two hours so my lines are spot on and I'm ready to be on set the next day."
However, there's no proof that he ever split from Egarian. The two were first linked after they were spotted holding hands in Venice Beach in December 2016, when her identity was not known before they were seen at the 2017 Emmys. While she did not walk the red carpet with him, PEOPLE reported that Egarian sat next to him throughout the awards show before they walked hand-in-hand and locked lips at an afterparty.
In March 2017, InTouch reported that Ventimiglia had secretly been dating Egarian for five months. "He is very protective of her and their relationship," the source said. "He's wanted to be private about it because she's not a celebrity." Indeed, Egarian's career is not in the entertainment business, as she previously worked as a marketing coordinator for Stella McCartney and as a stylist before becoming Goop's Head of Private Client Experience. However, this was not her first brush with dating someone famous, as she reportedly previously dated *NSYNC alum JC Chasez, according to the outlet.
The couple has never commented on their relationship, which is par for the course for Ventimiglia, who has always kept quiet about his love life even while he was linked to co-stars like Alexis Bledel and Heroes co-star Hayden Panettiere. In a rare statement, he confirmed his relationship with Panettiere to MR PORTER in 2017 while stating he would "never" date a co-star again. "Everything I've been through from jobs to friendships to partnerships, everything has built me to who I am," he said. "You learn from it. You learn a better way of doing things. It wasn't until my mid to late twenties that the job wears on you, relationships wear on you. But I wouldn't change a thing."