Nikesh Patel Had The Best Response To Being Asked If He'd Date "Normies"
Starstuck's leading man is no stranger to romantic on-screen roles, but what about off screen?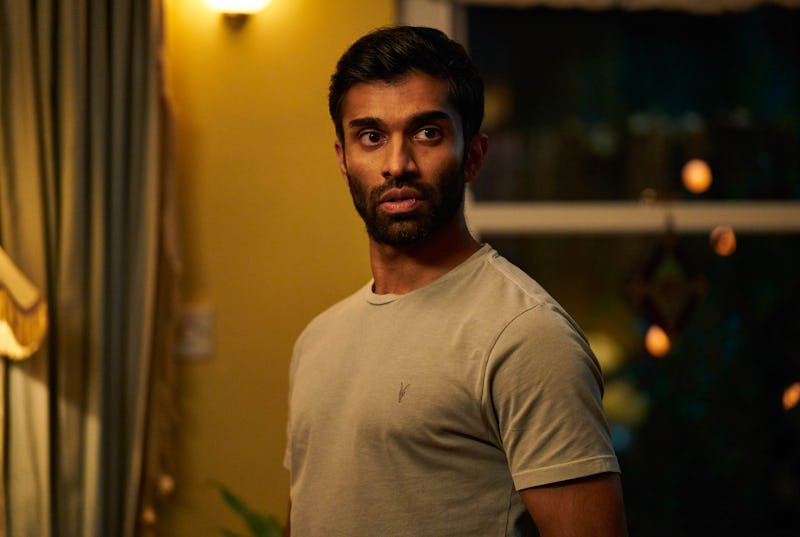 BBC/Avalon UK/Mark Johnson
As British rom-com characters go, Tom Kapoor is definitely the perfect millennial heartthrob: handsome and charming but also sensitive and relatable. The actor behind Tom is Nikesh Patel, who stars in alongside Rose Matafeo in her new BBC series Starstruck, a girl-meets-boy-but-boy-turns-out-to-be-a-very-famous-actor story that will definitely have viewers falling for the boy in question. But they may also be wondering: what's the situation with Patel's love life off screen?
While the London-based star is used to playing the leading man in romantic comedies, such as Hulu's Four Weddings & A Funeral reboot series, Patel's has kept pretty quiet on his personal dating life. Having said that, though, the 35 year old certainly hasn't shied away from talking about the complexities of all things love, romance, and... well, having totally relatable crushes on girl band members.
"There was a girl band called Eternal in the UK, and I really fancied Louise Nurding," revealed Patel in an interview with Glamour magazine in 2019. "She's just really hot."
More recently, Patel was asked his through about actors falling in love with "normies" (which happens to his character in Starstruck). The good news? He wouldn't rule it out.
"First of all, I hate the term normies, so let's not do that," he joked with The Cut in his Q&A this week month. He went on to say he doesn't have a particular rule on whether or not he would date someone non-famous, adding, "I understand that there are benefits to being with someone who understands the challenges of your profession. But then I also recognise, in a way that Starstruck does, certain couples are chalk and cheese and they work and sometimes it's great."
Patel continued: "The two things that can be challenging there are maintaining your privacy, and also having enough time. But particularly if you're at the level that Tom's at, you're surrounded by people telling you you're amazing all the time. Which is not a grounding influence." He did add, however, that he thought Tom didn't fall into this trap and "wasn't a dick" when it comes to the celeb stuff.
Meanwhile, Patel's Instagram page doesn't reveal much about his love life. He shares some fab BTS photos and the odd family photo dotted in for good measure, but no obvious signs of any romances.
Still, with Patel reprising his role as Tom for the second series of BBC's Starstruck, so at least there's that to look forward to.