Fans Are Convinced Sydney Sweeney Just Got Engaged
She's reportedly been in a relationship since 2018.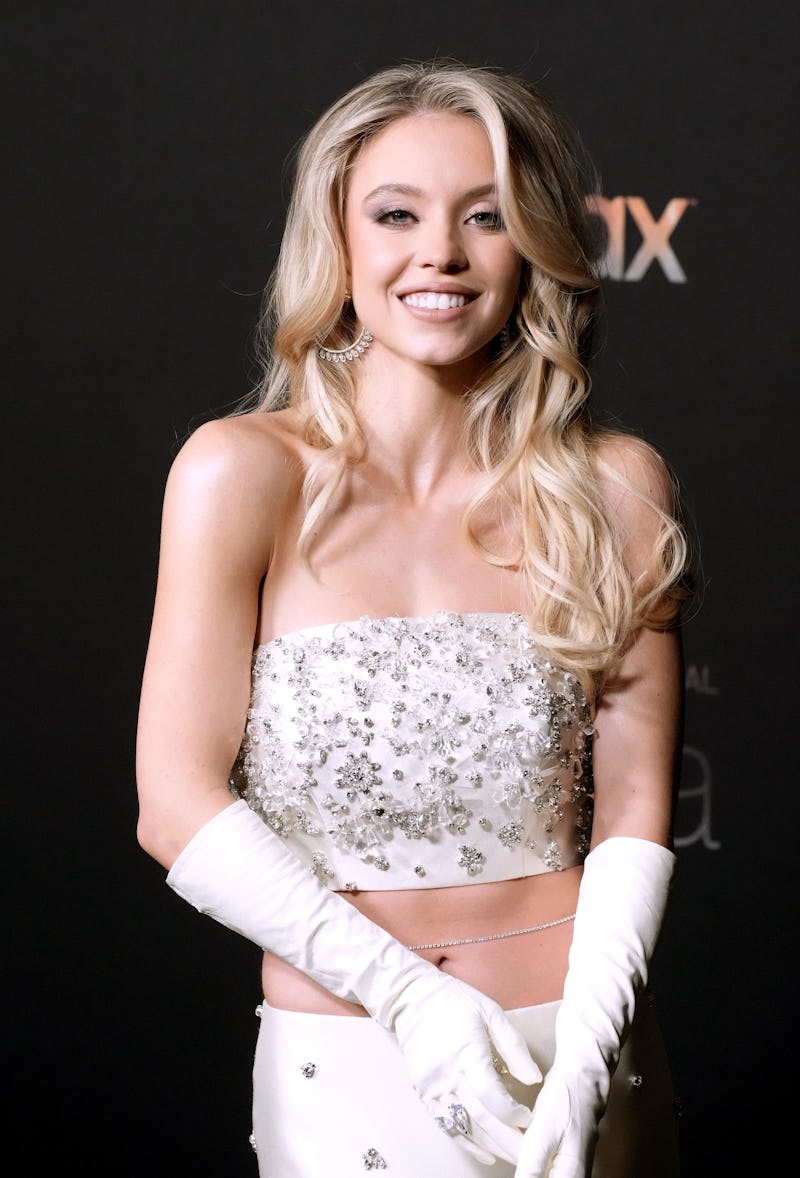 Jeff Kravitz/FilmMagic, Inc/Getty Images
Sydney Sweeney may play a high schooler on Euphoria known among classmates for her promiscuity, but in real life, the actor's seemingly been happily boo'd up since 2018. While she rarely speaks publicly about her love life, Sweeney's been photographed on several occasions cozying up to restauranteur Jonathan Davino over the past few years. Thanks to photos of the White Lotus star sporting a large diamond on her ring finger published by TMZ on March 1, Sweeney's fans are convinced the pair is now engaged.
Having launched her acting career as a young teenager with minor TV roles in Heroes and Criminal Minds among other projects, Sweeney didn't experience young love the same way most teenagers do in high school. After her parents divorced when she was 16 years old, Sweeney said they kept her in the dark about many aspects of their lives, which led her to seek out risky romances. "I acted out, but not in the way you would think," she told C Magazine in November 2021, explaining she was a "straight-A student" and her school's valedictorian. "I never went to a high school party. I've never done drugs, to this day. The acting-out Syd tried to find love through boys. I got myself into sometimes really unfortunate and even dangerous relationships."
Sweeney opts out of sharing her love life with fans on social media, but in the same interview, she revealed, "I never talk about it, but I have a very healthy, very steady personal life." Fans speculated she was talking about Davino, the 37-year-old owner of a Chicago pizza restaurant called Pompei. He was first photographed hanging out with the 24-year-old actor in Los Angeles at an InStyle and Kate Spade event in October 2018. The two have since been seen together many times, kissing on a Hawaii vacation in November 2020 and sharing another smooch during a July 2021 trip to Italy, according to images published via the Daily Mail.
While the Euphoria star hasn't addressed Davino by name in interviews, she opened up to Cosmopolitan about her dating preferences for a recent cover story. "I don't date people in the spotlight. I don't date actors or musicians or anyone in entertainment because I can just be normal Syd that way and it's easiest," Sweeney told the publication before revealing what she seeks out in a romantic match. "I look for a best friend. I need to be able to be with someone who I can literally hang out with 24/7 and never get sick of and we laugh every single day."
Three weeks after they were spotted shopping together in West Hollywood, TMZ published photos of Sweeney wearing an eye-catching diamond ring on that finger while hanging out with a friend in Los Angeles on March 1, sparking engagement rumors. Neither the actor nor Davino have confirmed the development, but fans are running with the news on social media, celebrating Sweeney's relationship while mourning their chances of getting a date with her.