Zendaya Keeps Her Love Life Under The Radar, Despite All Those Tom Holland Rumors
The Malcolm & Marie star was last pared with Euphoria co-star Jacob Elordi.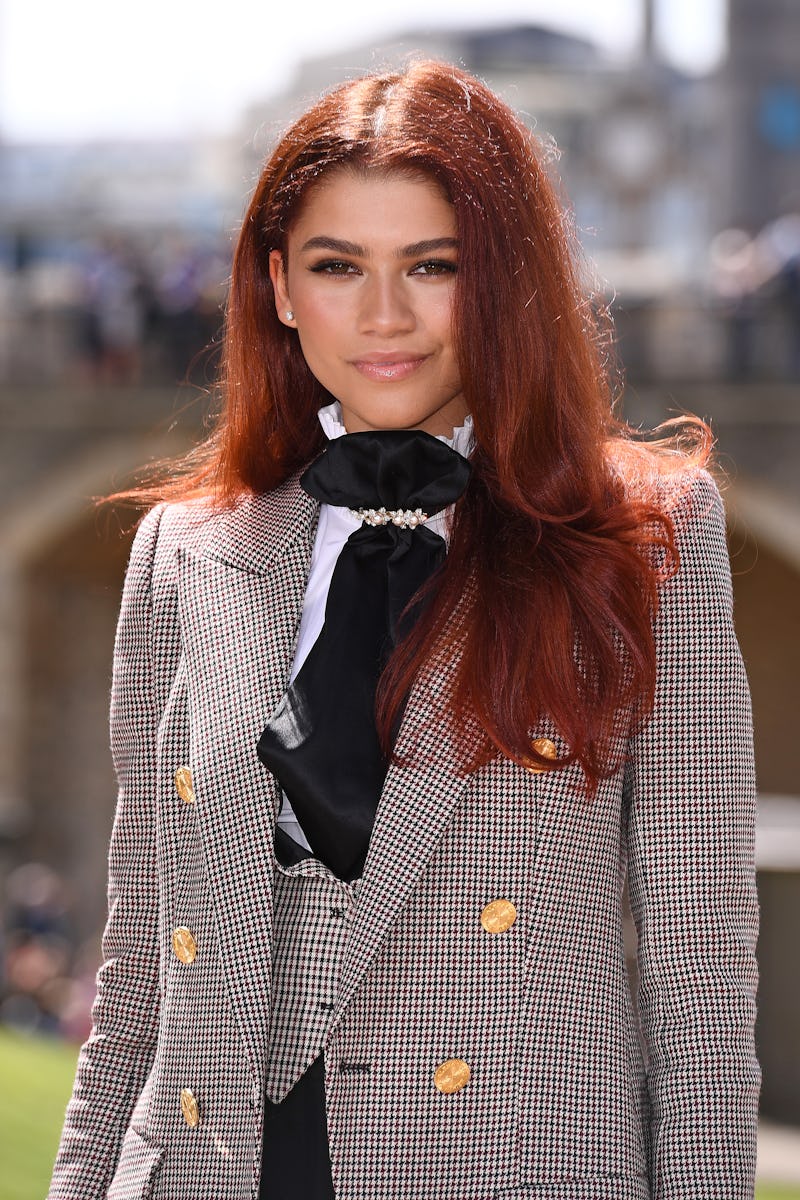 Jeff Spicer/Getty Images Entertainment/Getty Images
Zendaya has been the subject of a slew of dating rumors ever since Spider-Man: Homecoming was released in 2017, with fans speculating that she and costar Tom Holland were a little bit more than friends. And with the upcoming release of her new romantic Netflix film Malcolm & Marie, the buzz around her relationship status continues to grow even more. So, who is Zendaya dating in 2021?
For a while, the 24-year-old star was single and yet tried to keep her relationship status under wraps. The actor is a pro at keeping her personal life private, despite being someone so often in the public eye. She did, however, in her July 2017 Vogue cover story, disclose that she was in a committed relationship from 2012 to 2016. "It was my first love," she told the magazine. "It wasn't a good ending."
She found strength in moving on from the relationship though, saying:
"You know you're OK in a breakup when your first thought is not, What did I do wrong? It's, That was the dumbest decision of your life, and you're going to regret it forever."
She never revealed who the person in question was, but fans have thought it to be her longtime close friend, actor Trevor Jackson. However, both she and Jackson denied rumors of being together in interviews with Hip Hollywood in 2014. "There's going to be those [rumors]. But he'' my best friend in the whole world," she told the publication. "I'm always going to be there supporting him. That's all it is."
In 2016, Zendaya was reportedly dating football star Odell Beckham Jr., The Sun reports. The two "were spotted leaving a Grammys afterparty together," the tabloid writes, linked arm in arm. They were later seen at a basketball game together, holding hands and having fun. But she later denied the pairing in an Instagram post, Seventeen rehashed.
When Spider-Man: Far From Home was released in 2019, Zendaya was once again tied to Spider-Man costar Tom Holland. They both repeatedly denied any romantic relationship, but that hasn't stopped fans from looking into any possible leads that could reveal anything more.
The rumors were a rehash of the ones that popped up in 2017 when a source told People that the two were dating. "They started seeing each other while they were filming Spider-Man," the source claimed to the magazine. "They've been super careful to keep it private and out of the public eye but they've gone on vacations with each other and try and spend as much time as possible with one another."
But, Zendaya was quick to debunk the story, tweeting: "Wait wait...my favorite is when it says we go on vacations together HA! I haven't been on a vacation in years! hbu @TomHolland1996 ???"
But Zendaya did end up going on vacation with someone else. In the late summer of 2019, she was spotted on a trip to Greece with Euphoria co-star Jacob Elordi, as GossipCop reports. Later that fall, Elordi told GQ Australia that "She's like my sister," possibly trying to diffuse the rumors "Zendaya is an amazing creative, you know? She's super dope to work with. She's an incredible artist and a very caring person to all of us. But we're all really close."
By February of 2020, their relationships seemed confirmed when they were spotted kissing on the street in NYC. A source told E! News that "Jacob and Zendaya have been seeing each other for months now. They started as close friends but it became romantic after their show ended."
"They have been inseparable since last summer and have been making time for each other in between projects," the source said. "Jacob has met Zendaya's family and everyone adores him. They have a lot of fun together and have a lot in common."
Alas, it sounds like the pandemic and travel restrictions and being apart during the majority of 2020, with Zendaya in L.A. and Elordi in his home country of Australia, put a strain on that relationship, and the two split, Women's Health Magazine writes.
It hasn't been surprising that the Tom Holland rumors sprang up again recently, but Zendaya appears to be single these days. Yet even with the rumor mill running, Zendaya has stayed totally secretive about her romantic life. We may never receive a confirmation on any of her relationships, but that clearly won't stop fans from drawing their own conclusions.