How A Political Staffer's Death Became The Center Of Alt-Right Conspiracy Theories
Netflix's Web of Make Believe: Death, Lies and the Internet explores the tragic case of Seth Rich.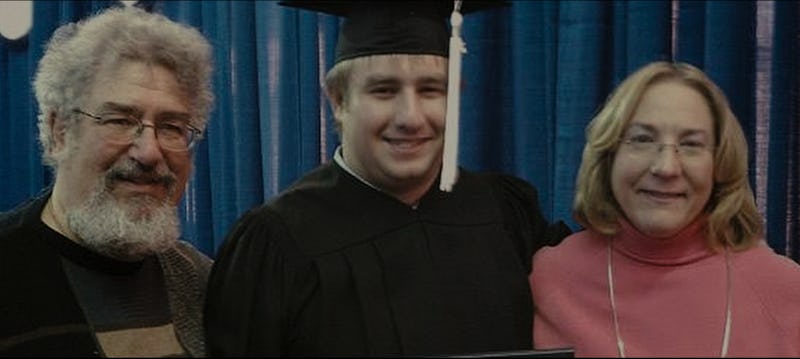 Netflix
Conspiracy theories are abundant on the internet, and untangling the ever-expanding web of lies is the focus of Netflix's new six-part anthology docuseries. Web of Make Believe: Death, Lies and the Internet explores how people use technology to spread misinformation. While some episodes explore an IRS heist or the consequences of "swatting," Episode 2 unpacks a tragic murder. It breaks down who killed Seth Rich, a political staffer, and how his 2016 death led to conspiracy theories regarding the election.
Seth Rich was a 27-year-old man from Omaha working at the Democratic National Committee (DNC) in July 2016, per NPR. Growing up, he had volunteered at two Democratic Senate campaigns, and he moved to D.C. to work for a progressive opinion research and consulting firm, as Vox reports. On the night of July 9 and early into the morning of July 10, Rich went drinking at Lou's City Bar, his favorite hangout spot in Washington, D.C. After getting pretty drunk, he decided to walk the 40-minute trip home. After getting off the phone with his girlfriend, two men grabbed him at around 4:20 a.m. Rich resisted, and he was shot several times. He died a few hours later in the hospital.
Though the assailants were never identified, police were confident this was just a robbery gone wrong. "There had been a series of armed robberies in that very same neighborhood in the weeks before Seth Rich's death — seven in the six weeks prior," Yahoo News chief investigative correspondent Michael Isikoff explained to NPR. Though Rich still had his watch, cellphone, and wallet, there were clear signs of a struggle.
Rich was also walking through a gentrifying neighborhood often plagued by crime. "Given the circumstances of where and when Seth Rich died, the police were pretty convinced early on that this was another one of those robberies in which, when Seth Rich resisted, his assailants panicked and shot him," Isikoff said.
It should have been an open and closed case of a tragic robbing, but what ensued was an alt-right conspiracy theory movement designed to take attention off of Donald Trump and put pressure on Hillary Clinton's presidential campaign. Conspiracy theorists believe Clinton killed Rich because he knew something incriminating about her emails or because he leaked the DNC emails to WikiLeaks. (This is false; Russians hacked the DNC and then gave the emails to WikiLeaks.) These ideas stemmed from long-running conspiracy theories claiming Democrats were undermining the election and the Clintons have assassinated all of their political enemies. Because of Rich's work with the DNC, Reddit users concluded on forums that "given his position & timing in politics, I believe Seth Rich was murdered by corrupt politicians for knowing too much information on election fraud."
Despite these theories making no sense considering the facts associated with Rich's death, they became a central belief among Trump's supporters. In August 2016, WikiLeaks founder Julian Assange wanted to deny ties to Russia, so he insinuated on Dutch TV that Rich was one of his sources. "Whistleblowers go to significant efforts to get us material, and often very significant risks," he said. "As a 27-year-old, works for the DNC, was shot in the back, murdered just a few weeks ago for unknown reasons as he was walking down the street in Washington."
Vox reports that conservative politicians then picked up this talking point, with presidential candidate Newt Gingrich and Trump's advisor Roger Stone both suggesting Rich's death was suspicious. These theories eventually died down but were reignited by conservative outlets in 2017 to draw attention away from investigations that Trump colluded with Russia during his 2016 presidential campaign. In particular, Fox News pundit Sean Hannity devoted segments to Rich several times a week, proclaiming he was "not backing off asking questions even though there is an effort that nobody talk about Seth Rich." While FoxNews.com eventually took down a story about Rich's death, Hannity proclaimed on his talk show, "I retract nothing."
It got so bad that Rich's parents eventually published a Washington Post essay in May 2017, begging everyone to stop theorizing about Rich's death. "We have seen no evidence, by any person at any time, that Seth's murder had any connection to his job at the Democratic National Committee or his life in politics," they wrote. "Still, conservative news outlets and commentators continue, day after painful day, to peddle discredited conspiracy theories that Seth was killed after having provided WikiLeaks with emails from the DNC. Those theories, which some reporters have since retracted, are baseless, and they are unspeakably cruel."
His parents went on to file a lawsuit against Fox News in 2018, alleging intentional infliction of emotional distress. According to Forbes, the suit was settled in November 2020. "The settlement with Fox News closes another chapter in our efforts to mourn the murder of our beloved Seth, whom we miss every single day," the Riches wrote in a statement. "We are pleased with the settlement of this matter, and sincerely hope that the media will take genuine caution in the future."