Anne Boleyn's Princess Mary Is Played By A Normal People & Derry Girls Alum
And she's the daughter of an acting legend, too.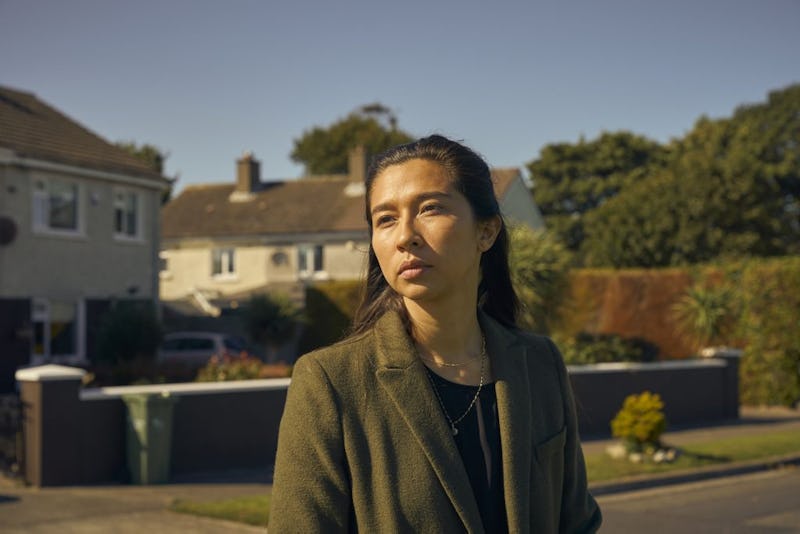 BBC/Hulu
It is a short but a punch scene, when in episode two of Channel 5's Anne Boleyn, a young Princess Mary, the daughter Catherine of Aragon and Henry VIII, threatens to take the throne from Anne Boleyn's daughter, Elizabeth. But who is swapping searing stares and stern words with Jodie Turner-Smith? In other words, who plays Princess Mary in Channel 5's Anne Boleyn?
The three-part miniseries, retelling Anne Boleyn well-known story from her perspective, charts the final five months of the royal's life as she struggles to secure a future for her daughter, Elizabeth I. As history tells it, Princess Mary did eventually take the throne following her father's death. Her infamous reign, from 1553 until 1558, landed her the title of "Bloody Mary."
Reprising the role of the young Princess Mary is actor Aoife Hinds. Raised in London, the 30-year-old comes from an acting family. Her mother is Vietnamese actor Helene Patarot, and father is Irish star Ciaran Hinds of Harry Potter, Zack Snyder's Justice League and Phantom of the Opera fame. Per her IMDB profile, Aoife Hinds has featured in various popular TV shows, most notably as Mae Chung in Derry Girls and Connell's girlfriend Helen in BBC's Normal People.
Before joining the much-discussed diverse cast in Anne Boleyn, Hinds had previously spoken of the importance of cultural diversity in TV and film during her time in Normal People – triggered by a racist incident she encountered whilst filming in Ireland.
Much like in Anne Boleyn, she had played a character that was originally written as white. "It's great that more and more all people are being represented on screen," she told The Sun at the time.
Speaking of her role as Helen, she explained: "some people might think, 'I didn't see that character that way, I saw that character being blonde'. I don't know but at the end of the day, people can choose to focus on that physical aspect and nothing else. It does represent Ireland and it's great.
She added: "Cultures have always been coming together. It's always been happening and it's taken some time for it to slowly start being portrayed on screen and hopefully this is the beginning and there will be more and more of telling those stories. I'd love to see more leading parts played by actors from ethnic minorities, I hope that it will build and go from strength to strength."