Everyone Who Went To Jail For The Bernie Madoff Scandal
A new Netflix docuseries delves into their schemes.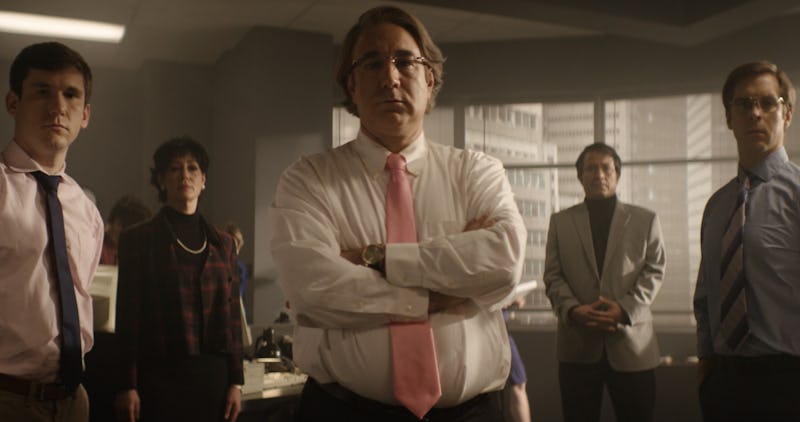 Netflix
Netflix's Madoff: The Monster of Wall Street shows how Wall Street financier Bernie Madoff executed a $64 billion-dollar global Ponzi scheme over the course of several decades. He was arrested and sentenced to 150 years in March 2009 before he eventually died in jail in April 2021 from kidney disease at the Butner Federal Correctional Complex near Raleigh, North Carolina.
Madoff defrauded thousands of investors into believing he was investing in high-value stocks when he was really just pocketing the cash and paying off old investors with new investors' money. His many victims included actor Kevin Bacon, director Steven Spielberg, and nonprofit organizations.
At his hearing, Madoff insisted that he worked alone. But since 2009, a number of Madoff's associates have gone on trial. According to The Guardian, Preet Bharara, the U.S. attorney for the southern district of New York, said that the Ponzi scheme "could not have been the work of one person." He added that "these defendants each played an important role in carrying out the charade, propping it up, and concealing it from regulators, auditors, taxing authorities, lenders, and investors."
Here's everything to know about them.
Peter Madoff
Peter was Bernie Madoff's brother, who was the senior managing director and the chief compliance officer of Bernie Madoff's company. According to NBC News, on Dec. 20, 2012, he was sentenced to 10 years in prison for knowingly falsifying the books and records of Bernie Madoff's company. He was also accused of transferring millions of dollars within the Madoff family to avoid tax payments to the Internal Revenue Service.
"I am deeply ashamed of my conduct," Peter Madoff said at the sentencing. "I accept full responsibility for my actions."
He was released early on Aug. 14, 2020 in Miami. His current whereabouts are unknown.
Frank DiPascali
DiPascali was Madoff's chief financial officer and his right-hand man. According to ABC News, DiPascali pleaded guilty to 10 felony charges that carry a maximum sentence of 125 years. But he agreed to testify for the government against the Madoff Five, which would have "significantly reduced" his sentence, according to prosecutors.
He was scheduled to be sentenced in September 2015, but he died of lung cancer in May 2015.
The Madoff Five
Five of Madoff's associates were dubbed "The Madoff Five," and they were all found guilty of conspiracy in March 2014. They all pled innocent, claiming they knew nothing about Madoff's fraud.
Annette Bongiorno
According to Forbes, Bongiorno started off as Madoff's secretary and later became a portfolio manager at his company. She was accused of knowingly engaging in Madoff's fake trading scheme as early as the 1970s and even pocketed millions of dollars for herself. (Her salary until 2008 was over $18 million in total.) She was sentenced to six years in prison and ordered to forfeit more than $155 billion.
Daniel Bonventre
Bonventre was the director of operations who Bharara dubbed Madoff's "partner in crime." Bonventre was sentenced to 10 years in prison on Dec. 8, 2014.
Joann Crupi
According to Forbes, Crupi was the co-manager of Madoff's investment advisory business who played a key role in deceiving the Securities and Exchange Commission and outside auditors. She also kept track of the Ponzi bank account. Crupi was sentenced to six years in prison on Dec. 15, 2014.
Jerome O'Hara
O'Hara was a computer programmer who wrote hundreds of programs to create fraudulent books and records for Madoff's company. O'Hara was sentenced to 2 1/2 years on Dec. 9, 2014.
George Perez
Perez was also a computer programmer, and he helped O'Hara write the programs. He was sentenced to 2 1/2 years on Dec. 9, 2014.