Zach Explained Why He Had To Send Bailey Home Early On The Bachelor
She was seeking validation in the Feb. 6 episode.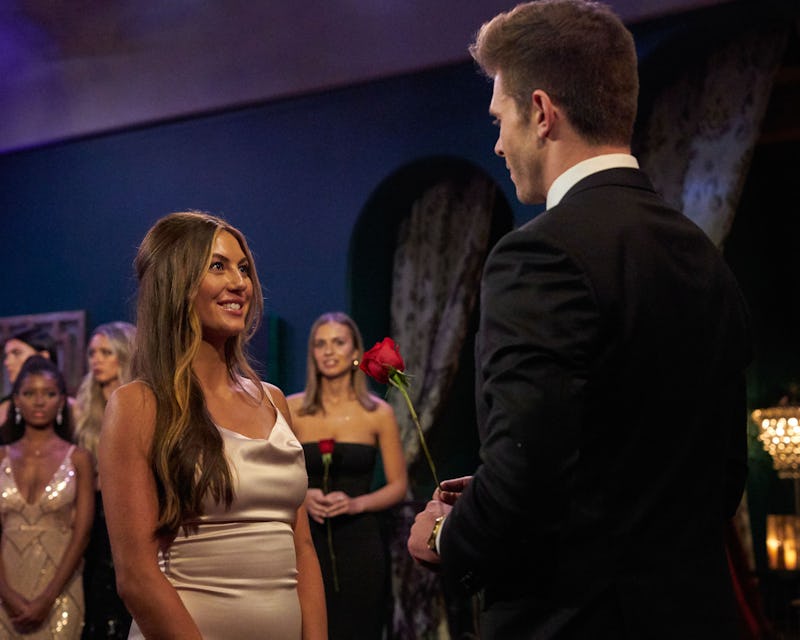 ABC/Craig Sjodin
The Bachelor Season 27 contestant Bailey Brown may have been on the winning "Bachelor Bowl" football team, but her victory lap was short-lived. During the Feb. 6 episode's post-game celebration, the 27-year-old executive recruiter from Nashville began "spiraling" because she'd didn't get much time with Zach Shallcross, who wasn't giving her the "validation" she needed. Well before the rose ceremony, Bailey left The Bachelor, though not entirely by choice. Here's why she exited the ABC series so early.
As one of the five women who got to meet Zach during September's The Bachelorette: After the Final Rose special, Bailey had an early advantage. Despite calling her by the wrong name on ATFR, Zach made up for his faux pas by giving Bailey the first kiss of the season upon her premiere limo entrance. "Right off the bat, it was crazy," she recalled to Zack of their instant sparks during a one-on-one conversation. "When I stepped out of the limo, and we had that very first connection, I felt so excited. Then from there it felt like we were just kind of like regressing a little bit in a sense. And like it just feels weird."
Much to Bailey's surprise, Zach agreed. "It is very weird, and I do notice when things feel off," he replied. "It doesn't feel like the same spark, and I don't want to lie to you and maybe I thought like with time it would maybe change. But I don't know and I think with time being so limited..." Before the California native could finish his sentence though, Ariel interrupted, and so he and Bailey put a pin in the conversation. They were only delaying the inevitable though.
Tearfully explaining in an interview that she had hoped her conversation with Zach would yield some degree of validation, Bailey endeavored to "get more time" with him to make one last stand. During a second cocktail party sitdown, Zach finally admitted he just wasn't on the same page. "I just think from where we started from to where we are now, I'm just not confident that there is a future between us," he told a "shocked" Bailey of his "tough" decision before apologizing and telling her he needed to focus on his stronger connections.
"With Bailey, I've been trying so hard, and I'm sure she has as well, but as difficult as it is to send Bailey home so early on this journey, our relationship just wasn't growing at the pace my other relationships are," the Season 27 lead told cameras during the episode. "And the last thing I'd want to do is lead her on or make her feel that I'm feeling something that I'm not. I'm really just following my heart at this point."