Why Did Brianna Leave The Bachelor?
She sent herself home during the Feb. 6 episode.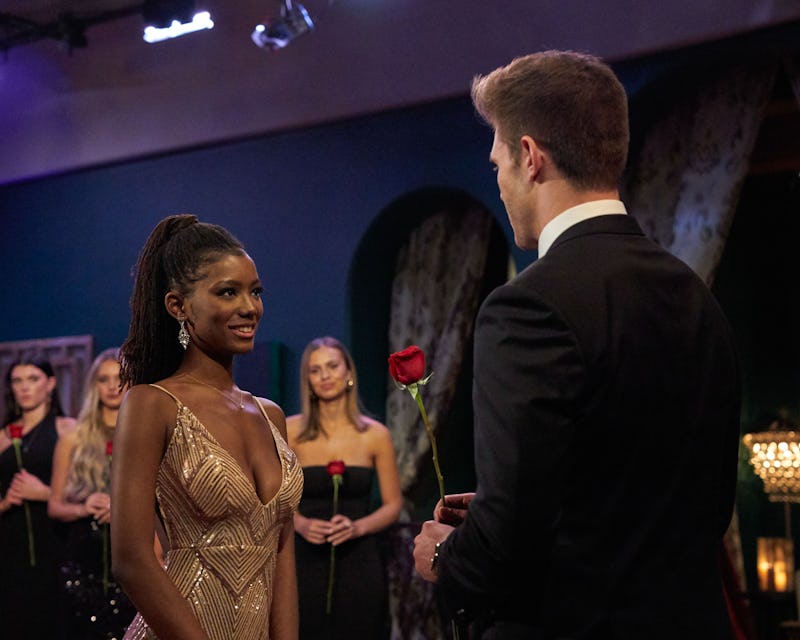 ABC/Craig Sjodin
Of all the contestants on Zach Shallcross' Bachelor season, Brianna Thorbourne started with a major advantage: a pre-show first impression rose. Viewers voted for Brianna to get the honor when she first appeared on September's Bachelorette finale, and she arrived at the mansion wearing a very on-theme rose dress. However, while the rose should have been a confidence booster for Brianna during the early part of the season, it seemed to have the opposite effect — to the point that Brianna left The Bachelor during the Feb. 6 episode.
"It was really tough for me because, you know, all night, I was getting comments like, 'Oh, you don't need to talk to him, you're safe!' or like, 'Oh, why'd you come wearing that dress? ... You could've worn sweatpants,'" Brianna previously recalled about the first two episodes on Bachelor Happy Hour. "I'm like, no, guys, I'm here for the same experience as you."
Christina Mandrell, specifically, said "this was rigged" when talking to Brianna about her rose and matching dress — also telling her, "I hate you." She quickly said she was kidding, and it seemed like a relatively tame exchange, but Christina's behavior during the next few episodes further disturbed Brianna. She was especially upset that Christina questioned Zach giving a group date rose to Charity Lawson.
This led Brianna to self-eliminate during the Episode 3 pool party. "I feel like our connection didn't get to get off the ground because of hard things that I've been going through in the house," she told Zach. "And a lot of the girls, I think, are struggling to be authentic because [they] have had intimidation and, like, really hard times with this person ... and that person is Christina."
Brianna added that she cried several times about Christina's behavior. While she planned to go home regardless, Zach later confronted Christina about the claims — and ultimately sent her home during the next rose ceremony.
So, where is Brianna today? Since leaving The Bachelor, the beauty entrepreneur seems to have made peace with her difficult journey on the show. "The path to finding love can be full of ups & downs but that doesn't mean we should ever stop opening our hearts," she wrote in a Feb. 5 Instagram post.
Two days earlier, Brianna also shared a collection of photos captioned "Still I Rise🌹," referencing the poem by Maya Angelou.
Between the rose emoji and #bachelor tags, it seems that Brianna was looking back at her time on the show — and, of course, her ability to stand tall in the face of reality drama.