Why Did Georgia & Sam Quit 'Love Island'?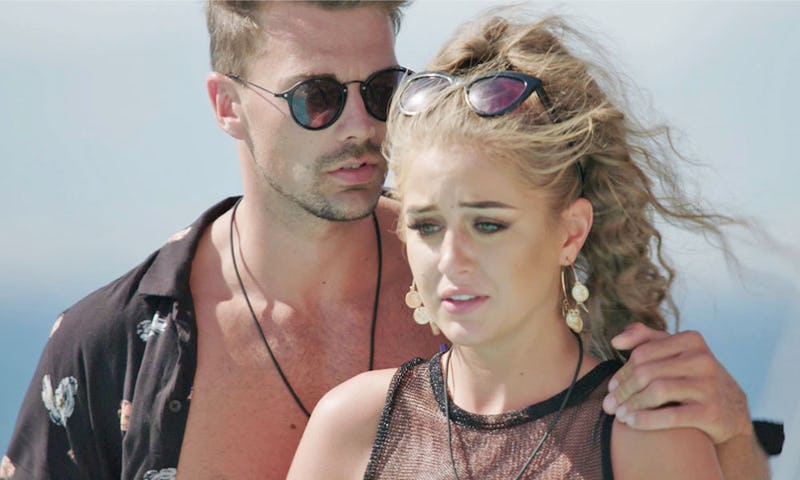 ITV
Love Island's Georgia Steel and Sam Bird were recently faced with a difficult decision: leave the villa together, or remain on the show and break up. Though Georgia and Sam Bird initially decided to take the latter route, they've since had a change of heart. But why have Georgia and Sam quit Love Island?
Though Georgia and Sam were informed they'd be dating others directly after announcing their decision to split, they couldn't stay apart for long, stealing prohibited kisses all over the villa. Plus, their choice to separate in order to keep their places on the show didn't go down well with Georgia's close friend Dani Dyer, who told her, "I think you've made a stupid decision — you're going to be crying, George."
Based on last night's episode, though, it looks like Dani and Georgia's friendship is firmly back on track. "It really irritates me that you're always right and I'm always wrong," Georgia told her sagacious bestie.
Later, Georgia explained: "At the end of the day, Dani is always right when it comes to me asking for advice, which is so annoying. However, that's why she's my mate — because she puts me back on the straight and narrow, and that's why I need her."
The couple wouldn't be the first to leave the island in the name of love — earlier this month, Samira Mighty left the villa in order to be with ousted beau Frankie Foster, and the pair adorably reunited at Gatwick Airport, reports the Metro.
So what changed Sam and Georgia's minds? We'll be seeing exactly what happened in Thursday's episode.
Can't wait until then? Here's what purportedly triggered the pair's decision: "an explosive re-coupling", the Mirror reports. "Sam and Georgia were unhappy with the result so made the choice to walk out shortly after filming," the paper states, citing an unnamed source. "None of the Islanders could persuade the loved-up pair to stay so they decided to leave."
I decided to ask ITV to confirm whether Georgia and Sam have really left for good, and whether the re-coupling, which takes place in Thursday's episode, is to blame. A spokesperson tells me: "We wouldn't comment on this sort of speculation."
However, they then go on to add: "FYI, there is a re-coupling tonight." Intriguing!