The Real Reason The Queen Is Sitting Alone At Prince Philip's Funeral
She will be accompanied to the Chapel, though.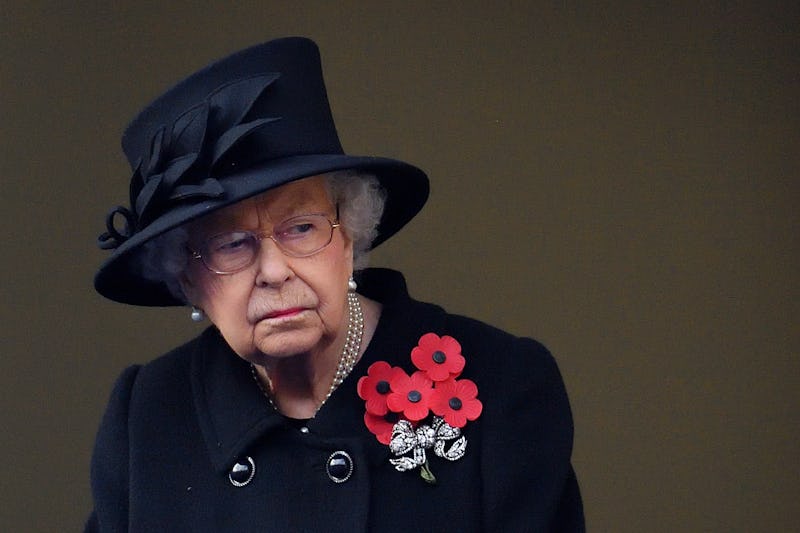 Pool/Max Mumby/Getty Images
Prince Philip's funeral, will be "COVID compliant", a Palace spokesperson told The Telegraph. The funeral takes place at 3 p.m. on Saturday, April 17, at Windsor Castle's St George's Chapel. Adhering to coronavirus guidelines means that the Queen will sit alone during the funeral service, and will have to wear a mask throughout.
All 30 attendees of the Duke of Edinburgh's funeral will have to be two metres apart from anyone not in their household. Sitting close by the Queen could be her members of staff, with whom she has been part of a bubble known as "HMS Bubble", according to iNews. This includes Brigadier Archie Miller-Bakewell, the private secretary of the Duke of Edinburgh, who is thought to be one of the few, if not only, attendee who is not a member of the royal family.
The Queen will arrive at the chapel in a State Bentley, and will be accompanied by a lady-in-waiting. Her car will form the rear of the funeral procession that will trail behind the Duke's coffin as it travels the grounds of Windsor Castle.
Who the lady-in-waiting will be has not been officially confirmed but a likely possibility is Lady Pamela Hicks, according to The Telegraph. Lady Hicks is a first cousin of the Duke. She was also a bridesmaid at the Queen's wedding in 1947 and has been an enduring companion to the monarch.
As per current government guidelines, funeral ceremonies can only have a maximum of 30 attendees, regardless of whether it is held indoors or outdoors. Attendees are expected to stay at least 2 metres apart from those outside their households or support bubbles, and wear a face covering if the funeral is held indoors or if social distancing becomes difficult outdoors.